Salvaged Trees Provide Materials for Creating a Living-Roof Arbour
By Ben Pike, Eve Communications

Jeremy Harper is used to making something out of nothing. For 20 years he has worked as an arborist and commercial site clearer which has taken him across the UK to remove unwanted trees and hedges, often repurposing would-be waste materials and giving them a new lease of life.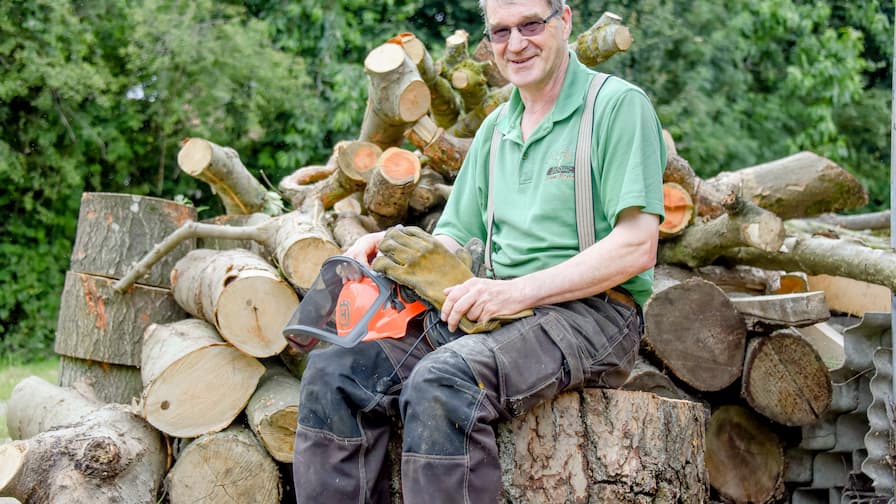 But he admits that he has surprised himself with a personal project to build a living arbour in the garden of the family home in Milton Keynes, Buckinghamshire, England.
"The idea came from a trip through Norway and Iceland where my wife and I saw quite a few green roof structures on sheds and commercial buildings," he said. "It triggered an idea that I wanted one at home."
Taking that seed of an idea through to delivery didn't involve a great deal of planning, Jeremy admits.
"It was my first attempt at creating something like this in the garden and we made space by removing our grandchildren's play equipment then writing down a few rough dimensions on some scrap paper. I looked at the size I wanted and decided upon 8" x 8" uprights and 4" x 2" joists."
He was contracted to a demolished industrial unit to tidy up and preserve the remaining trees and remove any remaining woodland not required. A Leylandii hedge was left and, rather than chopping it up for firewood, he decided to mill it down to the size required for the arbour.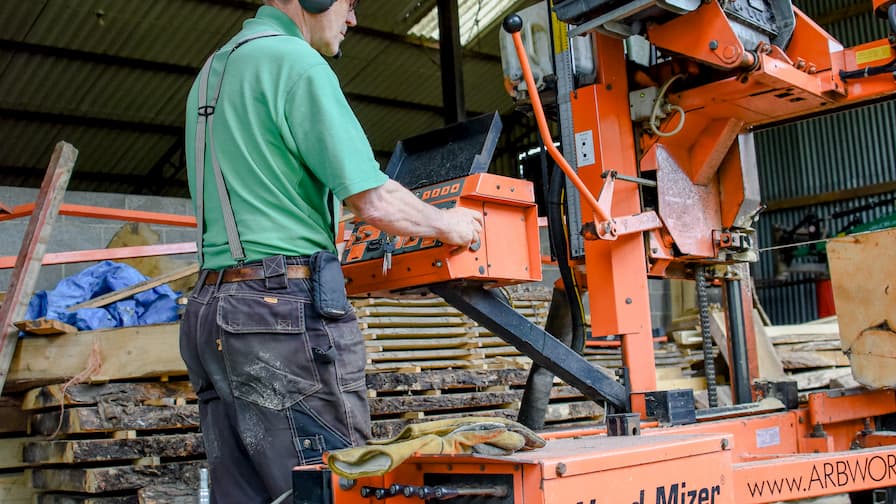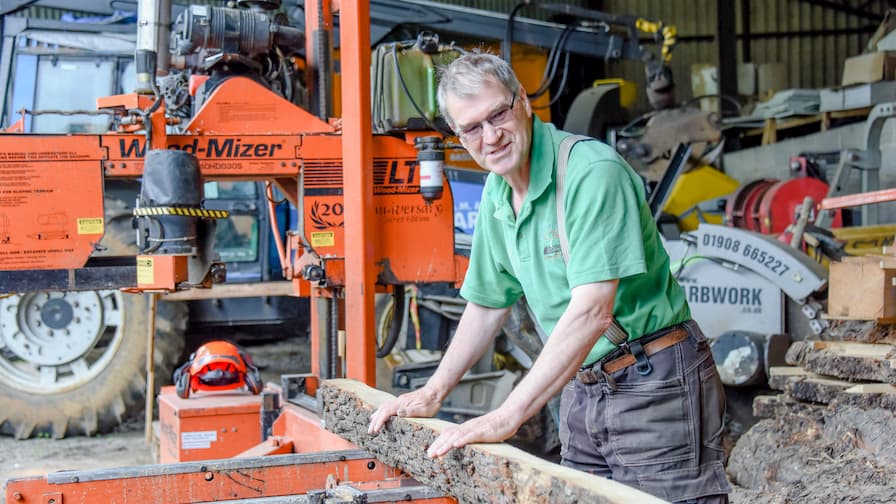 "I wanted something that looked dramatic so we went for the largest squares we could and everything was selected from the bigger poles. The joists were cut down from what was left."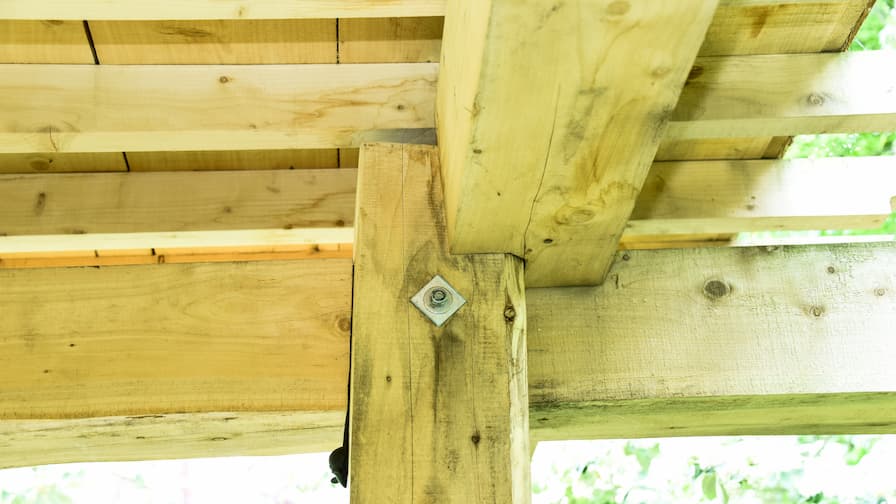 On top of the structure sits the wild, green roof which exploded with colour throughout a wet and warm English spring.
"My wife found a sale tray in a garden centre and we targeted things like thyme, rosemary and even strawberry plants.
"We put wooden stepping stones around the roof to avoid stepping on the plants, then shook some wild flower mix in to the top soil. I wasn't expecting a huge flush of growth but it produced a really colourful mix and so far it's succeeded with poppies, cornflower and daises prominent."
Jeremy says he was fortunate to have the materials available and the right tools for the job.
He regularly mills wood for customers – creating bespoke sizes suitable for use in building, furniture and wood turning.
He uses a Wood-Mizer LT40 mobile sawmill which he bought second hand about five years ago.
"We thought the LT40 was about the biggest we could buy and get away with for work," he said.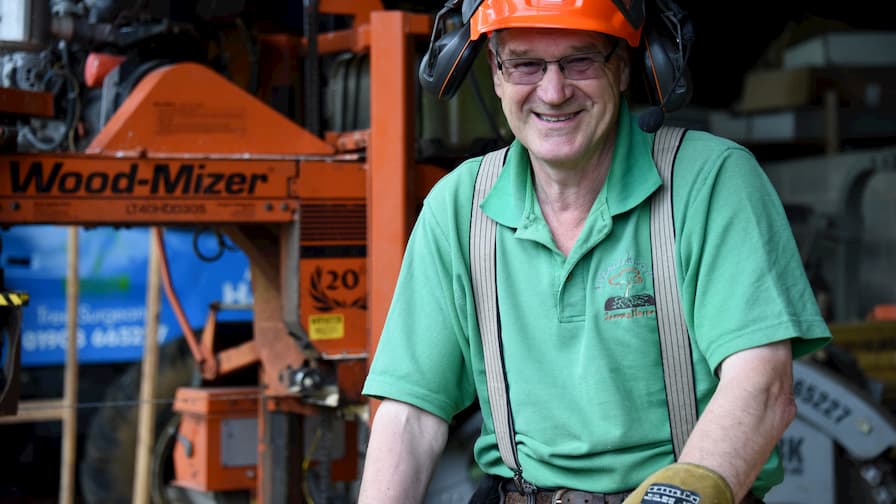 "We have been able to cut massive pieces of timber with it – wood that you never thought it would be able to handle. We work on a range of scales, from small pruning jobs to whole site clearances so we bought the LT40 to offer a milling service to other people and to be more proactive about what we handle. It always seemed to be the model to go for and I have not been disappointed. We have had some memorable milling times with it so far."
He now has a permanent reminder of one of those millings sat in the garden.
The LT40 is housed in a barn across the road from Jeremy's home. His business owns five cranes for moving wood around on site, but he says that for this particular project he didn't make it easy for himself.
"We moved everything by hand!" he said. "The uprights were the heaviest part of the timber work but the gravel we had to carry up the ladder to put on the roof was the most labour intensive part.
"To cut all the timber didn't actually take long because we knew what we wanted. The worst thing you can do when milling is procrastinate so it's to have a cut list organised first and then you can just get on with the job in hand.
"At first I wanted the uprights completely straight but in the end I went for a waney edge so it wouldn't look too engineered. The decision that took the longest to make was what shape we wanted the end of the joists to be. We tried lots of different options before settling on the one we have."
The upright posts are sunk into the ground and secured with soil. They bear the weight of the structure which is crossed with the joists.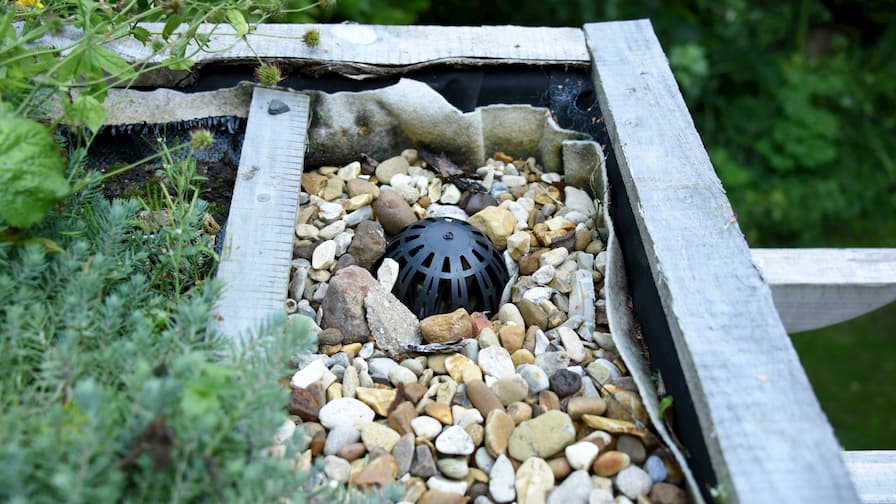 On top of the joists sit one-inch boards which form the base for the living roof which is waterproofed with a pond liner, then protected with geotextile layer to keep the roof watertight.
Then Jeremy put down the heavy gravel – bags of 30mm stone designed to improve drainage and then covered it with a root barrier and topped with a layer of carpet to help with moisture retention. The green roof physically grows in a mixture of composted wood chip and screened topsoil.
To improve drainage, flat roof drainage points are glued to the liner and the run off is carried down chains which water the plants at ground level.
Rather than a patio slabbed floor, Jeremy again turned to his sawmill and cut round sections of Leylandii to complete the natural look of the structure.
The end result is not only impressive but something that the whole family can enjoy – whether that's sitting underneath it or weeding on top of it.
"I'm not a gardener – my wife is very good at all that – but I've become a bit of a gardener with my green roof and have found my work to be quite successful. I usually spend a few hours up there at weekends and try to take pictures of it all the time to see how it changes throughout the seasons."
Having the main material available and the LT40 to mill the timber has allowed the project to be extremely cost effective.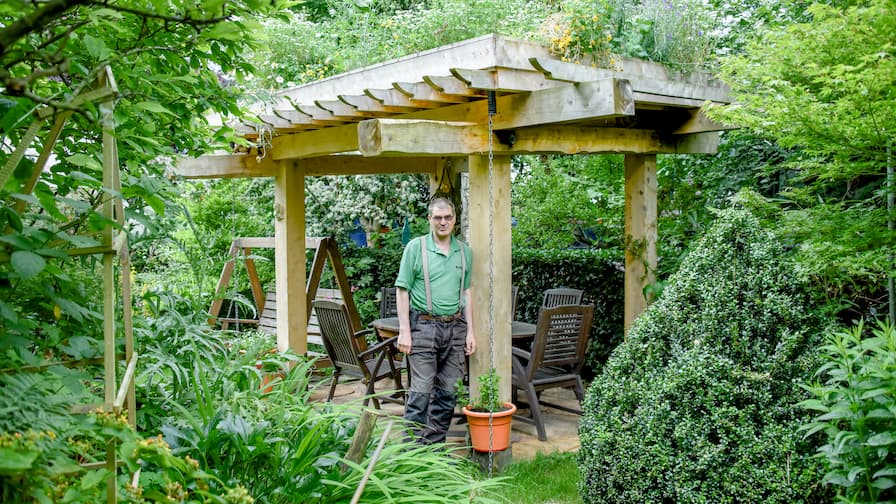 Jeremy said: "I priced up what it would cost to build the structure in green oak and it came to about £3,000. All it has cost us is the time and a bit of fuel.
"I'm absolutely delighted that it's better than I thought it would be." Apparently Wood-Mizer did as well, because Jeremy entered the arbour to Wood-Mizer's 2015 customer project contest, and won third place!