Since 1982, Wood-Mizer has brought personal and portable sawmills to people all over the world who want the freedom of sawing their own lumber for projects or profits. Engineered for performance and quality, Wood-Mizer offers a complete line of sawmills for woodworking hobbyists to full-time sawmill operators. Stationary or portable, manual or hydraulic, standard or wide, monorail or twin rail, it's your choice and it's all available from Wood-Mizer.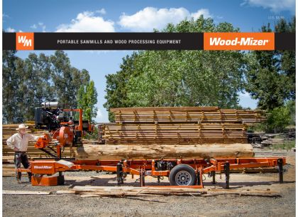 Download Catalogue
BMS25 Bandsaw Blade Sharpener

Designed for hobbyists and sawyers in rural areas, the BMS25 runs on a 12V battery and is able to sharpen a variety of blade profiles at a rate of 30 teeth per minute.

BMS250 Bandsaw Blade Sharpener

The BMS250 blade sharpener is ideal for the sawyer looking to invest in a high quality, automatic sharpener that can sharpen blades regularly and reliably for a timber cutting business.