Wood-Mizer Introduces EG100 Twin-Blade Board Edger
By Chase Warner, Wood-Mizer

Wood-Mizer introduces the EG100 twin blade board edger designed for sawyers looking for a low cost, highly durable edger to improve overall production and efficiency by edging sideboards and slabs. The EG100 twin blade edger joins the Wood-Mizer range of professional edgers that includes the EG50 manual feed single blade and EG200 twin blade power feed edgers as well as industrial and TITAN industrial edgers.
Available in 14HP gas or 10HP (7.5kW) electric power, the EG100 edger is generally operated by two people, one to feed the edger and the other to remove the finished boards. With one adjustable and one fixed 10" (254mm) diameter carbide-tipped circular blades, the EG100 can edge up to 20 ½" (520mm) wide flitches into a 12" (300mm) wide finished board with a maximum thickness of 2" (50mm).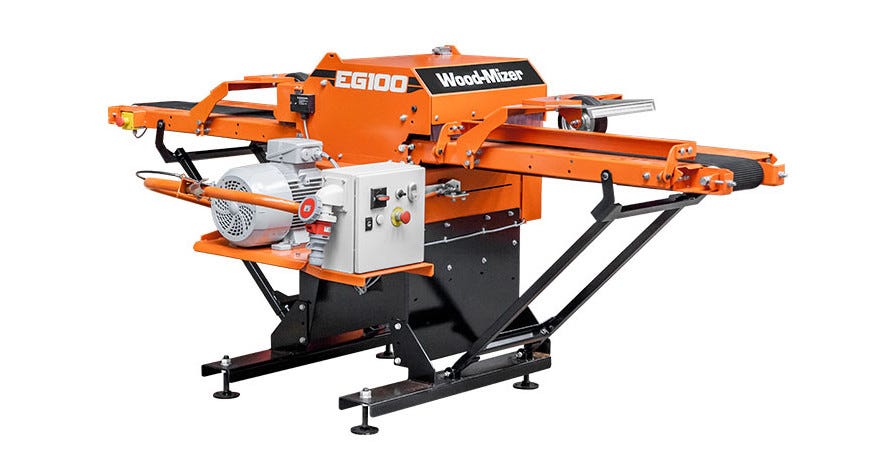 EG100 Edger Features
14HP Gas or 10HP (7.5kW) Electric
30 fpm (9m/min) belt driven feed rate (Gas) or variable 0-46 fpm (14m/min) feed rate (Electric)
One fixed and one adjustable 10" (254mm) diameter carbide circular blades
20 ½" (520mm) max material width and 2" (50mm) max thickness
12" (300mm) max finished board width
Removable board fence
"The EG100 is a cost effective solution and a valuable addition to small to medium sized sawmill operations," said Dave Mann, Wood-Mizer Sales Manager. "Using an edger is one of the easiest ways to enhance material flow and boost productivity. With the EG100 this can be achieved on an affordable budget."
The EG100 twin-blade board edger comes with a 1-year warranty, ships on a single pallet, and is backed by the same legendary service, quality and safety features shared by the rest of the family of Wood-Mizer wood processing equipment. The EG100 edger is now available to order in North America, South America, Europe, Africa, Asia and Oceania.
About Wood-Mizer
Since 1982, Wood-Mizer has earned the reputation as a leading wood processing equipment manufacturer with a strong legacy from its innovative sawmilling products. From forest to final form, Wood-Mizer offers an extensive line of equipment including narrowband portable and industrial sawmills, wideband sawmilling equipment, resaws, edgers, kilns, moulders/planers, firewood processing equipment, pallet recycling equipment, material handling equipment, bandsaw blades, and blade maintenance equipment for woodworking and forestry hobbyists and professionals all over the world.