Wood-Mizer Introduces High-Production WM4500 Industrial Sawmill
By Chase Warner, Wood-Mizer

Wood-Mizer introduces the WM4500 industrial sawmill featuring several structural and performance enhancements to the sawmill head and bed for improved sawing productivity. As Wood-Mizer's next generation flagship industrial sawmill, the all-new WM4500 continues a long tradition of providing commercial sawmilling equipment solutions throughout the world.
Featuring many benefits of Wood-Mizer's world renowned industrial sawmill range, the WM4500 can be used to breakdown logs for further processing or to saw boards, grade or dimensional lumber. Alongside the complete line of Wood-Mizer sawmills, the WM4500 capitalizes on thin-kerf blade technology to produce accurate lumber while reducing capital, material, labor, energy, and maintenance costs.
WM4500 Industrial Sawmill Features
Power Options
18.6kW (25HP) Kohler Petrol/Gas
Cutting Capacity
40" (1 m) log diameter
21' (6.4 m) cutting length with board removal
32 ¼" (819 mm) width of cut and 16" (405 mm) depth of cut
Blade Specifications
2" (51 mm) blade width capacity with steel band wheels
3" (76 mm) diameter blade guide rollers
"Wood-Mizer is dedicated to providing the best-in-class sawmilling equipment throughout the world," said Greg Bacon, Wood-Mizer Sales Director. "The WM4500 is the result from years of customer feedback and rigorous testing to satisfy the needs and preferences of high-production operations."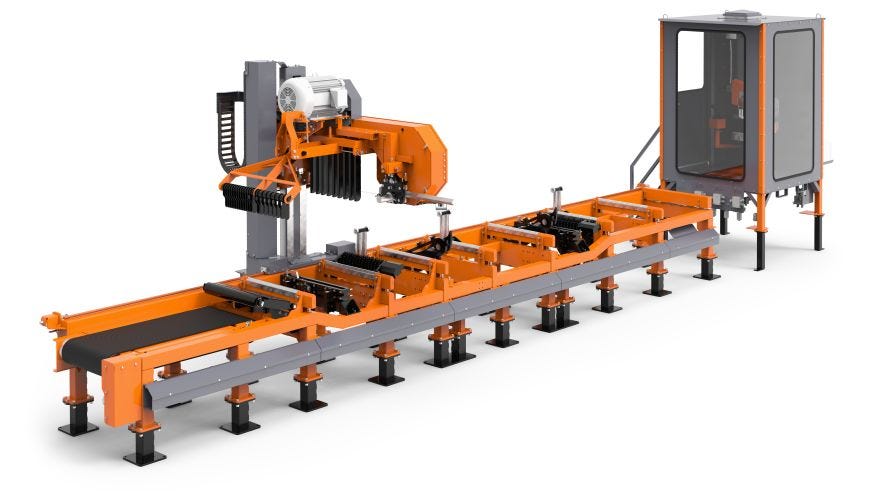 Key innovations of the WM4500 sawmill bed include reinforced dual-rod side supports, heavy-duty angled bed rails, 21' cutting length with board removal, pull down cinch clamps for cants, and off-feed conveyor & roller with suspension. The robust sawmill head includes 2" blades with steel wheels, a stronger head, mast, and strain system, 5HP feed motor, larger up/down gearbox, high pressure blade lubrication system, adjustable material drag back, modular toeboards, and durable 3" diameter blade guide rollers.
The WM4500 industrial sawmill is now available to order in North and South America. For more information, visit www.woodmizer.com or contact your local Wood-Mizer representative.
About Wood-Mizer
Since 1982, Wood-Mizer has earned the reputation as a leading wood processing equipment manufacturer with a strong legacy from its innovative sawmilling products. From Forest to Final Form®, Wood-Mizer offers an extensive line of equipment including narrowband portable and industrial sawmills, wideband sawmilling equipment, band resaws, board edgers, wood kilns, planer/moulders, firewood processing equipment, pallet recycling equipment, material handling equipment, bandsaw blades, and blade maintenance equipment for woodworking and forestry hobbyists and professionals all over the world.