Wood-Mizer Introduces Three Wide Head Sawmills
By Wood-Mizer, Canada

Wood-Mizer, the world's leading portable sawmill manufacturer, introduces new wide sawmill head options on their high production LT40, LT50 and LT70 hydraulic model portable sawmills. The wide saw head increases the maximum width of cut from 28" (710mm) on the standard models to 34" (860mm) on the wide head models.
The new Wood-Mizer sawmill options increase cutting capacity for mobile sawyers that require extra cutting width. Before now, this expanded width of cut was only available from specialized Wood-Mizer stationary sawmills such as the LT15WIDE sawmill with manual log handling and the industrial-sized WM1000 sawmill.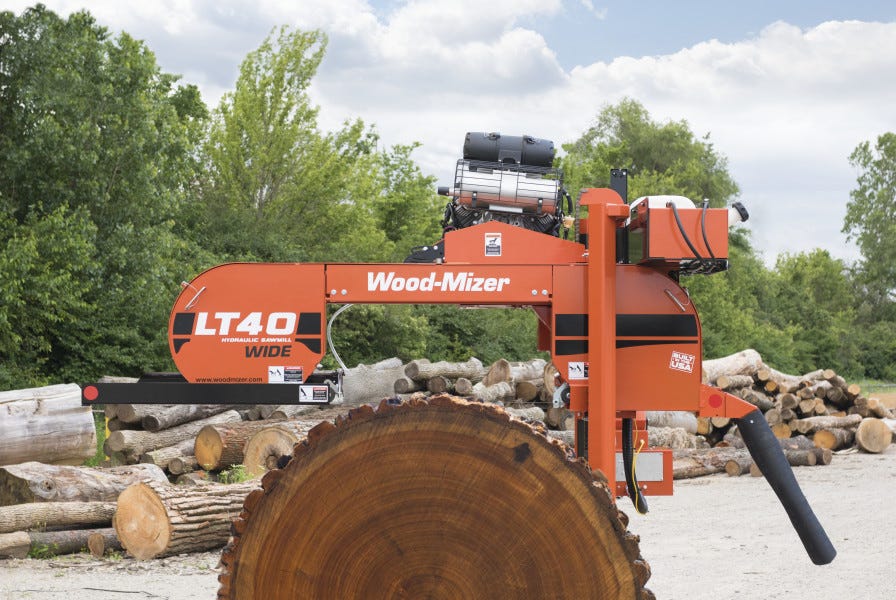 Cutting Capacity of Wide Head LT40, LT50, and LT70 Sawmills
36" (910mm) maximum log diameter
34" (860mm) maximum width of cut
21' (6.4m) standard log length on LT40/LT50 and 20'2" (6m) on LT70 sawmills
"Wood-Mizer is always committed to providing timber processors with the best available products and features in the industry," said Darryl Floyd, Wood-Mizer COO. "The new wide head sawmills give our sawyers more capacity for sawing wider slabs without sacrificing needs for mill mobility or lumber production."
The wide head option is currently available on new sawmills ordered in North and South America. Contact your local Wood-Mizer representative to order.
About Wood-Mizer
Since 1982, Wood-Mizer has earned the reputation as the world's largest manufacturer of portable band sawmills with tens of thousands of bandmills sold around the globe. Today, Wood-Mizer offers an extensive line of portable sawmills, industrial headrigs, resaws, edgers, kilns, log splitters, material handling equipment, bandsaw blades and blade maintenance equipment for woodworking hobbyists and forestry professionals all over the world. For 35 years, Wood-Mizer has provided top quality wood processing equipment and exceptional customer service for people who want the freedom of sawing their own lumber for projects or production.