Wood-Mizer Introduces Pallet Hawg® Pallet Dismantler
By Chase Warner, Wood-Mizer

Wood-Mizer, a global manufacturer of wood processing equipment, introduces a pallet dismantling bandsaw to their diverse and growing product line. Wood-Mizer now owns and manufactures the popular Pallet Hawg® pallet dismantling machine that has earned a worldwide reputation for being extremely durable and reliable through a simple and innovative design.
Pallet Hawg® expert, Brad Kirkaldy, has joined Wood-Mizer and brings decades of experience to the company's pallet recycling division. "Wood-Mizer is dedicated to providing the best in class equipment for a variety of timber and wood processing needs throughout the world," said Brad Kirkaldy, Wood-Mizer Pallet Recycling Product Manager. "The addition of the Pallet Hawg dismantler is yet another high-quality piece of Wood-Mizer equipment for the pallet industry that is backed by our established network of service and support."
The Wood-Mizer Pallet Hawg® PD200 Pallet Dismantler is designed for a full range of pallet recycling including pallet prep, repair, dismantle, and recovery. Due to the unique combination of high torque and low RPMs, the PD200 Pallet Dismantler has an expected blade life of 1,000 to 1,500 dismantled pallets per blade which is nearly double the blade life of competitive pallet dismantling saws. Designed for one or two operators, the PD200 features a sturdy welded steel tube frame that firmly supports two pneumatic wheels. The bi-metal blade that cuts the nails to dismantle the pallet is powered by a 10HP electric motor with a gear reduction drive. A pneumatic table lift has preset heights to enable quick and convenient shifting between upper and lower cut points to easily remove stringer boards, blocks, and deck boards of a pallet.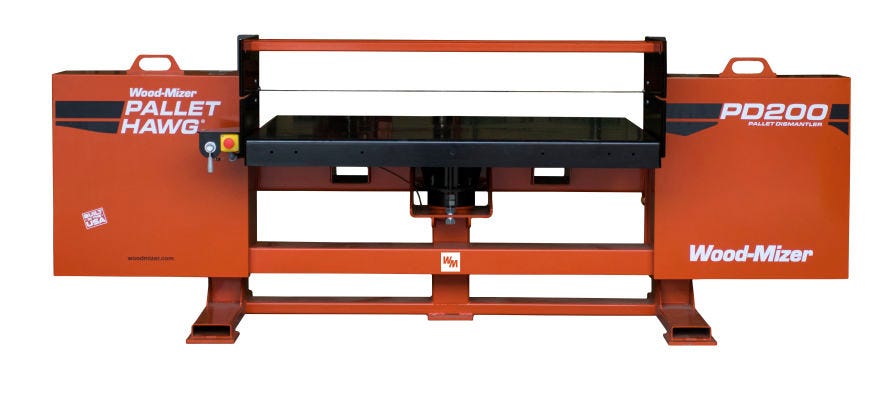 Wood-Mizer Pallet Hawg® PD200 Pallet Dismantler Features
10 HP electric motor with gear reduction drive (18 HP gas engine optional)
60" width capacity (up to 96" optional)
2,200 fpm blade speed
Pneumatic adjustable table height with 5 ¼" travel
No-fail mechanical blade tension system
Industrial 6-lug wheels with 27" diameter band wheel tires
Removable pass back bars allow for one or two person operation
The Wood-Mizer Pallet Hawg® PD200 Pallet Dismantler is now available in North and South America, Africa, and Asia. For more information, contact Wood-Mizer Pallet Recycling Product Manager Brad Kirkaldy at 765.228.6775 and bkirkaldy@woodmizer.com or visit online at www.woodmizer.com.
About Wood-Mizer
Since 1982, Wood-Mizer has earned the reputation as the world's largest manufacturer of portable band sawmills with more than 70,000 sawmills sold throughout the world. Today, Wood-Mizer offers an extensive line of narrowband portable and industrial sawmills, wideband sawmilling equipment, resaws, edgers, kilns, log splitters, pallet recycling equipment, material handling equipment, bandsaw blades and blade maintenance equipment for woodworking hobbyists and forestry professionals all over the world. For more than 35 years, Wood-Mizer has provided top quality wood processing equipment and exceptional customer service for people who want the freedom of sawing their own lumber for projects or production.