Family Run Sawmill Business in Oregon
By Olivia Eaker, Wood-Mizer

Located along the beautiful Pacific coastline in Seaside, Oregon, Marlborough Milling produces rough-sawn lumber as well as custom wood furniture with a Wood-Mizer LT50 Hydraulic portable sawmill. The family-owned and operated sawmill business was established by Dallas Pattie and three more members of the Pattie family who are continuing their family sawmilling and woodworking traditions that have lasted for generations.
Owner of Marlborough Milling, Dallas Pattie, is a licensed contractor as well as a 4th generation carpenter and sawyer. "Wood has always been a big part of my life and the creations that come with it," said Dallas. "As a boy I would always love to poke my head in my dad's and grandfather's wood shops. I was constantly surrounded by wood and rough sawn lumber, so the idea of sawmilling has always been on my mind. You could say I was happily born into it."
Running a Family Sawmill Business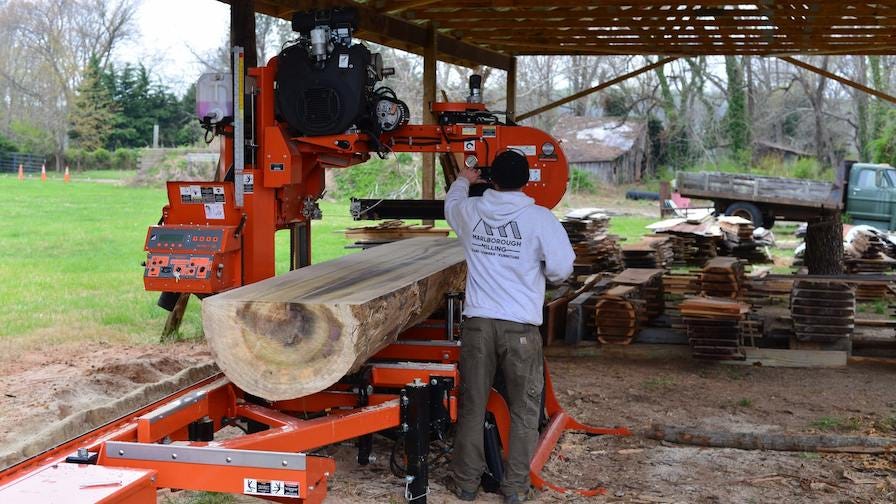 Marlborough Milling was officially started in 2017 when Dallas' father, David, purchased a Wood-Mizer LT50 Hydraulic portable sawmill. Initially, the sawmill was used for the family farm and small jobs but has since grown into a full-time business. "The Wood-Mizer plays a huge role in what we do and what we stand for," said Dallas. "The mill is the heart of our business. It's a work horse, it generates income, and brings the biggest smile to our faces, as well as anyone else who gets to watch and experience its capabilities. We love all aspects of it!"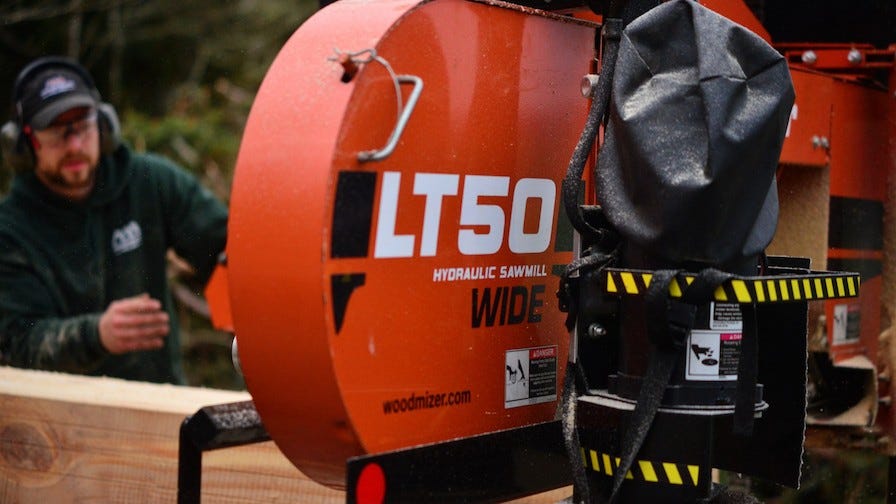 Marlborough Milling is a true family business with Dallas as the owner, sawyer, and carpenter, while his wife Genevieve is a sawyer and content creator, and his brother Keys is a graphic designer and merchandise manager.
The Harvesting and Milling Process
"We are constantly searching for local timbers and salvageable trees," said Dallas. "We are very adamant on sourcing our trees and timber locally. We have a source for practicing low-impact harvesting and we also salvage unwanted trees as much as possible, due to storm damage or removal for safety."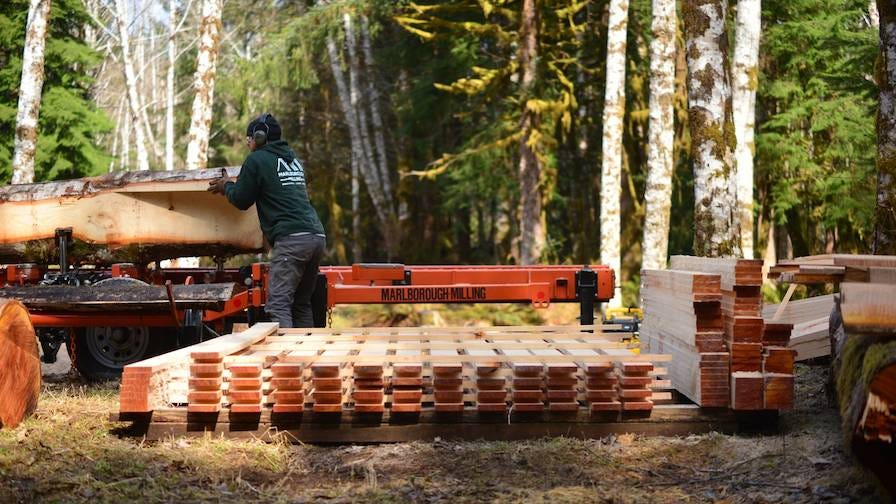 Marlborough Milling primarily works with softwoods such as Fir and Hemlock, as these species grow locally on the Oregon coastline. These softwoods are milled into lumber, structural needs, and carpentry projects. "We also mill hardwoods such as Alder and Maple for furniture and other crafts," said Dallas.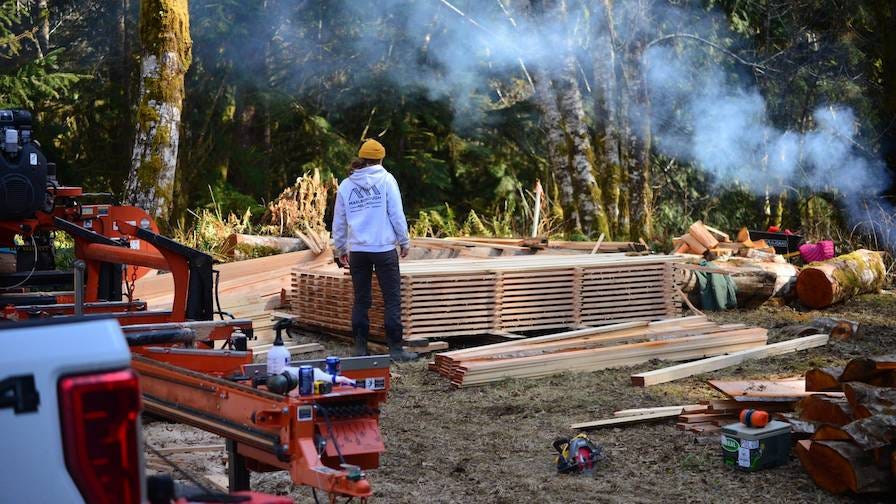 Much of the lumber sold at Marlborough Milling is rough sawn dimensional lumber that ranges from 8' to 20' long and 12" to 30" wide. The company also provides portable sawmilling and custom finish carpentry services as well as custom tables and furniture.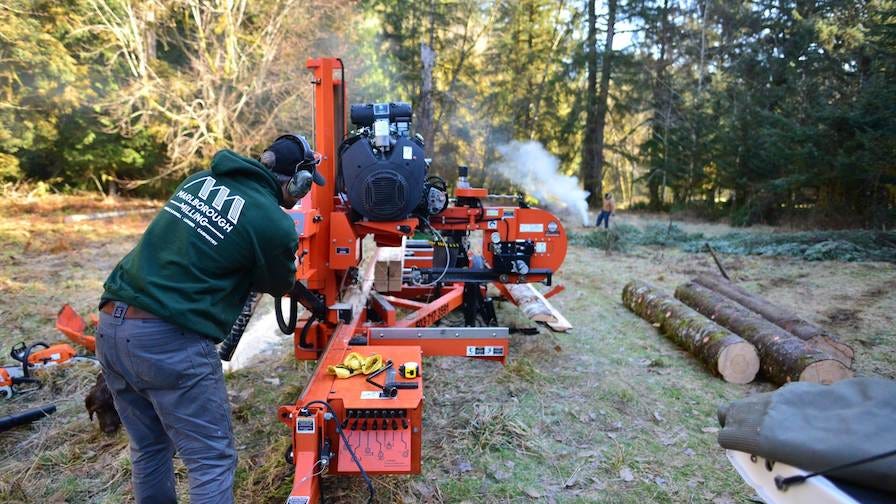 "These items are either sold locally here in the Pacific Northwest or through our online presence on the Instagram platform @marlborough.milling," said Dallas. "After the lumber is sawn, we clean and sticker the material. Sometimes it's used green right away or it is air-dried or sent to a kiln. If the material or lumber is going towards furniture or someone's home, we surface and manufacture the material as needed."
The main focus of Marlborough Milling is to serve the local community through their high-end carpentry. Clients range from local homeowners to woodworkers in the area. "Wood and timber are what we love," said Dallas. "Our customers appreciate our service, turnaround time, product, and the fact that we are local and focus on serving our small community."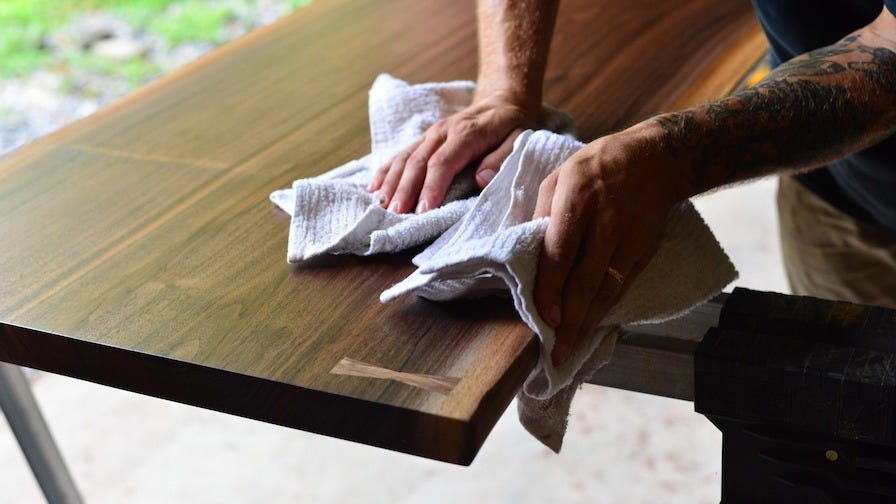 A major way that the Pattie family is able to do this is through their LT50 portable sawmill and the addition of a shingle lapsiding sawmill attachment. "The mill allows us to create lumber and connect with the community," said Dallas. "It provides a sustainable source of lumber goods for us and our customers. We also have a lapsiding jig. The Wood-Mizer slab flattener is next on the list, and it would speed up production time."
To continue serving their community, Marlborough Milling hopes to expand its business in the future while having fun in the process. "Our work is our playtime. We plan on purchasing a new track of land for the company to grow. A warehouse and showroom on-site for customers to view products and materials as well as just be amongst our operation" said Dallas.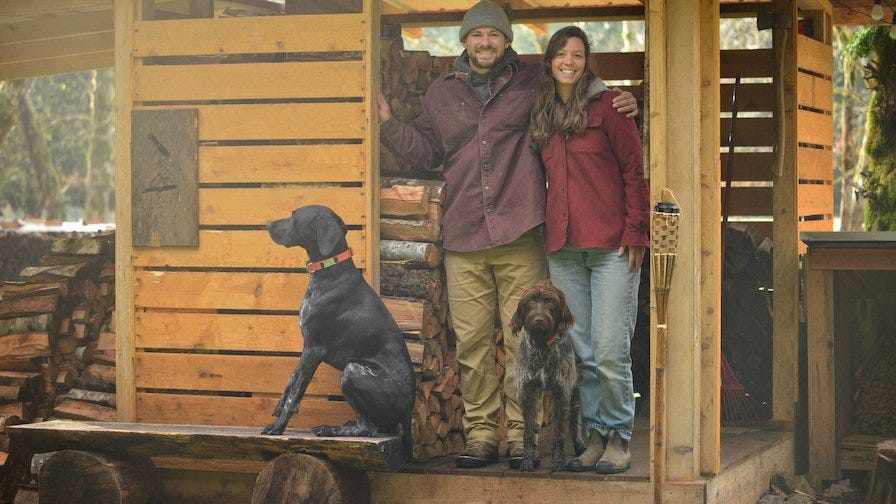 While there are breaks in between milling jobs, Marlborough Milling has been able to create a thriving business in producing high-end finished carpentry for the homes and families within their community.
Coming from a long line of carpenters and sawyers, Marlborough Milling has grown into a full-time operation specializing in lumber goods, mobile sawmilling, custom high-end carpentry, and most importantly - a desire to create. "It's our calling to create materials and products that will last generations to come," said Dallas.