Farming and Sawing Live Edge Slabs in Indiana
By Chase Warner, Wood-Mizer

Fourth-generation farmer Adrian Hood and his father Randy own and operate a Midwestern farm that has been in their family since the late 1800s. Throughout their farmland in Central and Southern Indiana, Hood Farms grows corn, soybeans, and hay while also raising cattle and goats. However, managing their traditional farm only occupies a small portion of their time. Throughout the last decade, the father and son team is focused on growing a successful sawmill business which includes the production of high-value live edge wood slabs, heirloom furniture, and dimensional lumber.
Hood Farms History
Located only 30 miles from Wood-Mizer headquarters in Indianapolis, Indiana, the Hood family's relationship to the local sawmill equipment company began in the 1980s. "Our family started with Wood-Mizer more than 30 years ago," said Adrian. "My grandfather Gene received a sawmill as a missionary in Papua New Guinea that's still running there today. They recently built a church with lumber they cut."
The Hood's connection to Wood-Mizer continued in 2012 when they needed additional pasture for their cattle, but the land near the pasture had overgrown into a heavily wooded area. Adrian hired a logger to help with the felling and removal of trees, but additional cleanup was required to remove dozens of leftover logs. "We started cutting firewood, because my only experience with wood was cutting firewood with my grandfather," said Adrian. Throughout two Summers of cleaning up the pasture, Adrian realized that the logs he was cutting into firewood would sell for a higher value if they were sawn into lumber. "At the beginning, I knew nothing about what went into sawing," said Adrian. In 2014, Adrian purchased a Wood-Mizer LT40 hydraulic portable sawmill that enabled him to turn logs he selectively harvested into valuable lumber and slabs instead of firewood.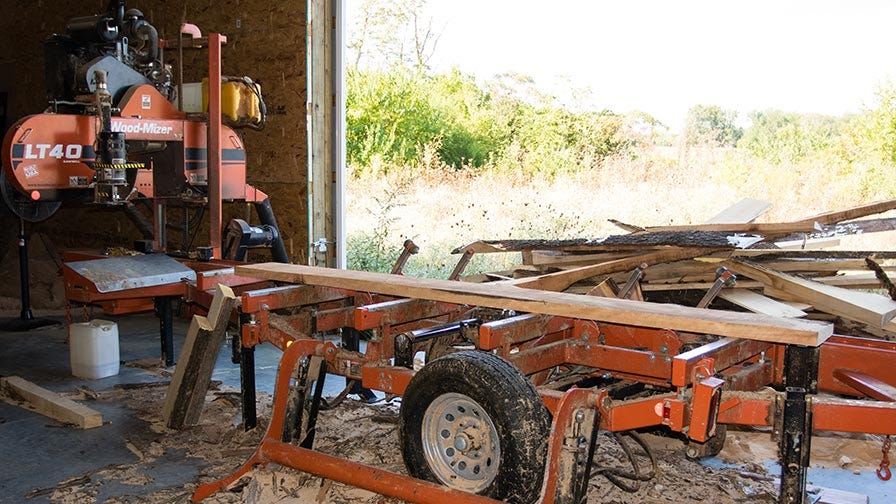 Hood Farms and Sawmill
During the next several years, the demand for live edge slabs for residential and commercial furniture grew exponentially which led to Adrian producing larger wood slabs for tables, countertops, and more. "When we started making more slabs, we used a chainsaw mill," said Adrian. "That was the worst time of my life with the backbreaking work it required. My dad and I used the chainsaw four to five days a week for two years. When we got busier and needed a more consistent product, we bought the WM1000." The Wood-Mizer WM1000 sawmill is able to cut logs up to 67" in diameter and uses a thin-kerf sawmill blade to improve accuracy, reduce waste and increase yield. "We say every day we wish we would've bought the WM1000 a couple years sooner," said Adrian. "The thing with the chainsaw mill is the first cut is just as fast but after that it slows way down. The consistency of the cut is so much better with a sawmill blade than it is with a chain and it has increased our efficiency by at least 50% while picking up about a slab more per log. I value the quality of product the mills produce, the ease of maintenance and reliability has held up really well even when working them hard. The Wood-Mizer mills have been bulletproof machines."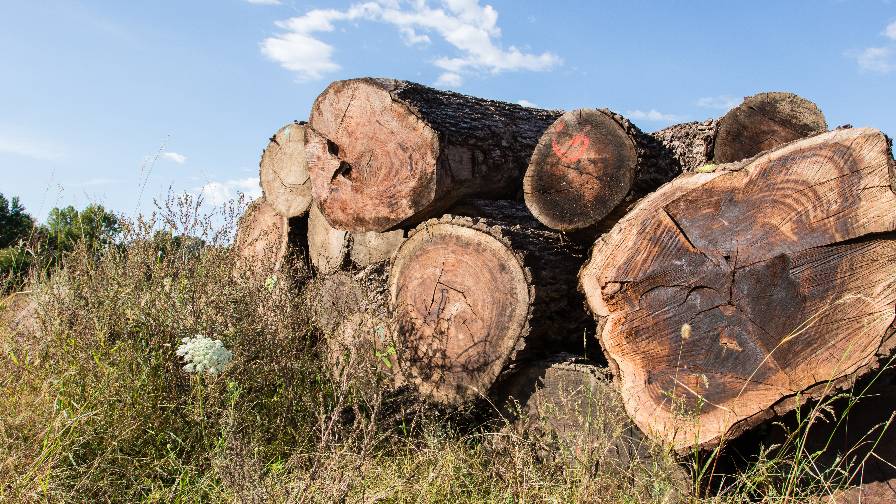 In addition to working with tree services and loggers for consistent timber supply, most of their Indiana hardwood logs are harvested by Adrian and Randy within two hours from their sawmill. "Normally we will cut what we have for orders or what we are turning back into pasture and we will clean up the site as we go to be less invasive on the land," said Adrian. After harvesting, logs are bucked to appropriate sawing lengths and transported to the sawmill operation. If logs are under 24" in diameter, they are staged for dimensional lumber on the LT40 hydraulic sawmill while any logs over 24" in diameter will be staged for the WM1000 sawmill to produce high-value live edge slabs. "Right now about 90% of our orders are unique one-of-a-kind slabs, but we are excited about the growth of our dimensional lumber," said Adrian.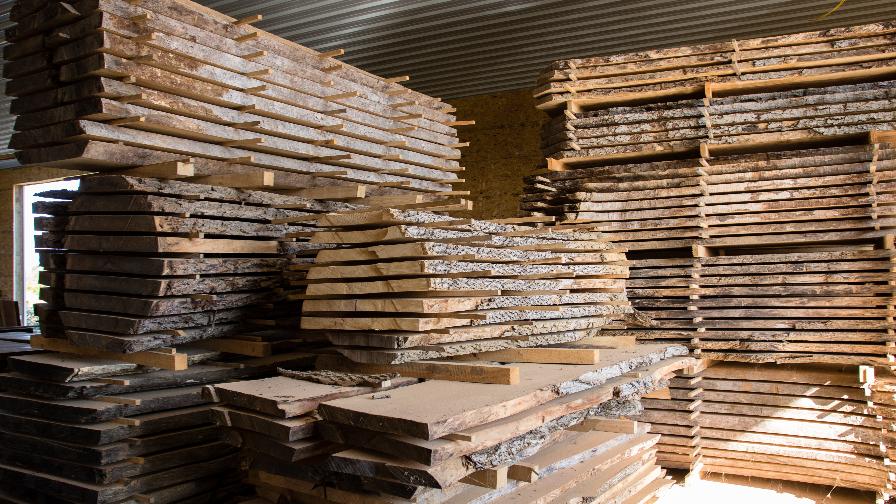 Adding Value Through Kiln Drying and Slab Flattening
As Adrian became a seasoned sawmiller, he realized the importance of proper drying to reduce the risk of wood warping, staining, or cracking. In addition to better quality, dried lumber typically sells for 30% more than green lumber. "From log to slab, drying, flattening and finishing, with every step in the lumber business, the product is worth more," said Adrian.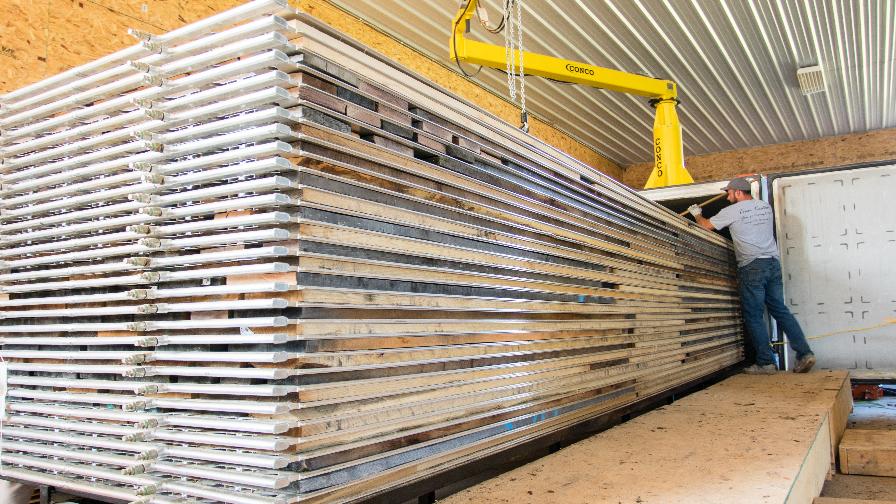 While drying lumber is a bottleneck for some sawyers, Adrian saw this as an opportunity to invest in 2,000 and 6,000 board foot capacity plated vacuum kilns in order to provide a premium quality product. "The plated vacuum kilns are one of our biggest separators because they keep our slabs so flat compared to our competition," said Adrian. "We can have a 2-1/4" slab off the mill and be finished drying at 1-7/8". We baby our wood so it's really flat, that's made a big difference for us."
The increased speed in production is also a large factor. "Some of our slabs cut at 9/4 can be put in the kiln right after sawing and can be dried in 10 to 14 days depending on the species," said Adrian. "With our kiln we can turnaround product in two weeks to a month whereas other kilns could take up to six months to completely dry." Although the drying time is fast, the kilns require a lot of physical work as each layer is loaded manually and can take several days to completely load with two people. A lot of smaller companies don't have a kiln due to their expense and labor, so Hood Farms also offers their kiln drying services for other sawmills in the area.
While some slabs are sold kiln dried, others are sent to a recently installed Wood-Mizer SlabMizer slab flattening mill to be flattened and finished for furniture. The SlabMizer surfaces and flattens material up to 56" wide and 8" thick using a remote-controlled cutter head. Kraig Elliott, a local woodworker who subcontracts several projects with Hood Farms and Sawmill, was previously flattening material with a traditional router. "The slab flattener has been great because it saves time and is less physical work than the manual router I was using," said Kraig. "The cutter head on our old router was 1-1/2" where the SlabMizer is 5" so it's taking five times as much each pass. A wide slab that used to take several days to flatten now only takes about half a day. It's been a great addition for us, we love it."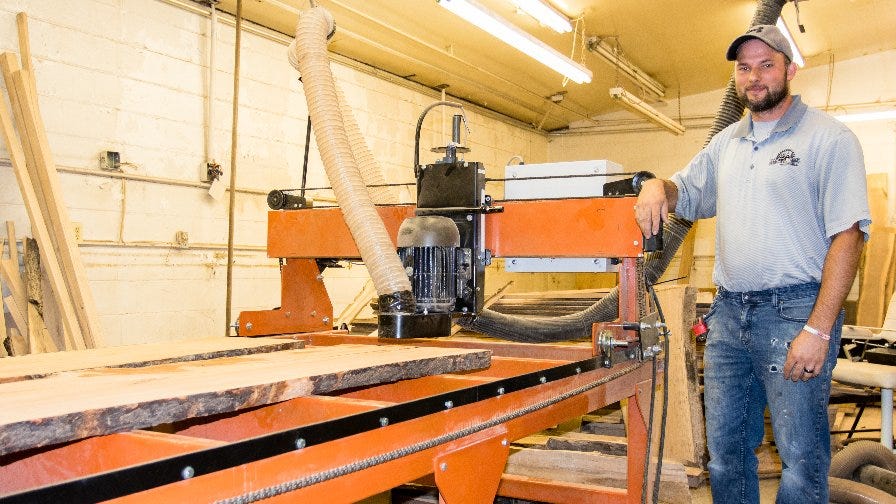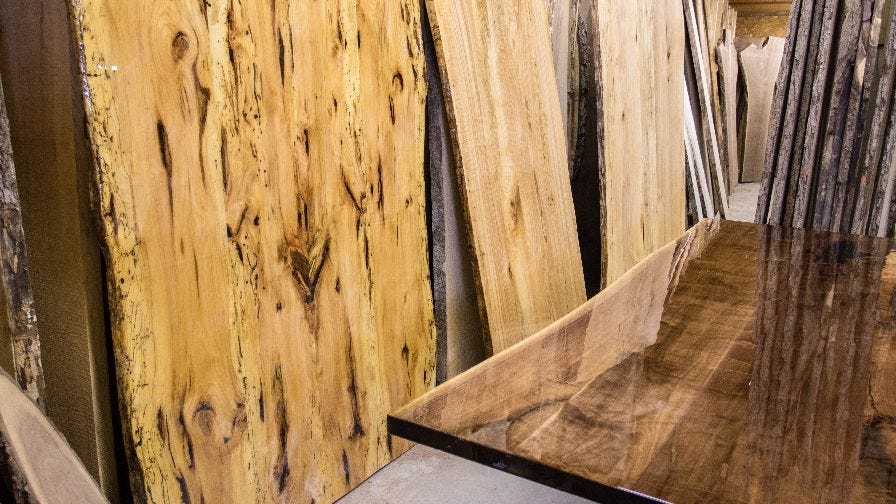 Most of the slab business is sold to local contractors for restaurants and offices, but Hood Farms and Sawmill has also shipped slabs to more than 30 states throughout the United States. "A lot of our customers are people that are too small for big companies to deal with, and we love that," said Adrian. "We often have people come by the farm to buy one single board at a time." In addition, Adrian has found markets for byproducts of the sawmill operation including firewood for local restaurants and homeowners as well as sawdust for animal bedding. "We don't have any waste, we use all of it."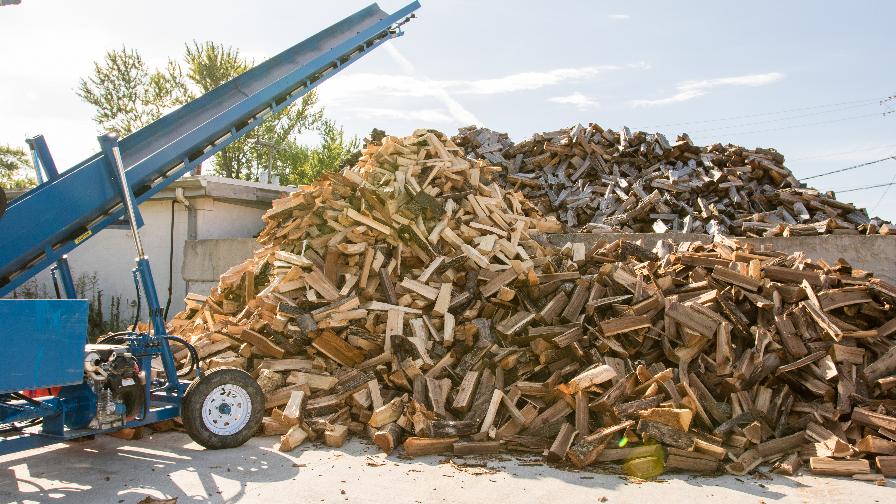 The Future of Hood Farms and Sawmill
For the future, Hood Farms and Sawmill has recently invested in a complete Wood-Mizer industrial sawmilling system to continue growing dimensional lumber sales. The system includes a WM4500 industrial sawmill, EG300 board edger, and material handling equipment to process Indiana hardwoods into dimensional grade lumber. "Anything that you can build in one day can collapse in one day," said Randy. "We've built a great foundation for a business that we are hoping to have for Adrian's son and on to future generations. We've taken a long time to get the groundwork done but one door will continue to open after another." With new equipment and diversification of products, Hood Farms and Sawmill continues to grow and remain successful because of their commitment to their customers. "Relationships are what mean everything," said Randy. "Treat others as you want to be treated, offer more service at a great price and quality and it won't take long for people to show up at your door. That's the way to build a business."