From Portable to Production Sawmilling in New York State
By Chase Warner, Wood-Mizer Contributing Author

On the outskirts of Buffalo, New York in the small town of Holland, is the hard-working family sawmilling business Holland Timber Company. Owned and operated by Luke and Megan Eames, the mill is run on a 68-acre parcel of land that has been in the family since the early 1950s. In addition to Megan as the head sawyer and Luke running the board edger, Holland Timber Company is a family affair with both Luke and Megan's parents assisting with lumber shipments, equipment maintenance, and building structures on the property. Starting as a portable sawmill for homeowners, the business has evolved to a production mill supplying cabinetry, flooring, and pallet manufacturers throughout the Northeast United States. With a combination of finding their niche and building strong relationships with local foresters and clients, Luke and Megan have built Holland Timber Company from the ground up into a successful sawmill operation.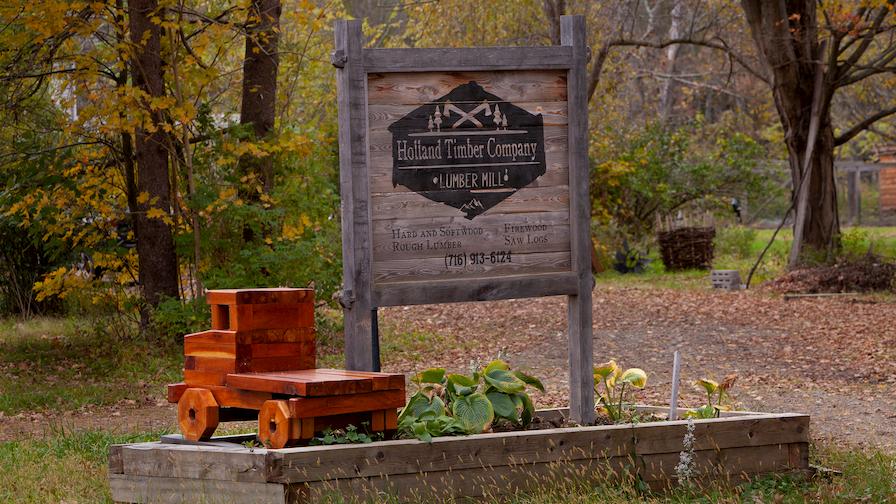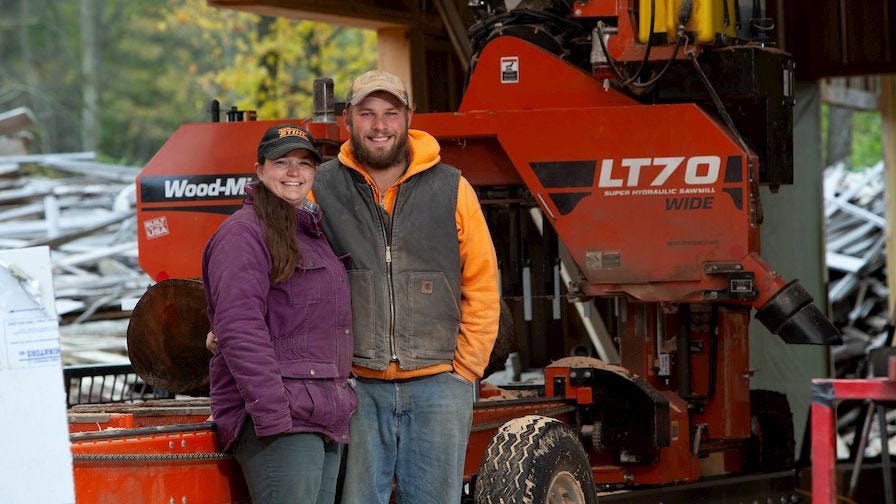 Growing Roots with Foresters & Wholesale Manufacturers
Introduced to sawmilling at age 14 on his parent's 1995 Wood-Mizer LT40 portable sawmill, Luke worked small, custom portable milling jobs through college where he received a degree in Finance and Megan received a degree in Law during the same time. After graduation and working an office job for several years, Luke realized that wasn't the career path he had dreamed of. "I couldn't handle being inside all day," shares Luke. In 2015, Holland Timber Company was established by Luke and Megan with the same LT40 portable sawmill from Luke's childhood. "A big reason why we started the business is that we love sawing, but it's our own business and we can keep it flexible," shares Luke. "If we want to take a day off, we can do it. Before with our office jobs, we would work 50 weeks in the year just to get two weeks off."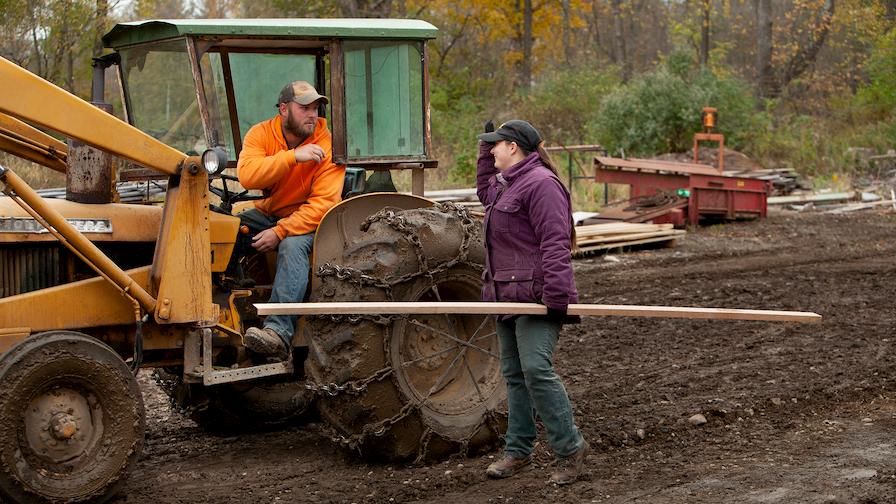 Starting out as a strictly portable sawmilling operation, Luke found that connecting with loggers in his area and sawing dimensional lumber brought in a steadier income because larger wholesalers buy lumber more consistently. "Once we got hooked up with the loggers, we started really filling up the log yard," explains Luke. "After a lot of cold calls and establishing ourselves as a quality lumber producer, we now have a few larger buyers that support our business."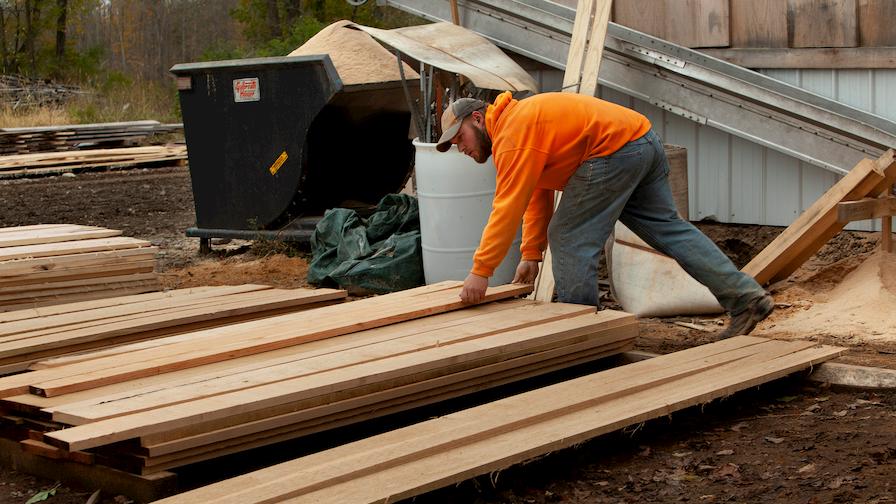 Holland Timber Company purchases logs a variety of ways including direct contact with landowners with timber stands, bid sheets from forestry consultants & foresters, and working directly with loggers. They have found success in purchasing smaller stands that larger operations don't want to deal with. "We like to have a good stock of everything," explains Luke. "With the wholesalers, we have a list of what they are consistently buying. When we put a bid on a stand, we generally already have the lumber sold."
Luke and Megan work with a local forester who finds available timber stands that would fit the operation's current needs. "Traditionally, any tree that is 12" diameter or above is marked for harvest," shares Luke. "Instead, our forester marks 16" to 24" diameter trees that are more mature and shading out other vegetation below. It's important to us that he performs a sustainable management cut instead of saying 'that tree is large enough, let's just take it.'"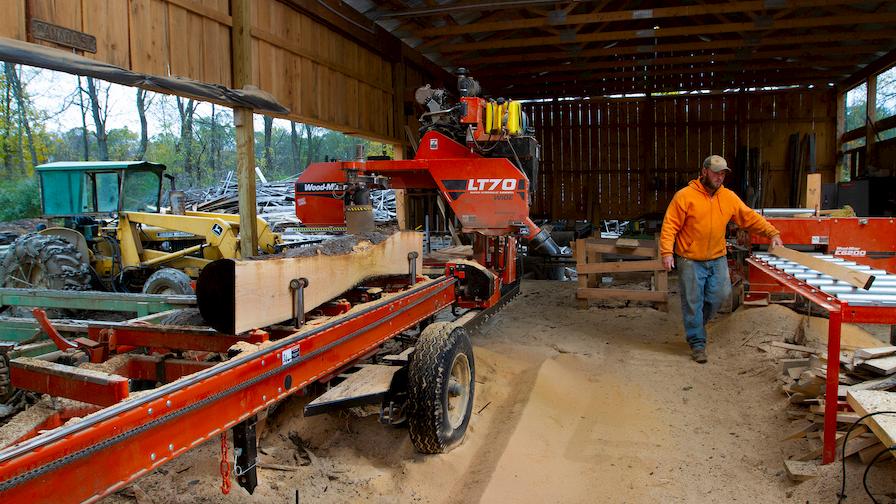 Today, 90% of the operation is producing and selling dimensional lumber to flooring, cabinet, and pallet wholesale manufacturers, while the remaining 10% is timber and custom sawing for landowners and professional woodworkers that could be used for tables, timber framing, siding, barn building, garden beds, fencing, and more. In addition, Megan runs a crafts business called Crafty Duck Creations which provides custom wood signs using a Digital Wood Carver CNC machine. "I like to think of myself as a creative person and I hate to see piles of scrap getting bigger and bigger when I know I can use the unique pieces," shares Megan.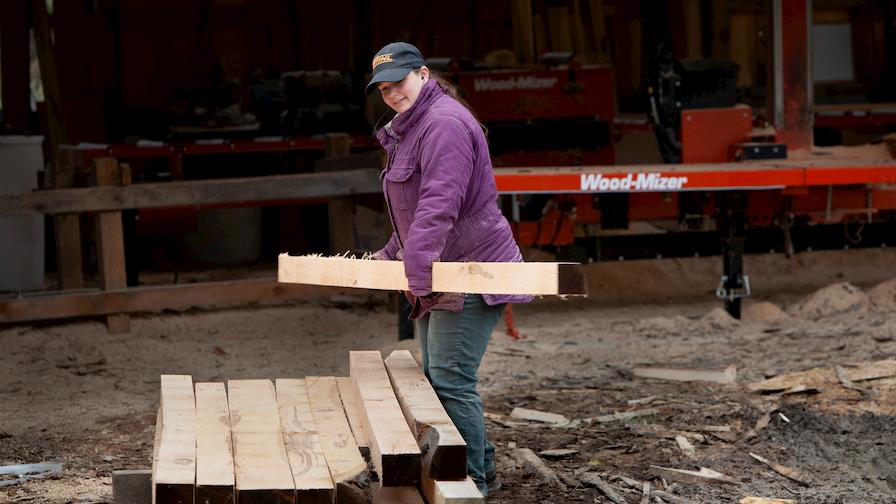 Upgrading the Mill & Increasing Production
In 2017, Luke traded in the LT40 sawmill, along with his custom ordered Dodge Challenger Scat Pack, to upgrade to the LT70 Super Hydraulic Wide portable sawmill, and says the move was well worth it. "The LT70 sawmill is the spotlight of the production," shares Luke. "The main reason we upgraded to the LT70 was for the production capabilities. We produce about three times as much lumber from upgrading which has allowed us to pick up other contracts and jobs that wouldn't have been able to in the past. Having the LT40 sawmill, being 23 years old, it ran great right up until the day we sold it. That was a determining factor of staying with Wood-Mizer was because the mills are built strong and built right. We've received jobs just because we own a Wood-Mizer. People know the name and the quality lumber it produces."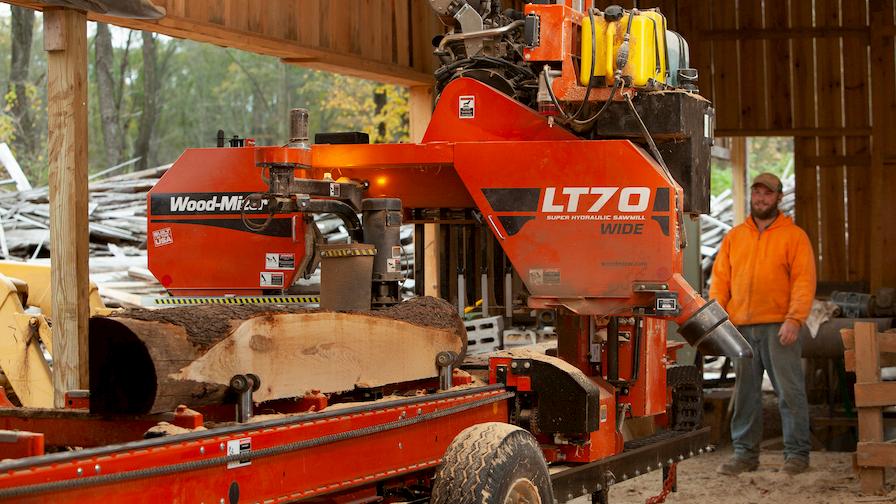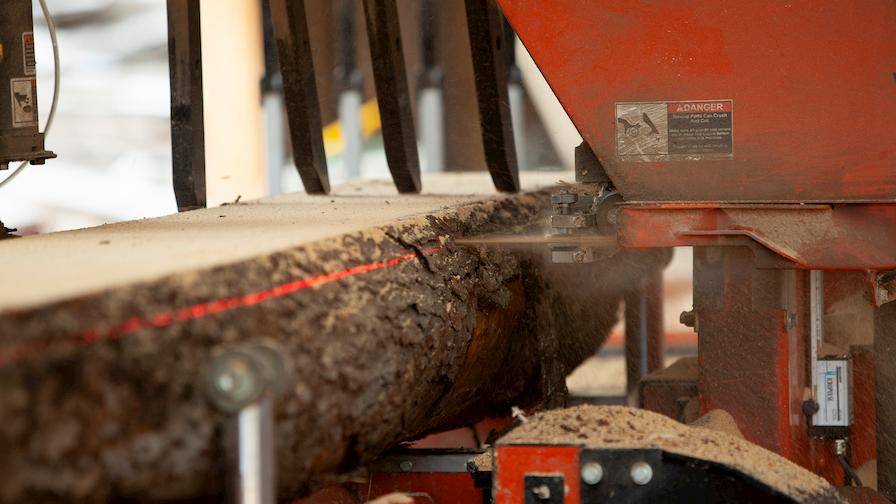 Working with a variety of red oak, white oak, hard maple, soft maple, ash, hickory, cherry, hemlock, larch, white pine, and spruce, Holland Timber Company runs Wood-Mizer's exclusive DoubleHard Turbo 7 blade on the LT70. "Turbo 7 is the best blade I've ever run," shared Luke. "I can run pine and switch over to cut a white oak or maple and it cuts great."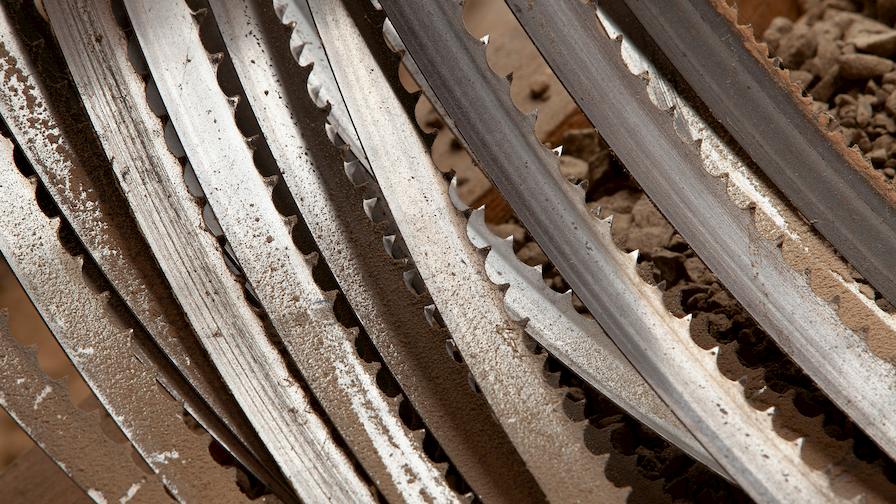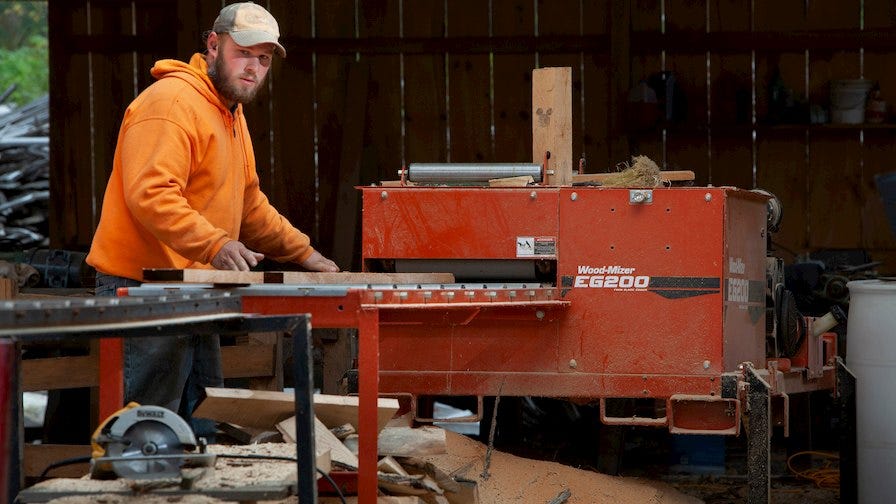 The business also operates with a Wood-Mizer EG200 twin-blade board edger which Luke says works "hand in hand" with the LT70. Both the mill and edger run about 6 hours per day and can produce up to 4,000 board feet per day depending on what is being sawed. "The mill is actually paying for itself by one additional monthly contract that we have," said Luke. "In about two days' worth of work per month on this contract, our mill payment is covered. This doesn't include any other additional lumber cut per week for wholesalers or any additional jobs picked up throughout the month."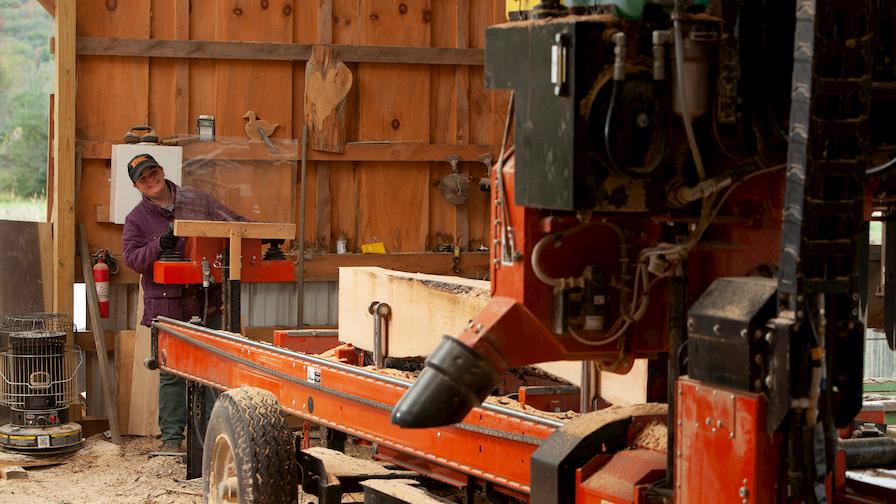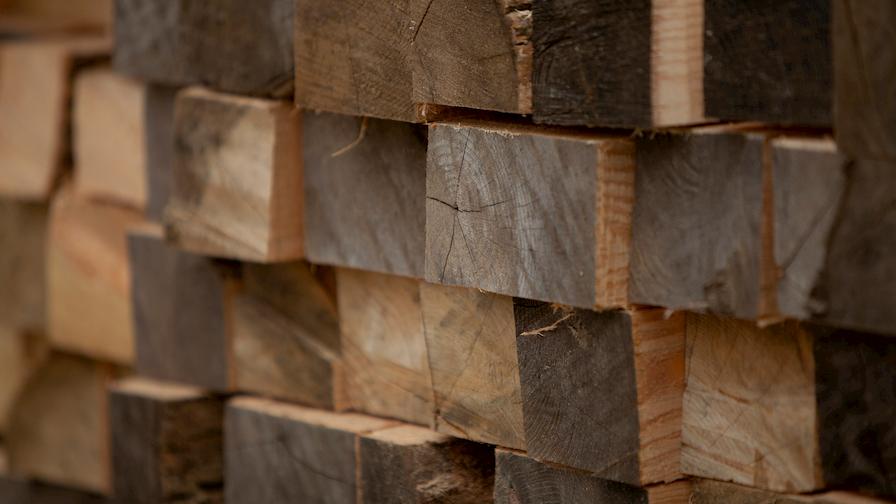 To improve efficiency, Megan has changed the way she breaks down the logs in order to increase speed and reduce the amount of material that needs to go through their board edger. "We pick the best grade side first, take a slab cut, and take one more cut for the edge, then start rolling from there," said Megan. "Each side of the log will get two cuts on it. After everything is thinned out we can cut more like a resaw from there. Another nice thing about the Wood-Mizer is that we can be very flexible on what we saw. We can go from 4/4 wholesale lumber and switch right over to custom timber cutting very quickly and easily."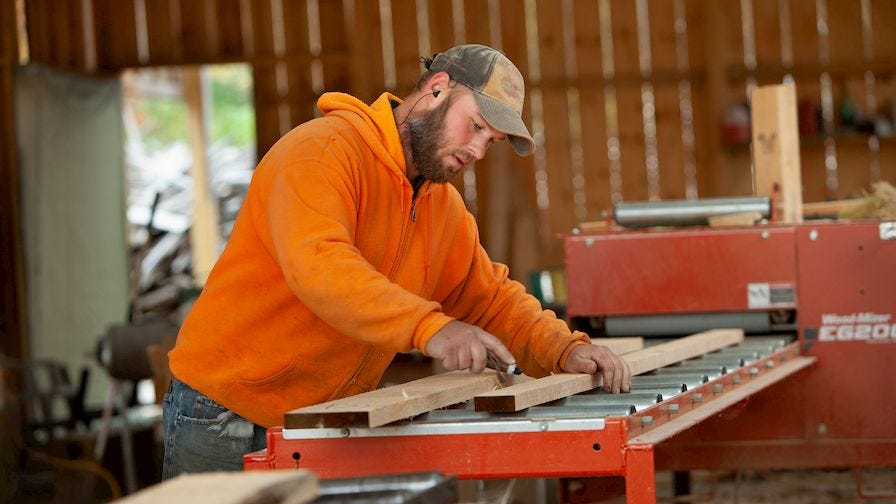 Additional equipment includes a range of secondhand material handling equipment acquired from out-of-business larger conventional mills in the area. The equipment has been modified by Luke, his father, and father-in-law to meet the operation's needs and has been a cost-effective approach to growing the business. "A drop belt pulls lumber from the mill and separates useable lumber from scrap," explains Luke. "All scrap is fed to the lower level that feeds into a 48" chipper. The upper level feeds lumber onto decks and conveyors to transfer everything to the edger and stacking piles. All material handling equipment is run by Onan genset with a 1964 Ford 300 engine."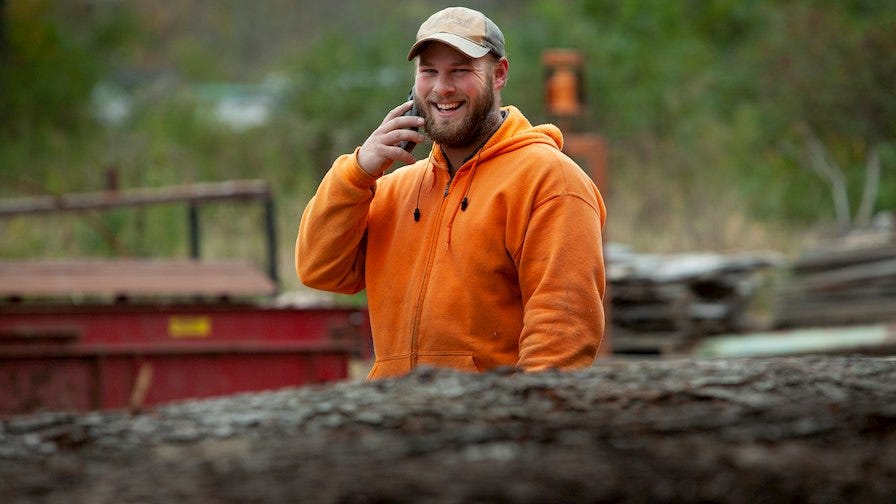 Future Plans & Branching Out
Holland Timber Company is planning to build their own finish shop, retail store, and a small kiln in order to have controlled lumber drying on-site. "We want to offer options to homeowners of using trees from their land to put back into their homes. More and more people are requesting this," shares Luke. "We're also looking to put in a planer/moulder and offer services of milled lumber products and unique flooring options that you can't buy at the big box stores." With more people looking for 10" and 12" wide plank flooring with character, Holland Timber Company plans to supply this custom material that isn't available at larger wholesalers because it isn't something the traditional lumber market finds valuable. "For example, we have around 1,000 feet of red oak and its beautiful because it has pin knots all throughout it," explains Luke. "The problem with the wholesalers is they are going to look at it and say its all defective, but its beautiful stuff that people are wanting."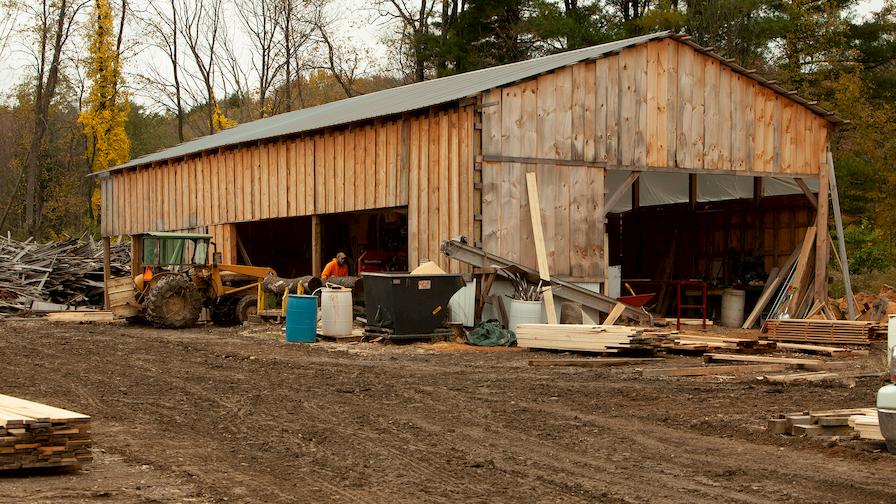 By establishing strong connections with both suppliers and clients, Luke and Megan have built a solid foundation to continue to grow their operation. For advice, it all comes down to producing a quality product and providing quality service. "There are so many different directions you can go with sawmilling," shares Luke. "You can focus on just doing unique slab work and make a decent living or you can do straight pine sawing. Once you find a niche and you make yourself standout by producing good quality products, people will find you and your business will take off."