Wilson Enterprises Grows with Wood-Mizer WB2000 Industrial Sawmilling System
By Olivia Eaker, Wood-Mizer

Located in the beautiful Upper Peninsula of Michigan, family-owned and operated Wilson Enterprises has provided high-quality evergreen and wood products for home décor, construction, and craft projects since 1985. Recently, the company invested in a Wood-Mizer WB2000 industrial sawmilling system to process logs to finished products all in-house while offering their wood products in close to 5,000 retail stores throughout the United States.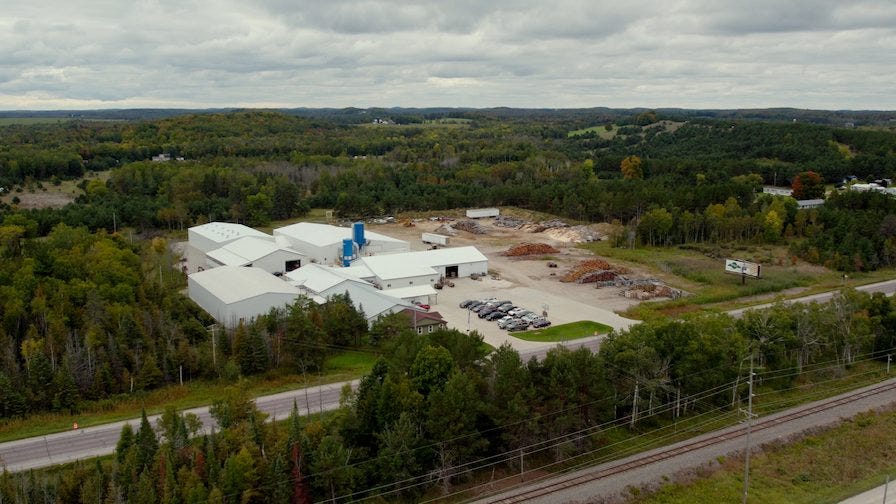 From Clean-Up Crew to Enterprise Owner
Owner of Wilson Enterprises, Gerry Wilson, has been part of the sawmilling and woodworking community since he was young. Starting as a member of the clean-up crew on a local lumber yard at the age of 13, Gerry gained a lot of knowledge and respect for the wood industry and knew he wanted to be a part of the industry long term.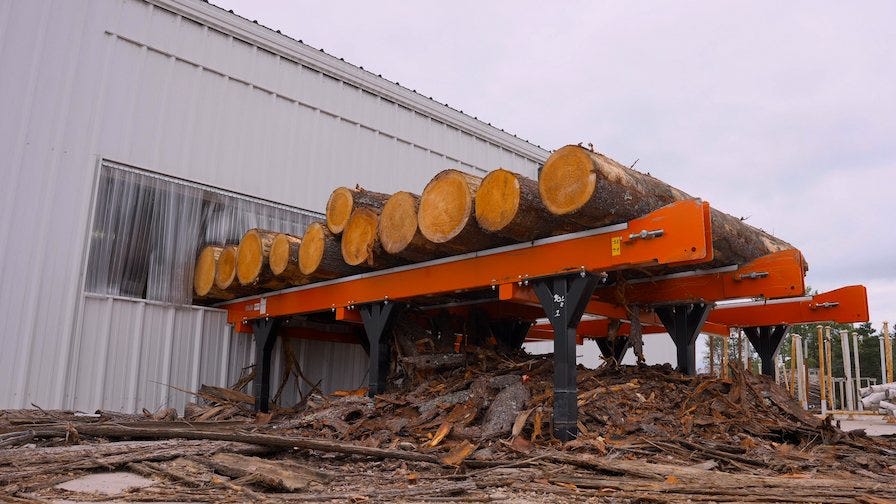 Over the years, Gerry established Wilson Enterprises and continued to grow his experience in the timber industry by handmaking fresh evergreen wreaths and garland and building cabins throughout Michigan. "We ran a business here that manufactured fresh evergreen products for over 20 years," said Gerry. "I owned a construction company, and we built cabins across the Upper Peninsula. I also produced a lot of tongue and groove lumber and utilized it in the cabin building process. We started off making craft products for the crafting industry. It slowly grew to cutting live edge products, timber mantels, and as the years went on, we developed more products with dimensional lumber and tongue and groove."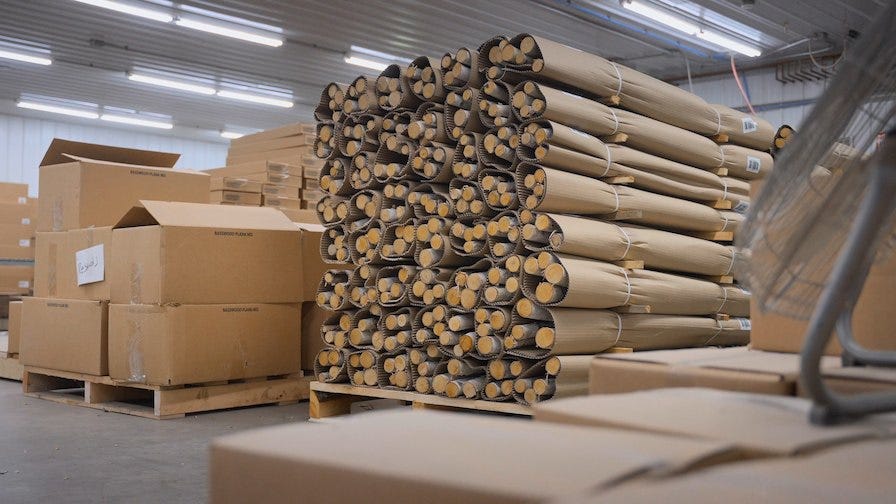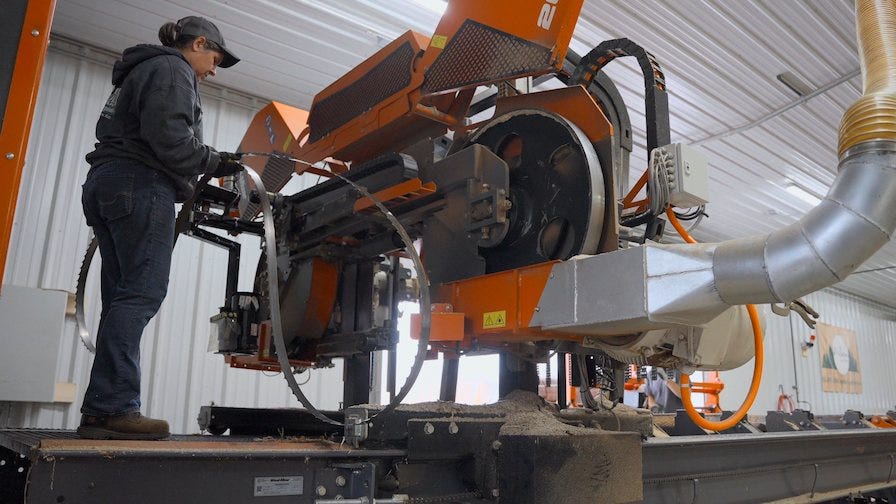 From Logs to Finished Products
"We do everything in-house here. We purchase the logs, we mill them on the mill, we'll run it through the resaw, we have four large dry kilns here, so everything gets dried in-house," said Gerry. "From there we actually process everything to a finished product start to finish."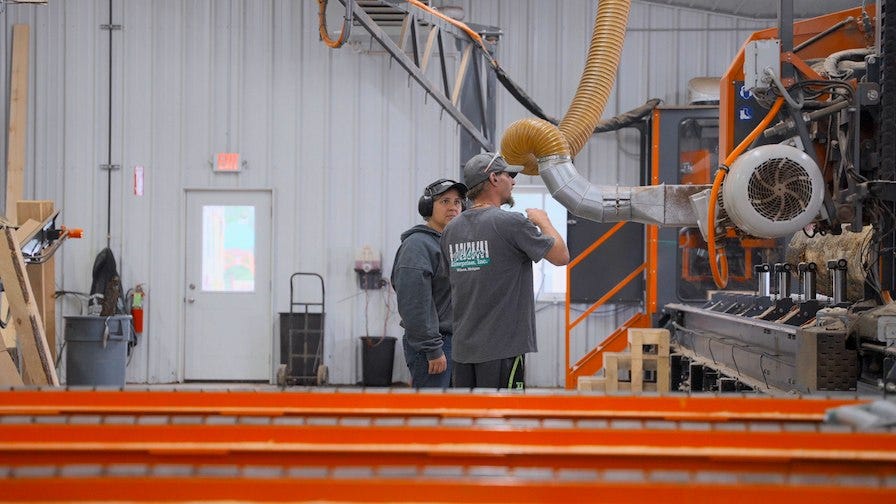 Being in the Upper Peninsula, Wilson Enterprises utilizes all the great natural timber resources that Michigan has to offer. "Almost all our wood is sourced from the Upper Peninsula in Michigan and northern Wisconsin," said Gerry. When selecting timber, Wilson Enterprises typically purchases 8-inch logs up to logs 36 inches in diameter. With their sawmill, they have the capacity to cut up to 20 feet long but tend to stick between 8 and 12 feet as their common log length.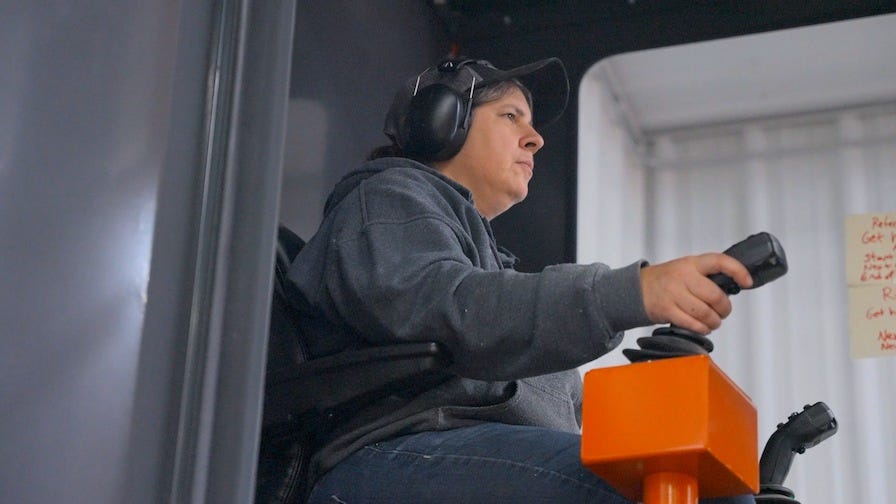 Wilson Enterprises' head sawyer, Andrea Walechka, mentioned they utilize woods such as red and white pine for making fireplace mantels and dimensional boards, birch, maple, basswood, aspen, and cedar. "It's a really good work environment to learn how to work with your hands and know how, from start to finish, a product is made because this is from raw log to kiln dry, to finished product, and it's nice to be able to see the whole process," said Andrea.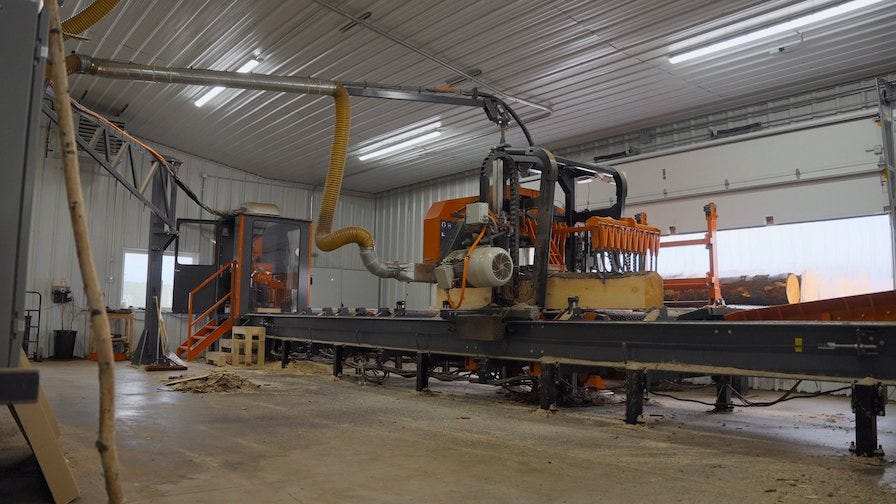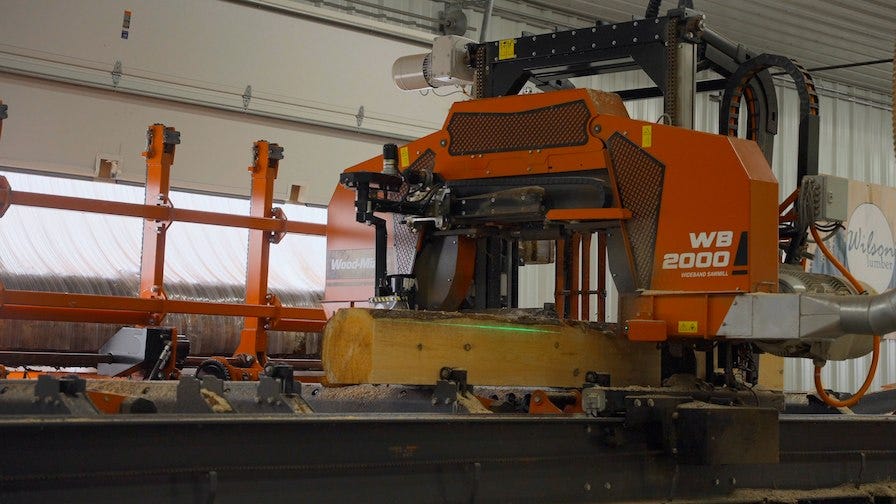 To keep up with their product demand, Wilson Enterprises purchased a Wood-Mizer WB2000 industrial sawmilling system that also includes a six-head resaw, board edger, and material handling equipment. "Our equipment grew over the years, we started with a very small sawmill and now we've moved up to the Wood-Mizer industrial mill," said Gerry. "We have a WB2000, it's an industrial sawmill. We wanted a mill that would last, and you can tell when we received it, just how well it's built. It's just going to outlast any other mill on the market."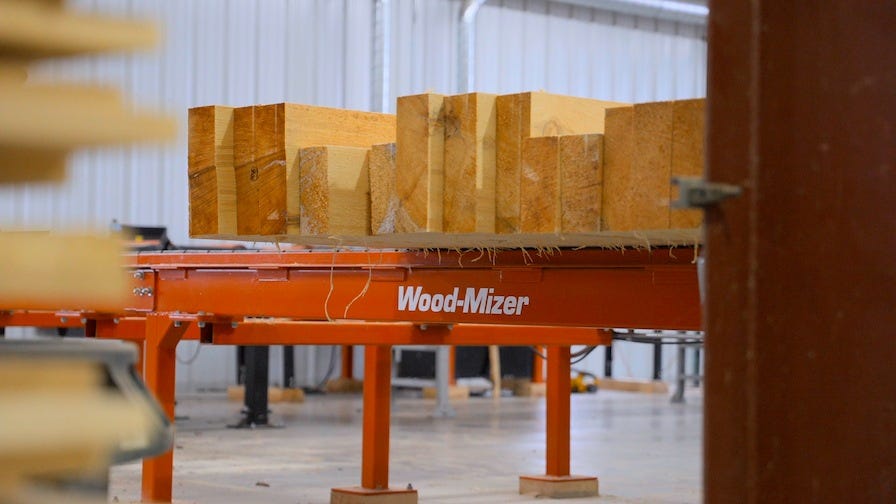 Wilson Enterprises' sawmill processes between 12 to 15 thousand board feet per day. "That mill has helped us produce a steady flow of timber and lumber and it's really helped our company grow," said Gerry. "The service from Wood-Mizer has been really well. They came to our facility, and they went over with us what we could use, and what would work best for us. After we were running it for about a month, they were in the area, they stopped and helped us with problems that we had as far as learning the software and the function of the mill itself."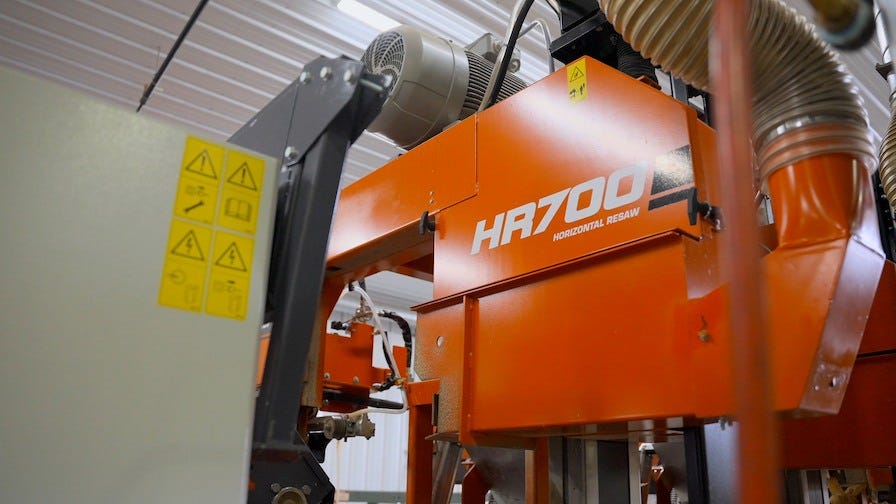 Along with the WB2000 industrial sawmill, Wilson Enterprises also owns a Wood-Mizer industrial board edger and an HR700 horizontal resaw. "We also have a really nice 6-head resaw so we can square up the logs into a cant. It really helps make the whole process more efficient," said Gerry. The HR700 horizontal resaw has helped increase production by allowing them to cut 7 boards at a time with the six resaw heads. They also have a transfer table to assist with downstream processing from the sawmill. Once the lumber leaves the sawmill, it is moved onto the table which transfers to either the resaw or their board edger. "It's a very simple, effective, efficient way to produce lumber," said Gerry.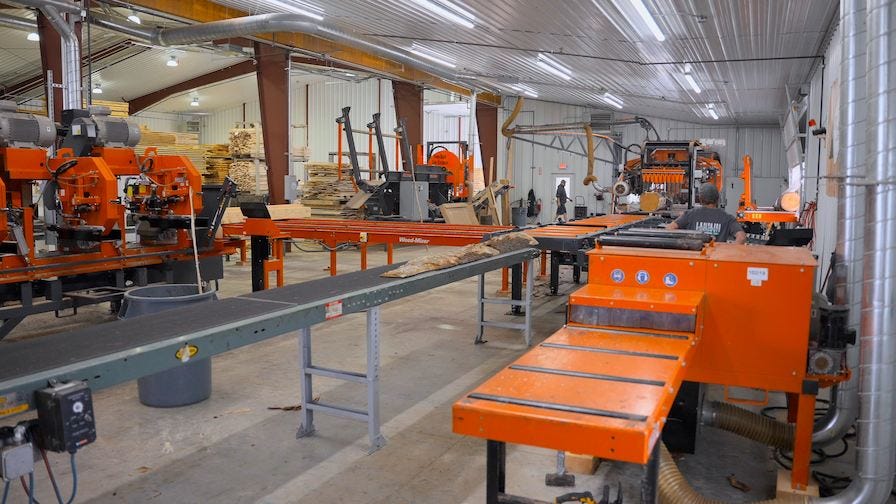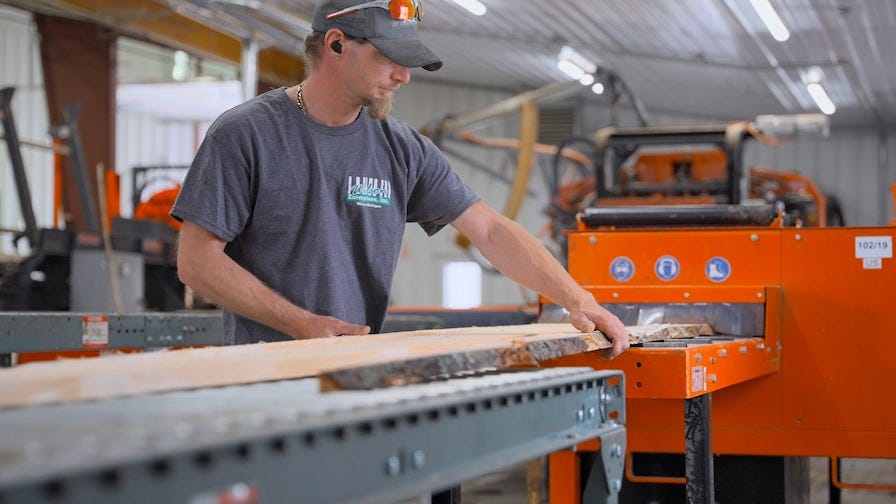 With high demand for their products, Wilson Enterprises has made sure that their customers can get ahold of their products in many ways. Not only do they sell dimensional lumber to local lumber yards, but they also sell tongue and groove products to customers in the local area. "We also sell it online, so we have our own websites, we sell on Wayfair and Amazon," said Gerry. "We have a shipping department here so we ship everyday products dierectly to people's homes."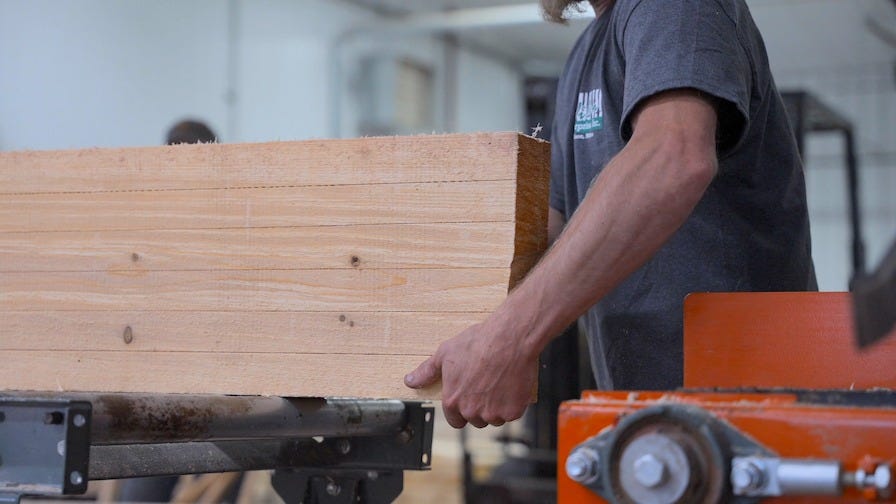 While they produce different varieties of dimensional lumber and tongue and groove products for their larger cooperate customers, they are also able to sell live edge and white birch products. "Right now, we are in close to 5,000 retail stores across the country with our wood products," said Gerry.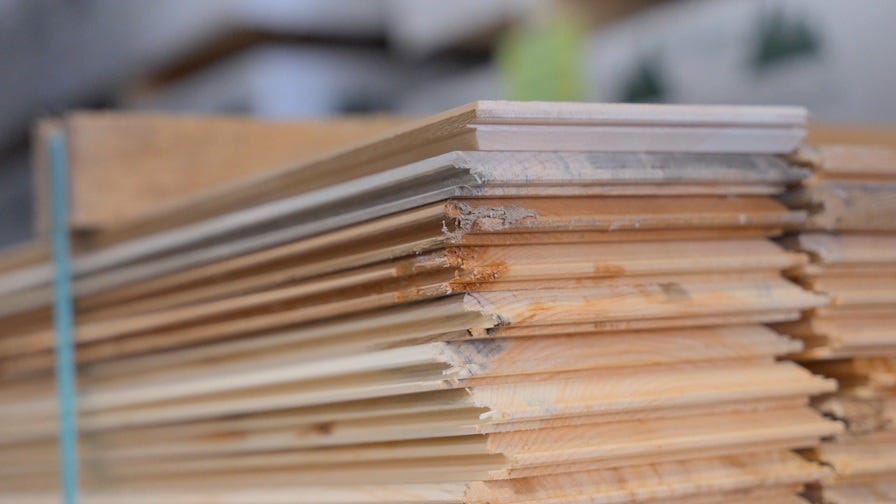 Growing with Wood-Mizer
As Wilson Enterprises continues to grow, they are in the process of expanding their dimensional lumber line and continuing to produce large amounts of high-end tongue and groove products. "Customers like the fact that they are able to buy lumber directly from the mill," said Gerry. "We are excited that as we grow, we can grow with Wood-Mizer."