Australian Sawmill Provides Timber for Rural Properties
By Tony Kryzanowski, Wood-Mizer Contributing Author
When it comes to rural living in New South Wales, Australia David Milligan is leveraging his own experiences to help people realize their dreams. Owner of Select-A-Fence located in Wyong, David provides property development and timber construction for people who are escaping to the country or need a property upgrade for their rural lifestyle.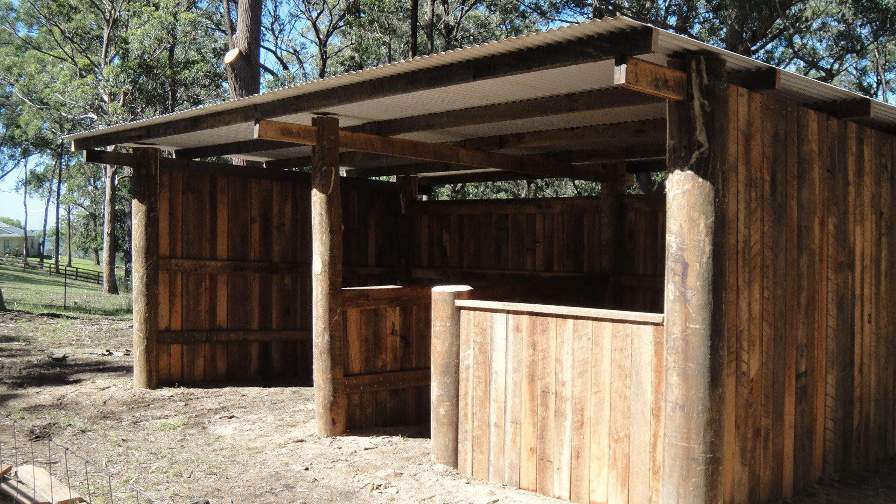 In addition to giving quality advice, David offers custom sawmilling and wood packages to make dreams a reality. Select-A-Fence features a variety of locally-sourced hardwoods for post and rail fencing, equine fencing, entry ways, bridges, rural landscaping, wire stock fencing, round yards, gates, stables, wharves, electric fencing and cattle yards.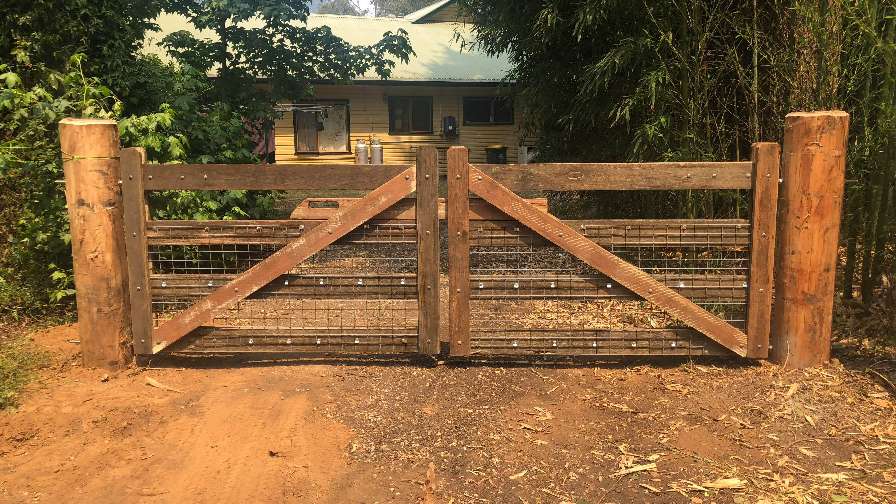 David sources logs for his projects from local loggers or from his client's own property depending on the task at hand. He works with a variety of timber species common in the area including blue gum, spotted gum, blackbutt, ironbark, white mahogany, yellow stringy bark, and grey gum.
Select-A-Fence has evolved significantly over the past two decades by expanding their product offering to supply quality live edge slab timbers for tables and bar tops for homes, outdoor kitchens, and rustic sheds. This creative side of the business, called Hard on Wood, also supplies and build stables, round yards and timber bridges for vehicle access to remote properties.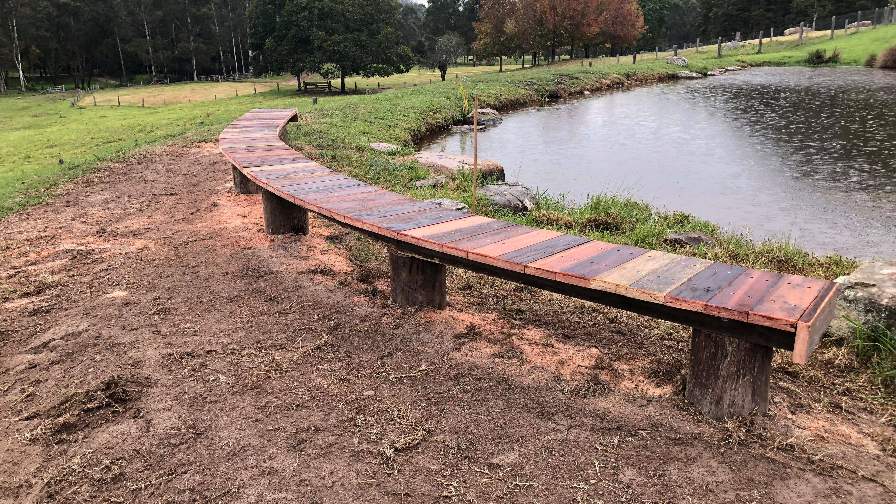 David has considerable sawmilling experience and has improved his knowledge by networking and sharing stories with industry veterans as well as leveraging knowledge passed on by family members over six generations of rural living dating as far back as Australia's pioneering days. "I started out on my own private bush block with a conventional sawmill and an Alaskan chainsaw slabbing mill," said David.
Changing government legislation brought that to an end but it opened the door to building his Select-A-Fence and Hard on Wood businesses which he owns with business partner Julie Hamnett. David admits to a bent toward creativity and his clients appreciate that about him. "Our clients appreciate the quality of the work, eye for detail and artistic flair," said David. "Most of our business is word of mouth. We also advertise in our local rural magazine and on social media."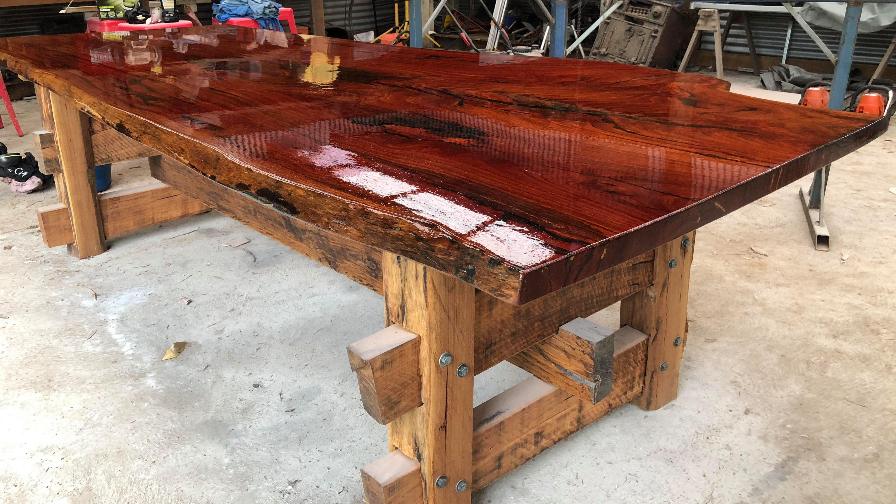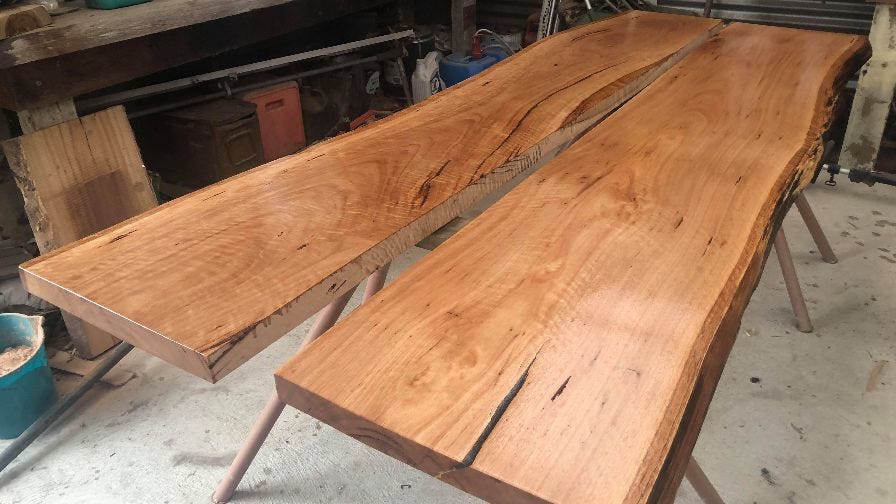 One example of applying that creativity is the development of an outdoor kitchen. The moment of inspiration began with a broken down tractor, spare time, and leftover timber kicking around the yard. He had the time and material to develop the concept on his own property and now it has become part of his wood product offerings and installation services. "It was done by using old school Australian timber construction methods like post and beam and so on," said David. "The timber was over-specified to get the chunky solid timber look. It's basically a life-size functional art piece."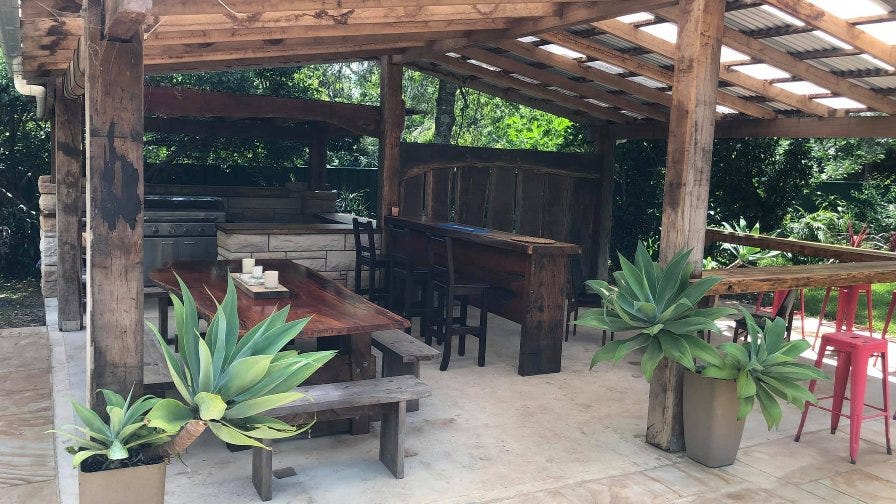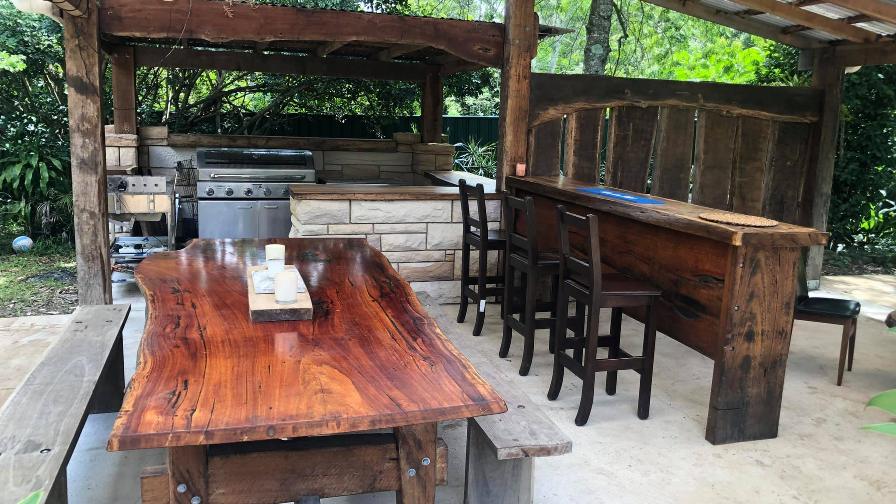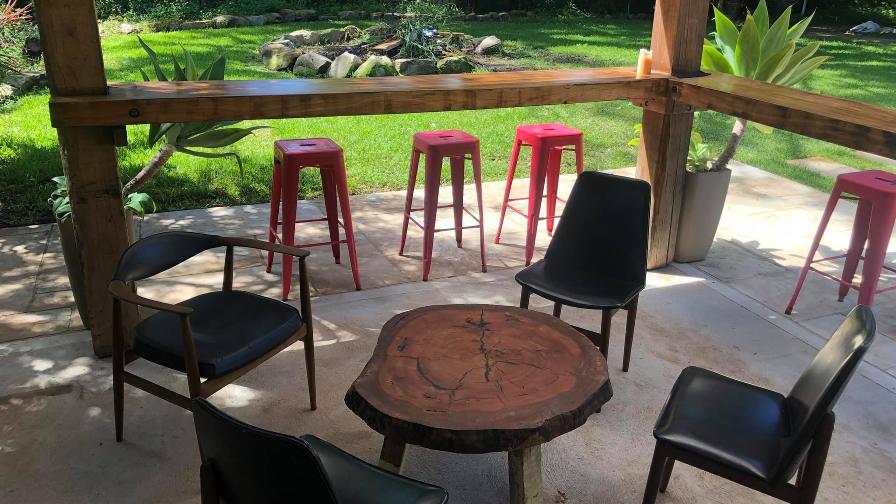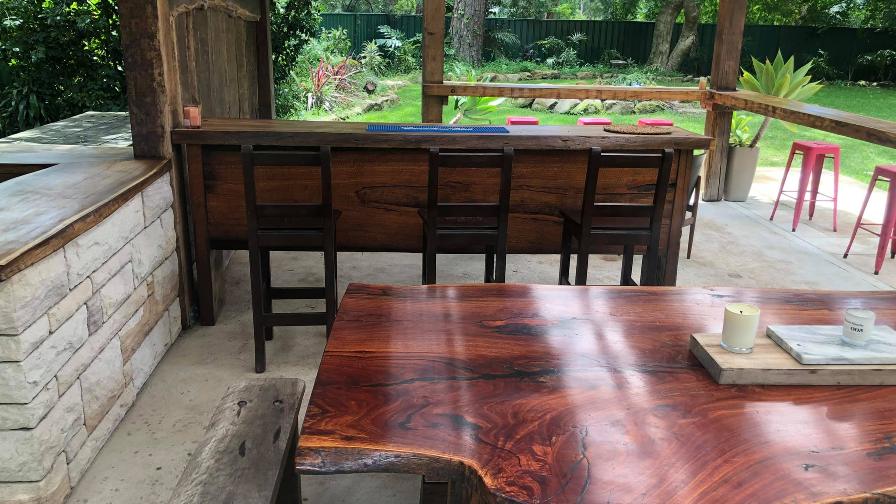 He understands that providing quality products and services requires the proper tools and equipment. Today that includes a Wood-Mizer LT15WIDE portable sawmill that he purchased in 2017 equipped with a six meter bed extension. He appreciates the after-sales support that came with the band sawmill. "I was influenced to buy the Wood-Mizer sawmill because of its affordability, versatility, portability and low running costs," said David. "I use it weekly and I enjoy creating any timber pieces out of the logs with ease and precision cutting. I also do contract sawmilling."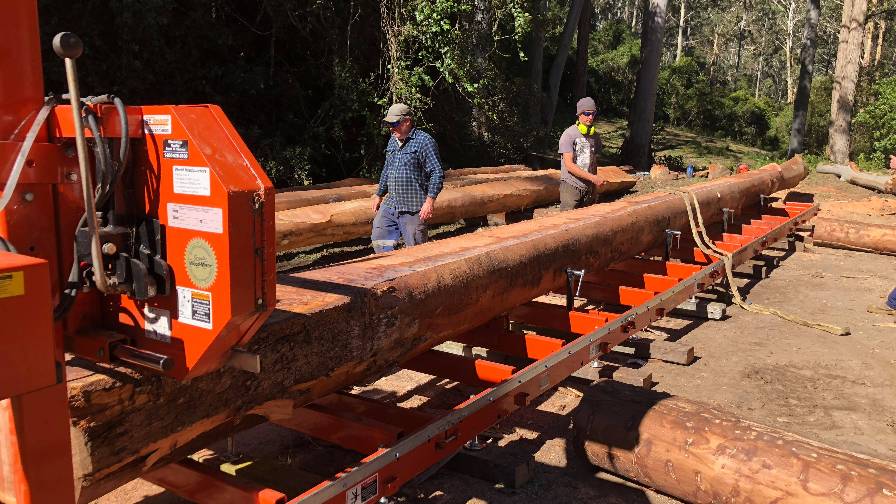 Milling is done on site or at the home yard. Each job is delivered on a need-to-do basis depending on what service they are offering. It all starts with assessing the client's needs. "A normal day involves designing and quoting jobs as well as surveying timber for sawmilling and construction," said David. Billet logs are milled on the Wood-Mizer bandsaw mill to a specified cutting list and then the timber is allocated into packs and strapped up ready for job lots.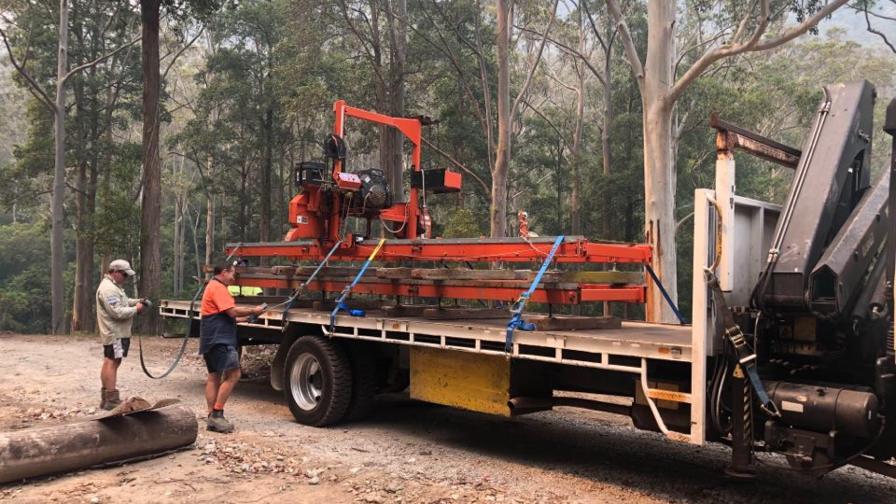 The Wood-Mizer LT15WIDE sawmill's mobility provides David with the convenience of moving his sawmill close to a client's log source which saves both time and money. It also gives him the ability to offer valuable on-site contract sawmilling services. The wood products he manufactures are then often used for on-site project work. With a log diameter capacity of 910mm, the LT15WIDE sawmill allows David to produce wide live edge slabs typically used for tables and bar tops. After sawing, slabbed timber pieces are dried or seasoned in a 40-foot shipping container.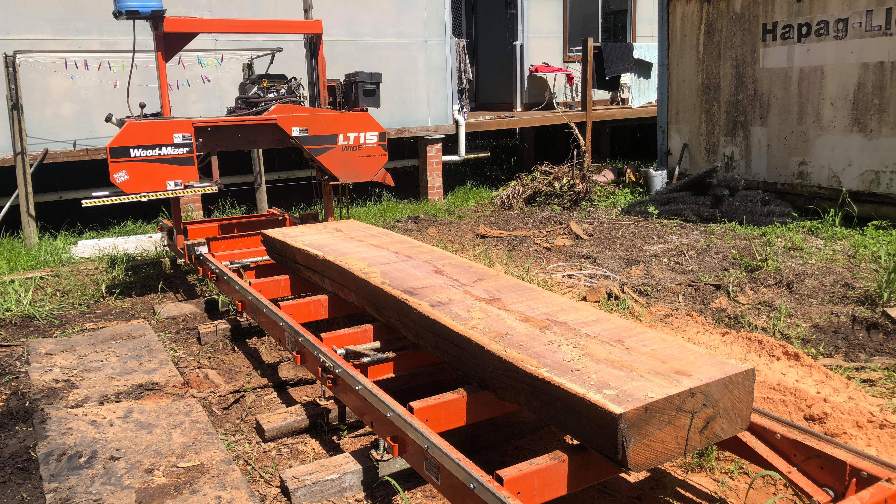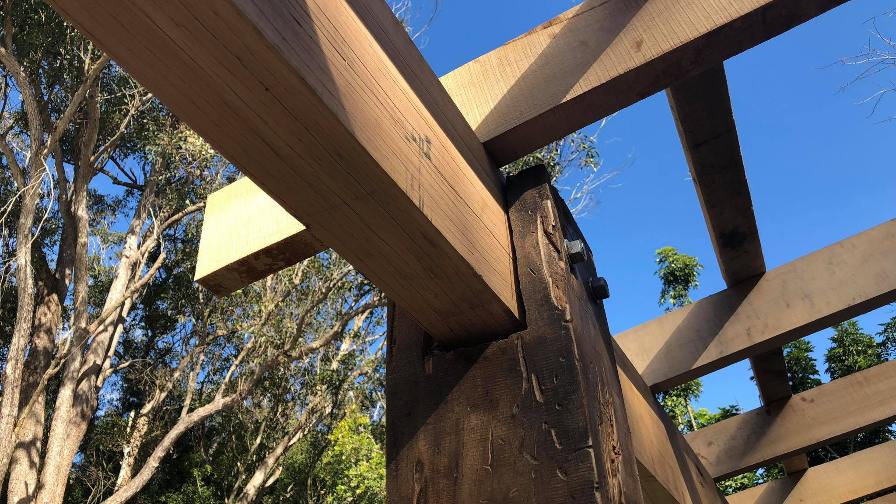 The six meter bed extension, making the bed 12 meters long, allows David to saw longer logs in longer dimensions. One of his projects where this feature was particularly useful involved milling structural components for a vehicle bridge. "We cut bridge girders 12 meters long which saves tens of thousands of dollars by sourcing timber from the property and not having to buy them and bring them in," said David.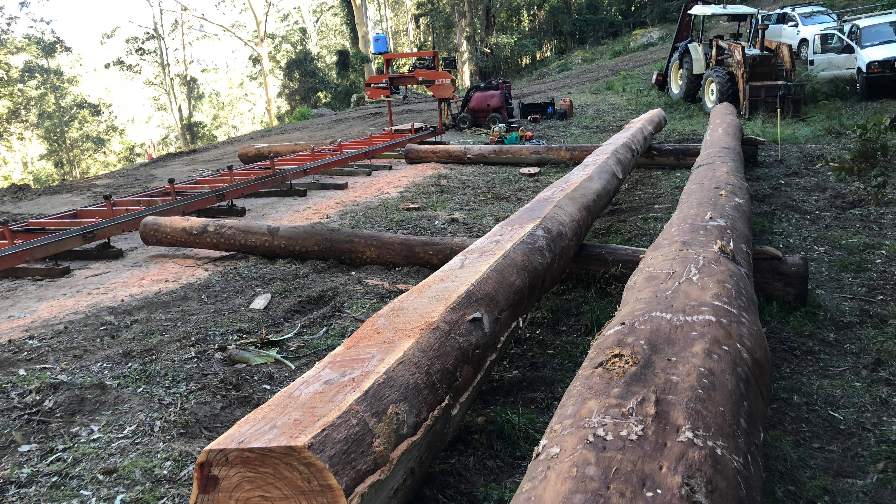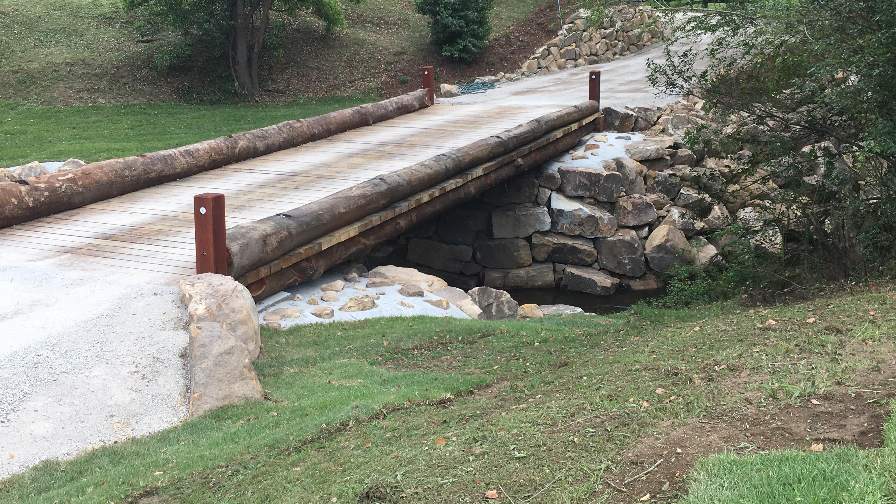 Owning his Wood-Mizer LT15WIDE bandsaw mill has also been invaluable for producing wood needed for projects on his own property – timber that he would otherwise have had to purchase at the lumberyard. To date, he has constructed an extension to his house, a work shed, greenhouse, and vegetable garden with timber from his sawmill. For the future, David has definite goals for his two businesses. "I would like to specialize in building outdoor kitchens and outdoor entertaining areas as well as upgrading my current Wood-Mizer sawmill to the LT70 Hydraulic," said David.