Nonprofit Urban Sawmilling in Metro Atlanta
By Olivia Eaker, Wood-Mizer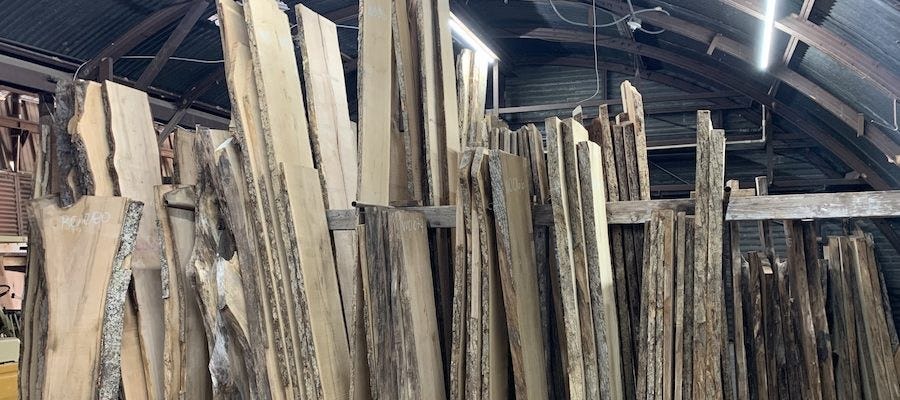 Located within the city limits of Atlanta, Georgia, the nonprofit sawmill, Atlanta Wood Foundation, was established in 2021 to save damaged, diseased, and fallen urban trees from the landfill while providing high-quality wood to the surrounding woodworking community.
Starting a Nonprofit Sawmill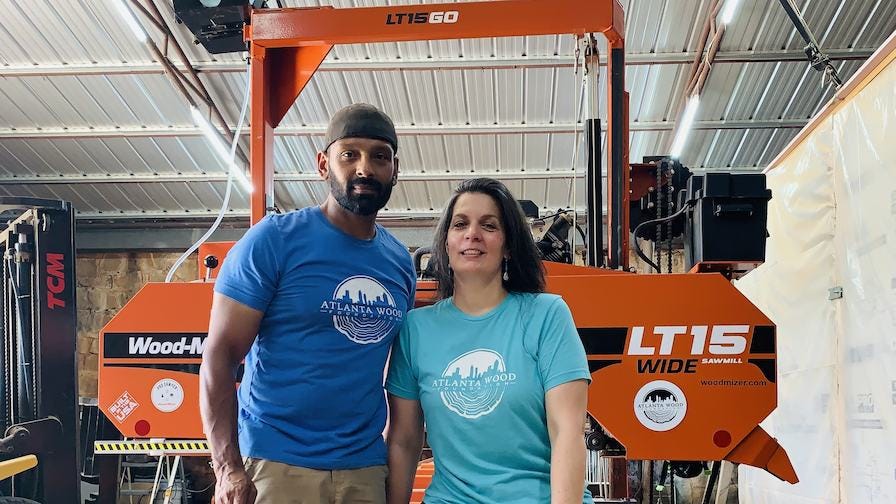 During the pandemic as lumber prices began to skyrocket, Atlanta Wood Foundation founders Ali and Kelly Syed decided that in order to grow their woodworking business they needed to buy their own portable sawmill.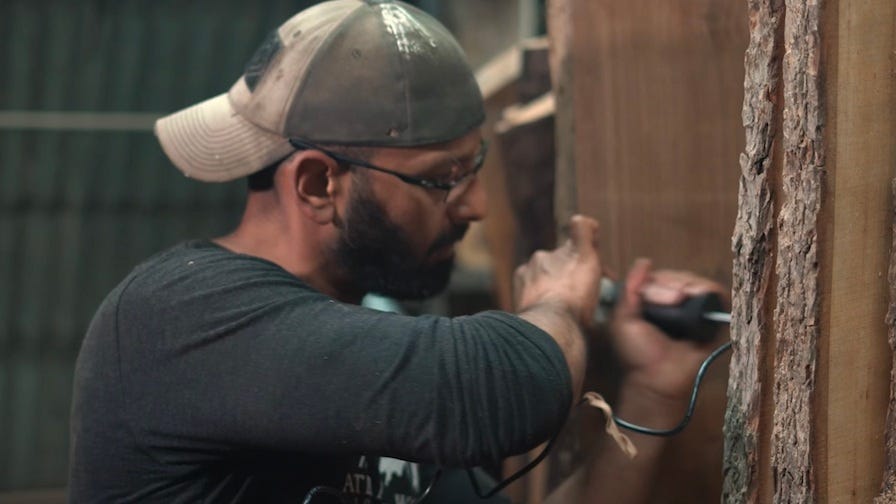 "We reached out to our partner Chris, a co-worker of Ali's, about starting a portable milling service operation with us," said Kelly. "Several ideas were tossed around, and starting a local sawmill is what seemed most logical. Chris came up with the nonprofit idea, in hopes it would give tree service companies an incentive to donate logs to us. As it turns out, it is more of an incentive for homeowners. We mostly work directly with the homeowner who would like to keep their trees out of the landfill. And for some, they love that they can hire a local woodworker to create something for their home once their tree has been milled and dried."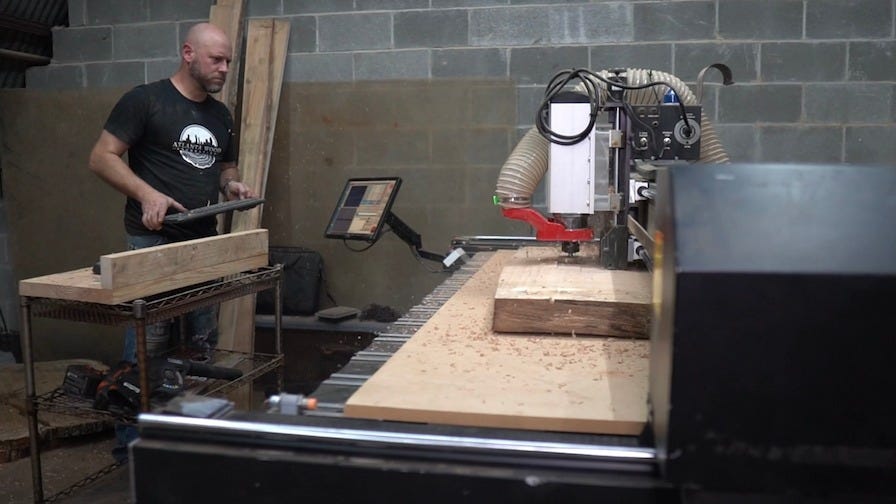 Currently, Ali, Kelly, and Chris volunteer their time running the sawmill and the organization. There are a few hurdles to overcome when starting a nonprofit, one of which is receiving monetary donations.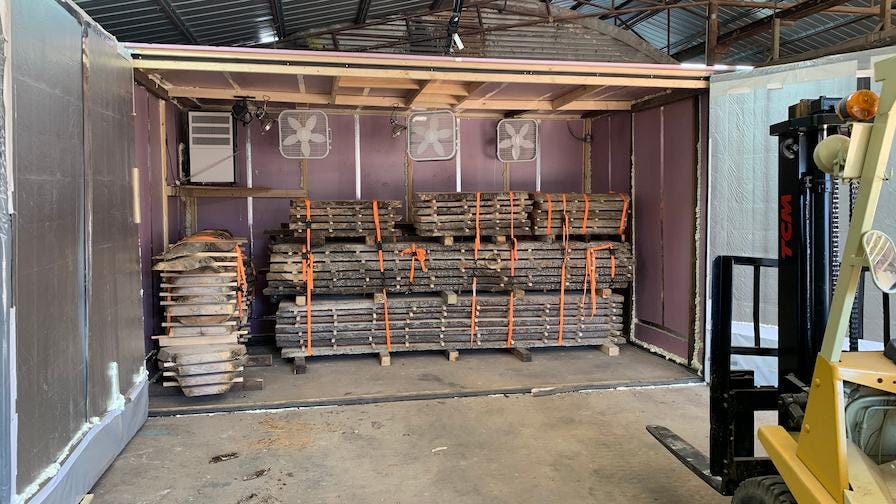 "All forms of donations are necessary lifelines for nonprofits. It all begins with the tree donor for us. It all begins with the tree donor for us. Once we are contacted by a homeowner about a tree that has to be removed, or that fell, we are able to request the sections and lengths for their tree service deliver to us or to leave for us to retrieve," shared Kelly.
Sawmilling in Metropolitan Atlanta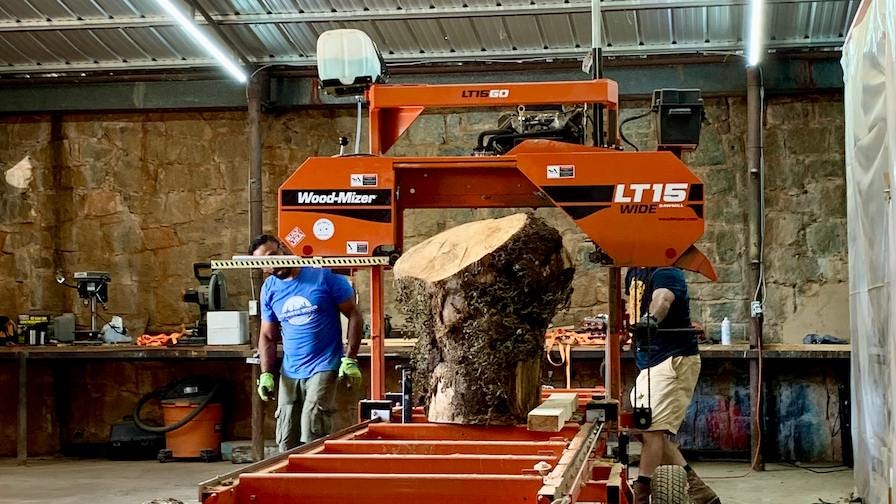 Though it may come as a surprise, there are a multitude of available trees throughout Atlanta. "All of our trees are donated to us from the Metro Atlanta area. We currently have 13 species," explained Kelly. "White Oak, Red Oak, Maple, Pecan, Hickory, and Walnut. We are lucky to have such a green canopy for a big city!"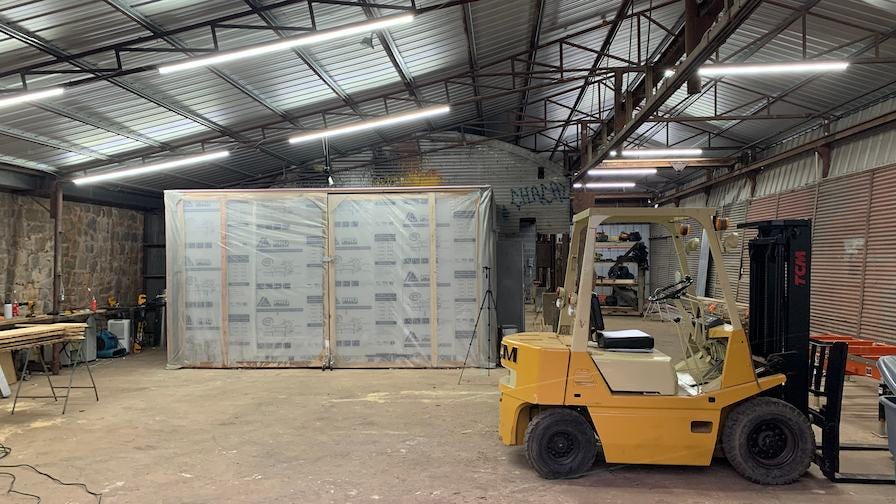 However, the Atlanta Wood Foundation would not be able to utilize this abundance of trees if it weren't for their Wood-Mizer LT15WIDE portable sawmill. "We did not operate before having our Wood-Mizer," said Kelly. "The LT15WIDE gets the daily job done. It allows us to create our product, and if we wanted to be mobile, we have the option."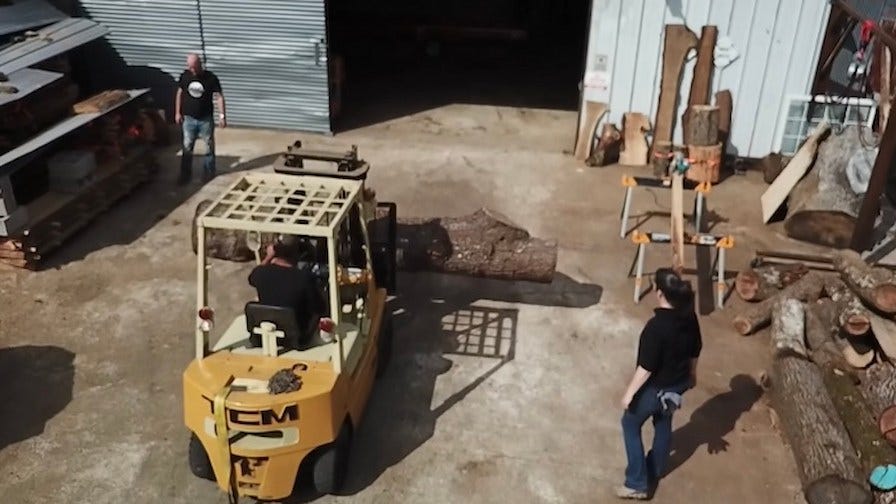 Kelly detailed what a typical day looks like for their operation. "Our warehouse is open to the public on Saturdays and Sundays from 9 to 1. The average log size we get is between 14" and 36" in diameter and vary in length from 6' to 12'. We typically mill 3 to 5 logs a day. Once milled, the slabs get stacked and stickered for air drying outside for several months, and then they go in the kiln for a few months." As soon as the material is kiln-dried, slabs are measured, photographed, and added to the online store for sale.
Locally Sourced Wood Products
Atlanta Wood Foundation offers a wide variety of live edge slabs that are rough cut and ready for woodworkers to finish and create beautiful furniture or unique wood projects. "All of our live-edge slabs are sold kiln-dried and rough cut through the online store of our website. Red and white oak are currently our best sellers. They are beautiful and sturdy hardwoods," said Kelly.
However, if a customer is not looking for a rough–cut slab, the foundation also offers CNC services for anyone that would like to have their slabs surfaced or flattened. "Many take advantage of the CNC knowing the time it will save them in prepping their slab. Also because a lot of the slabs are over 20" wide, most woodworkers don't have that size of machinery in their shops to surface them," shared Kelly.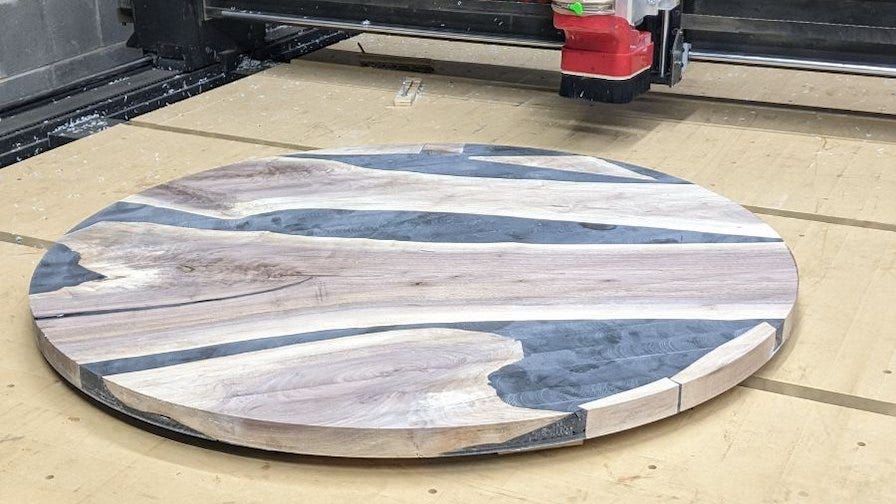 Atlanta Wood Foundation has appealed to many locals in the area. "Our client base is mostly local Atlanta woodworkers," said Kelly. "They all appreciate that our slabs come from Metro Atlanta and were saved from the landfill. They like knowing where the trees came from."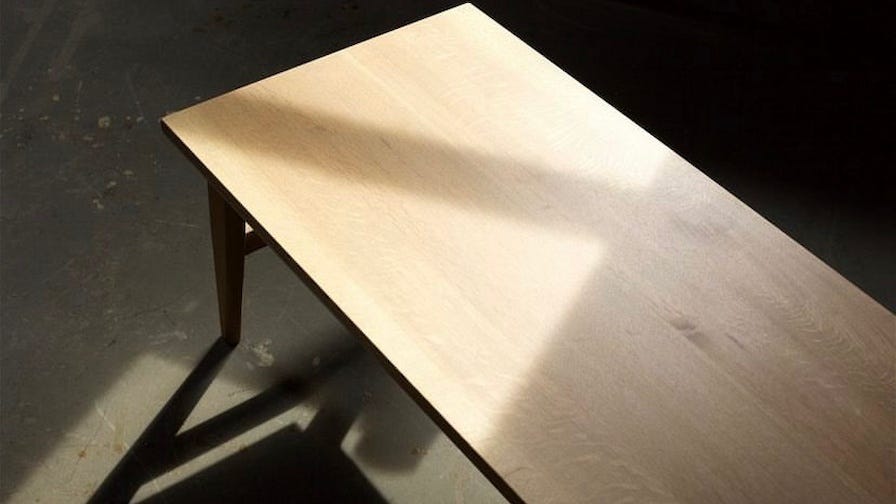 Atlanta Wood Foundation is a unique sawmilling operation as a nonprofit, but they are making a difference for the environment by salvaging urban trees and providing high-quality wood for the community, one log, one sawmill, and one slab at a time.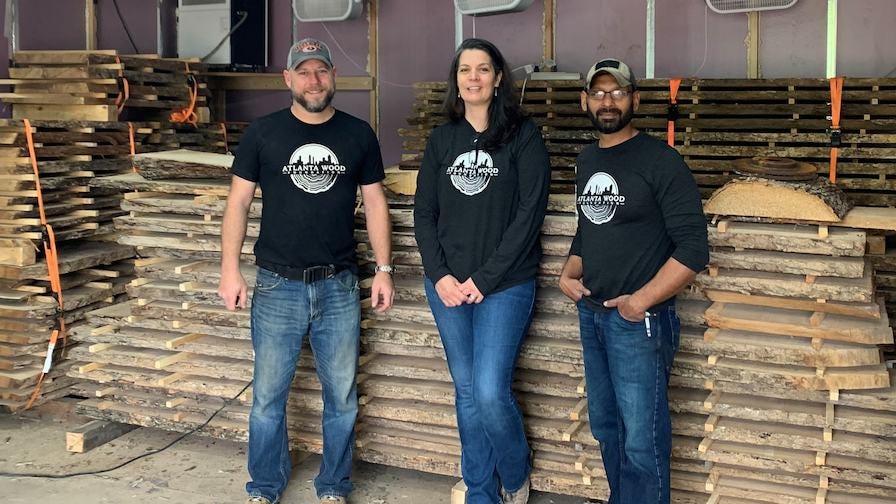 "As we grow in sales and monetary donations including grants and sponsorships, we can begin to pay ourselves and add employees, so we can be open daily. We hope to be a true and steady source of Urban Wood in Georgia," said Kelly.