Saskatchewan Sawmiller Doubles Production with Wood-Mizer Portable Sawmill
By Tony Kryzanowski, Wood-Mizer Contributing Author

Dean Christiansen had a vision of what he wanted in a primary sawmill equipment, and now he has it with his Wood-Mizer LT70 electric band sawmill. It has allowed him to double his production potential. Dean owns Christiansen Lumber in northwestern Saskatchewan, Canada, near Big River. This area, where the plains meet the boreal forest, has deep roots in forestry.
Dean grew up in the forest industry. He started out working with his father in logging, but eventually made the transition to sawmilling with the purchase of his first sawmill in 1999. He became a full-time sawmiller about 10 years ago.
Their diversified product mix includes rough sawn lumber, custom cut timbers, decking, and raw building logs. They also sell value-added planed and moulded lumber products like log profile siding, drop siding, V-joint tongue and groove, and shiplap. Other products include pine and birch fireplace mantles and live edge shelving, and they sell firewood from what's left over.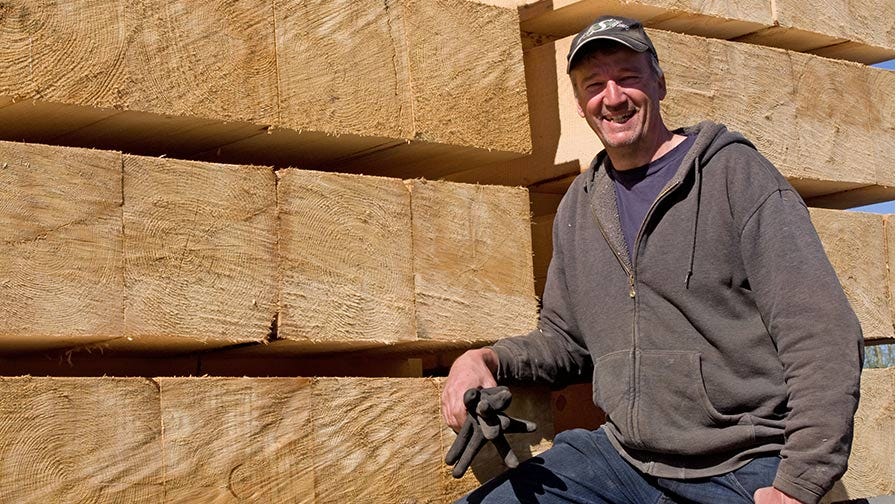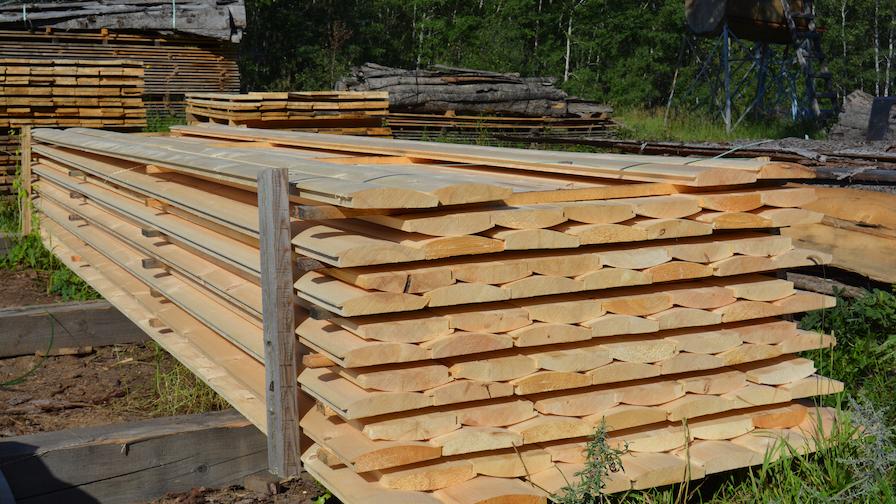 They produce about half a million board feet annually with three full-time employees and one part-time employee, but, as with any specialty sawing operation, lumber volume is almost irrelevant. The goal is to achieve as much utilization as possible, while operating as efficiently as possible, with a balance between high volume and high value products.
Christiansen Lumber uses primarily white spruce but also some jackpine, poplar, birch and tamarack. With the poplar, birch and tamarack, Dean is able to manufacture paneling and flooring material, representing 20 percent of his business. They process larger logs - anywhere from 22" to 40" at the end, and currently can saw material up to 20' long.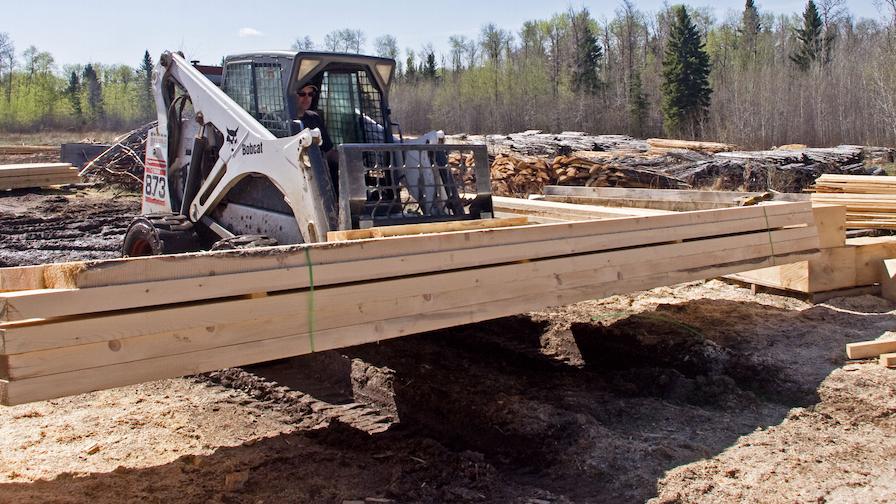 The company recently upgraded its primary sawmill with a Wood-Mizer LT70HD electric band sawmill, replacing a gas-powered band sawmill from a competing brand. It has an extension that will allow Christiansen to saw logs up to 26' long if a market develops for that product. The mill is located under a shelter and the operator manages the controls remotely in a weather-protected booth, which Dean says is important from a business development standpoint.
"I was shopping for a new sawmill because I was looking for a way to increase production while getting out of the cold to operate the mill," says Dean. "Once I bought my Wood-Mizer, I was able to build my weather-protected cabin and put all my controls in there with a little construction heater to keep the sawyer warm. That allows us to operate more year-round. As soon as I bought that mill, I basically doubled my sawmilling capability because I could saw through the winter and run steadier."
In addition to providing a more comfortable working environment for the sawyer, Dean says that his new sawmill saws more quickly because it has more horsepower than his old unit. The Wood-Mizer LT70HD electric sawmill offers both a 25 horsepower and 30 horsepower option. He also appreciates that it is electric, so there are no oil changes, no oil or fuel filter changes, and no motor operating issues in cold weather.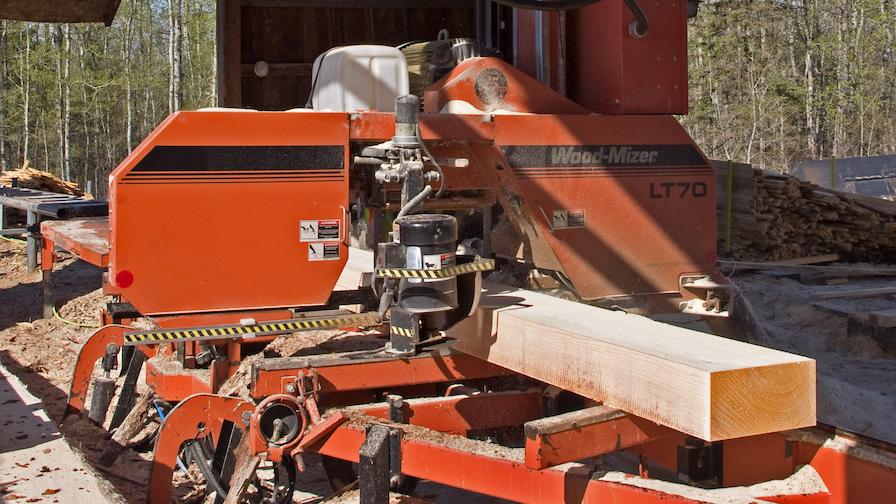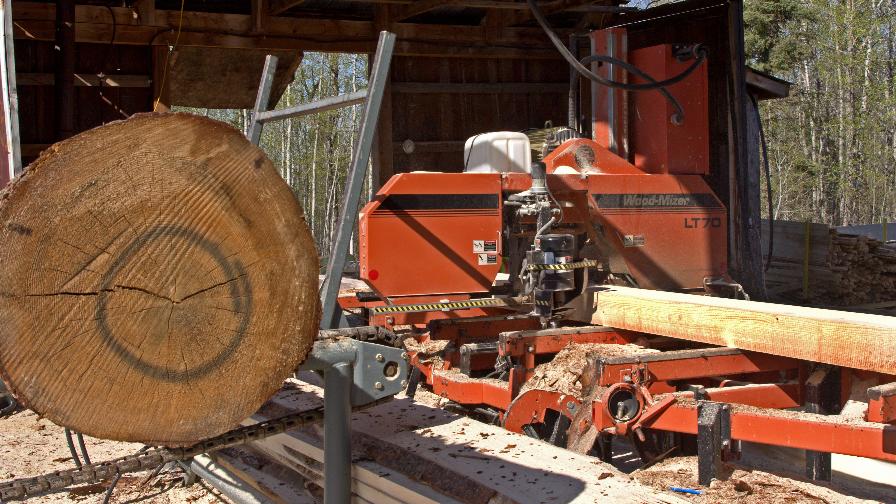 The Wood-Mizer LT70 will process between 4,000 and 5,000 board feet in an eight hour shift. Dimensions will vary depending on orders, from 12" X 12" timbers down to as small as 2" dimension lumber. The sawmill is controlled with Wood-Mizer's Accuset2 computer setworks, which Christiansen says is one of the features he likes best about the unit. "You just program the size of the last board you want on the deck, and it does all the calculations for every cut until you get there," says Dean. "The setworks will even calculate to allow for saw kerf if you like."
After the first cut to maximize recovery, Dean says he pushes the 'auto down' button on the control panel and the sawmill will accurately cut the first board on his next pass without turning the log. After the log is turned hydraulicly, the setworks will take over in pattern mode and begin to saw the log according to the pre-programmed pattern and the size of the log.
What he also likes about his Wood-Mizer sawmill is its reliability. "It very rarely needs much for service - the odd drive belt or pulley insert belt," says Dean. "It runs day in and day out. The log turning and clamping is really strong. You don't have any trouble turning a large diameter log."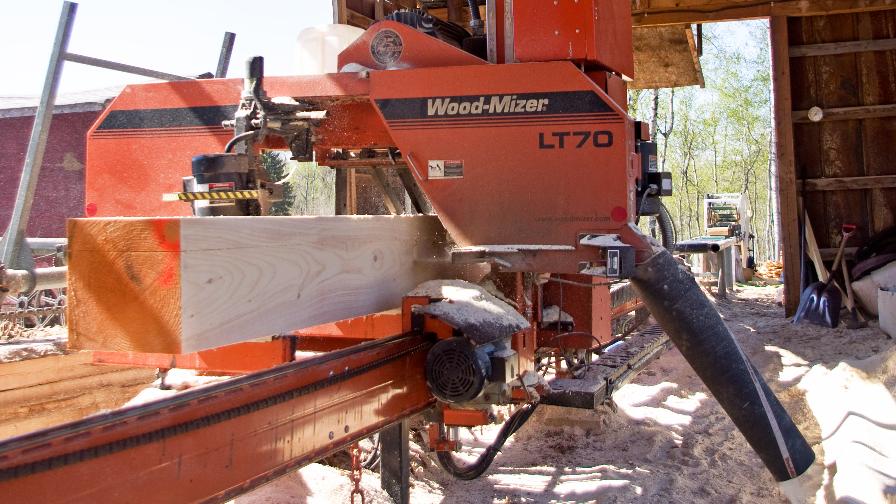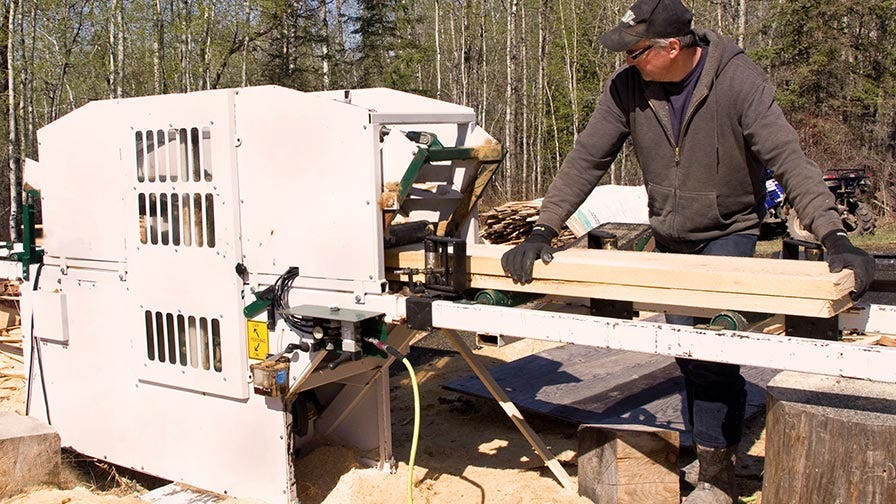 It is equipped with a Wood-Mizer Turbo 7 sawmill blade, with a deep gullet, seven degree hook angle, and 7/8" pitch. The blade is 1.5" wide and .055" thick. "It's stable in the cut, saws quickly, and handles frozen wood really well," says Dean. "So I am using it year round."
To sharpen blades, Dean uses the Wood-Mizer BMS500 bandsaw blade sharpener. "It's an improvement over my old drag grinder, where it would come down over the face of the tooth and then drag back," says Dean. "This sharpener has a CBN grinding wheel made with a special material which comes down and hits the tooth in one grind. You are getting a perfect grind every time."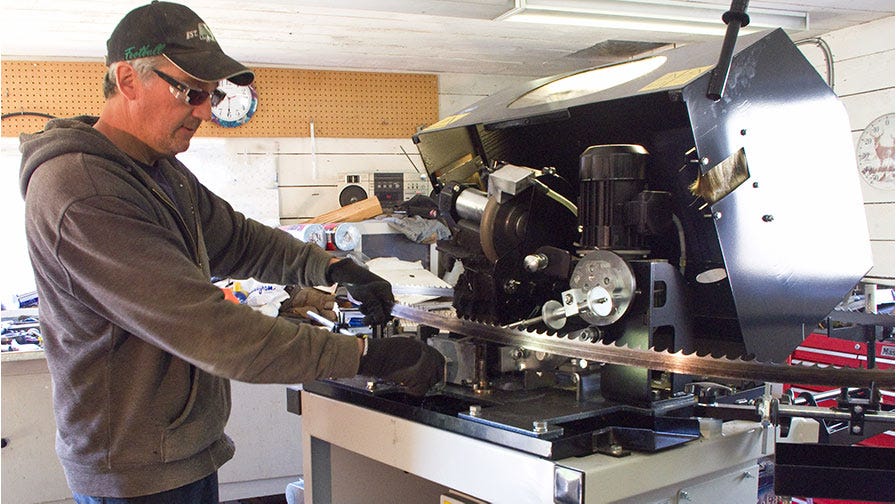 He adds that he can walk away from the unit and let it do its job because it has a computer that counts the teeth. "It saves me some time because if I get a few blades cleaned and set and then I walk away from the machine with the last blade that I put on it, this grinder saves me 10 minutes every time," he says. His sawmill requires six sharp blades every day, as blades are changed out every 1.5 hours. "That's really where the rubber meets the road because if you don't have sharp blades, your sawmill is useless," Dean says. "That's why I spent the extra money and bought their best grinder."
He adds that the business has grown a lot in the past three years and he expects that it will continue. With having a young family, sometimes the biggest challenge is to balance sawmill projects with hockey practice. But his children are starting to help out a bit in the business, so that's a bonus.