Family Sawmilling Business Producing Pallet and Grade Lumber in Northwest Ohio
By Chase Warner, Wood-Mizer Contributing Author

The family-owned and operated L. Garbers & Sons Sawmill in Northwest Ohio was established in 1997 by Luther and Kathryn Garbers and their two sons David and Marty. What started out as a side business with a portable sawmill has grown into a full-time operation with a high-production industrial sawmilling system producing pallet material, cut stock, blocking, and grade lumber in Wauseon, Ohio.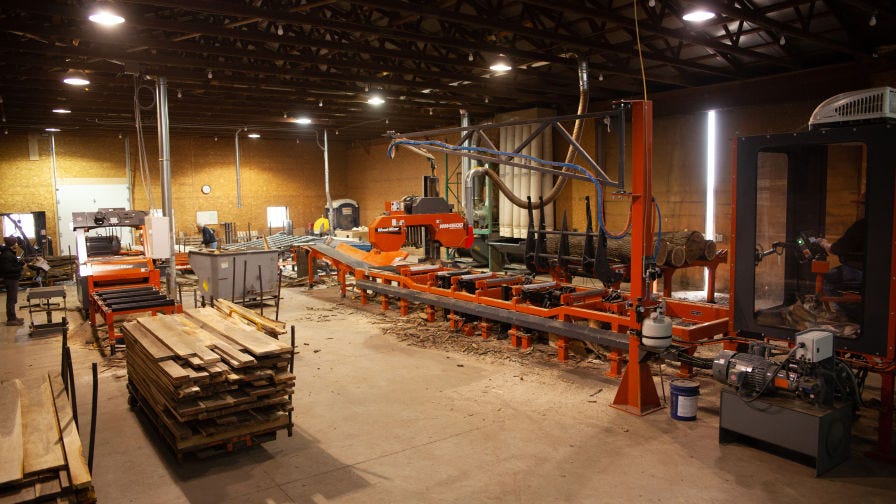 L. Garbers & Sons Sawmill
During the formative years of the business, Luther, David and Marty both farmed and worked separate full-time jobs so they were only able to help their father at the mill on weekends and holidays, but their interest in sawing started at a young age. "We both love sawing lumber and it's a joy to run the mill," said David. "It all started when we were kids running our grandfather's mill. We've grown up with it in our blood." When Luther passed away in 2002 and farming profits started to decline, the brothers turned their focus to sawmilling and began working full-time at the family mill. "Our dad always told us to produce quality material and you will always have work," said David. "That's been true and we've held to that since the start."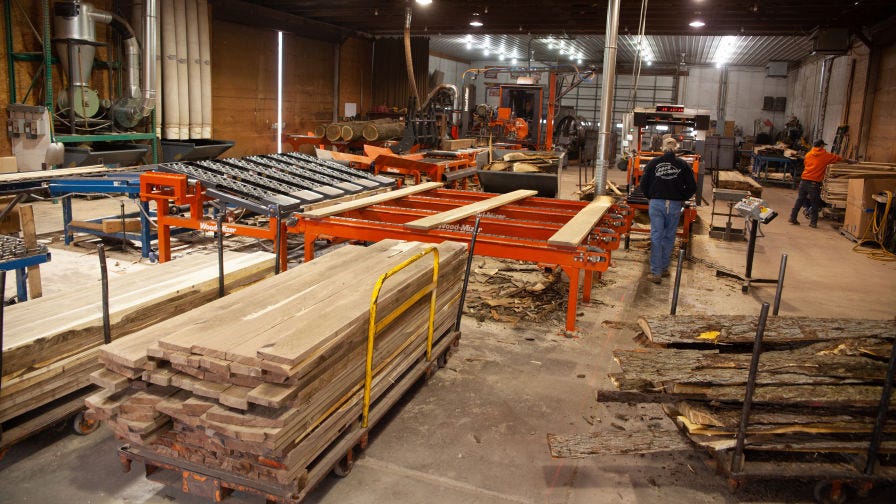 In addition to having decades of experience running sawmill equipment, L. Garbers & Sons has relied on Wood-Mizer equipment for more than 20 years to produce accurate, consistent material by maintaining thickness, reducing waves or variation, and minimizing wane. "We've always received comments about the quality and consistency of our material and Wood-Mizer contributes a great deal to our quality," said Marty. "The quality of how they construct their mills and their engineering help you maintain your production as well as your quality of cutting."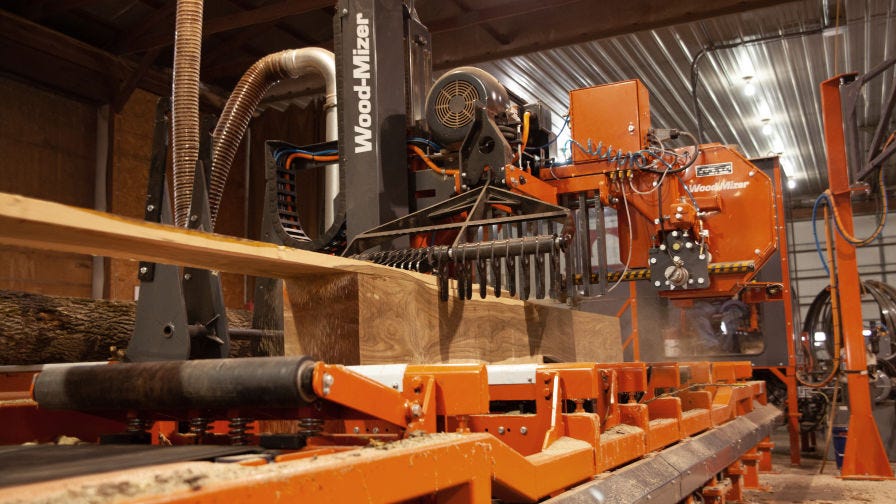 In addition to providing quality material, L. Garbers & Sons has grown throughout the decades by sawing a variety of material and taking smaller jobs to get their foot in the door with a potential for securing larger jobs with clients. For example, the business entered the pallet board business by first doing trailer planking for a trucking company who eventually started a steel coil shipping business and contracted all pallet work to L. Garbers & Sons. "If one product is a little slower, another product will pick up," said David. "We try to keep our eggs in different baskets." The business processes and sells material to a range of clients including pallet stock to the pallet industry, blocking to the railroad and steel industry, and grade lumber to clients throughout Michigan, Wisconsin, Indiana, and Missouri.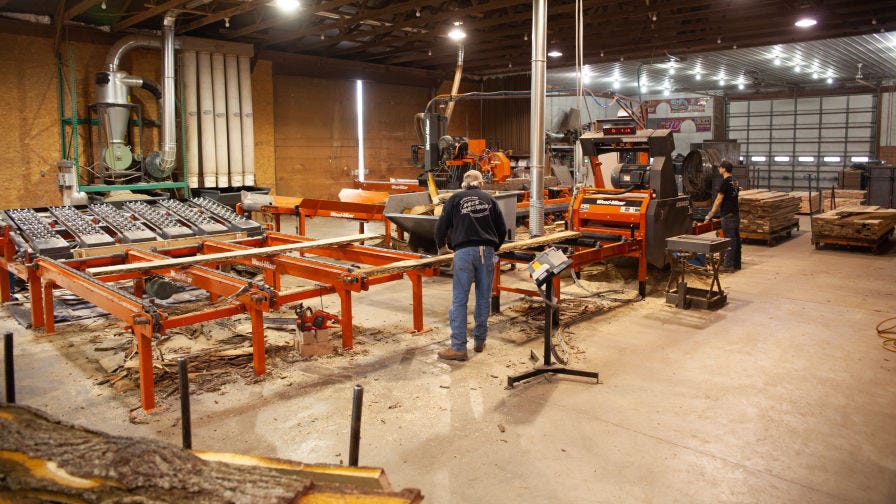 Upgrading to a WM4500 Industrial Sawmilling System
While L. Garbers & Sons has remained flexible to produce whatever the market demands, one constant has been operating with Wood-Mizer sawmilling equipment. The company started with a Wood-Mizer LT40 hydraulic portable sawmill before securing a large contract for producing pallet stock. This led to an upgrade to an LT40 super hydraulic portable sawmill to meet production demands. After more than 1 ½ million board feet on the LT40 super portable sawmill in just a few years, the operation upgraded again to an LT300 sawmill – Wood-Mizer's largest industrial mill at the time. Sixteen years later, the company operates today with an industrial sawmilling system that includes a Wood-Mizer WM4500 sawmill, EG400 multi-rip board edger, and material handling equipment. They also maintain their own blades on-site with Wood-Mizer blade sharpening and setting equipment. "The WM4500 was huge for us, kind of like a present for paying our dues and working our way up," said David. "You don't start out at the top, now we've earned the right to have the WM4500 and we're tickled pink."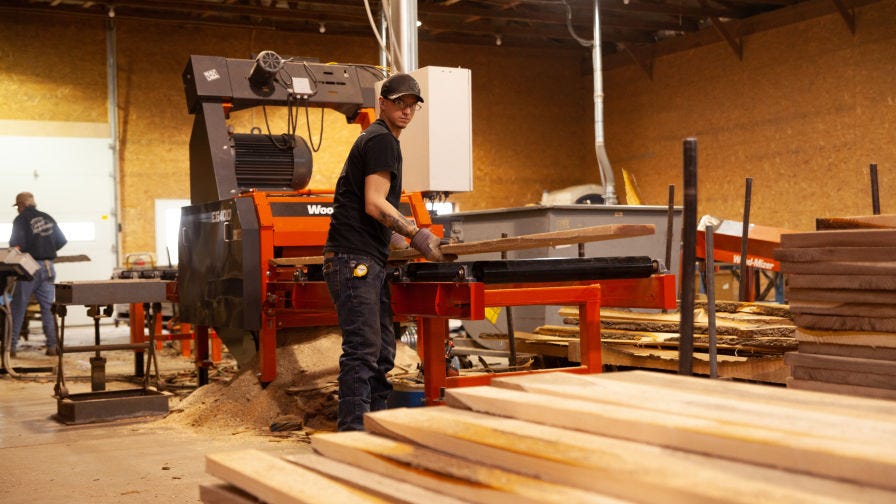 The installation of the WM4500 was completed in approximately three days and David and Marty were both trained by Wood-Mizer technicians how to operate the new machinery. "What I like most about the WM4500 is the powered toeboard rollers," said Marty. "It is much nicer shifting the log back and forth on the deck how you want and the dual chain turners are able to handle the logs so much easier."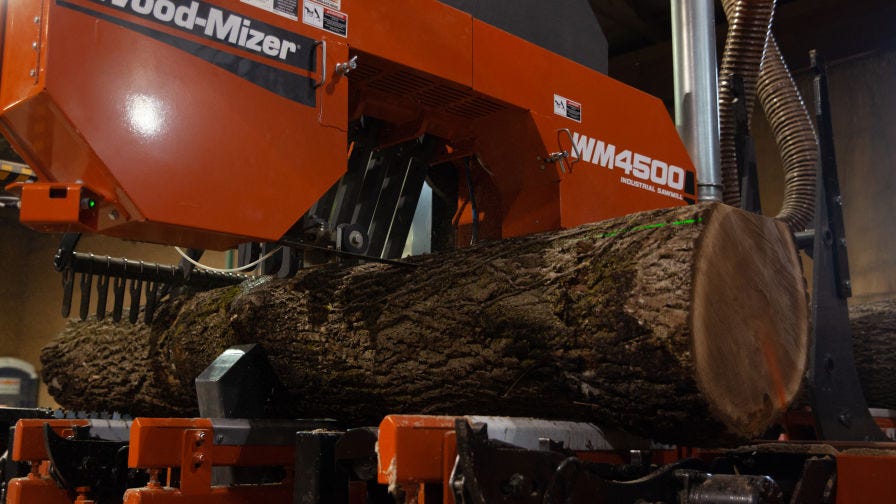 L. Garbers & Sons fits their sawmill equipment with Wood-Mizer Turbo 7 blades. "We've always had the best results with Wood-Mizer blades. We are running the 2" wide Turbo 7 blades with the 1-1/4" tooth spacing and we really like them for the ability to cut faster with the same surface quality," said Marty. "We've tried other blades but didn't see the quality like we do with Wood-Mizer."
The company also sharpens their blades daily in-house with Wood-Mizer blade sharpening and setting equipment which has helped reduce costs and provide consistent cut quality. "Maintaining our blades in house tends to save money when you don't have to worry about shipping them out," said Marty. "We can also control the quality of blades that we are using and we can change the tooth set based on the species we are sawing."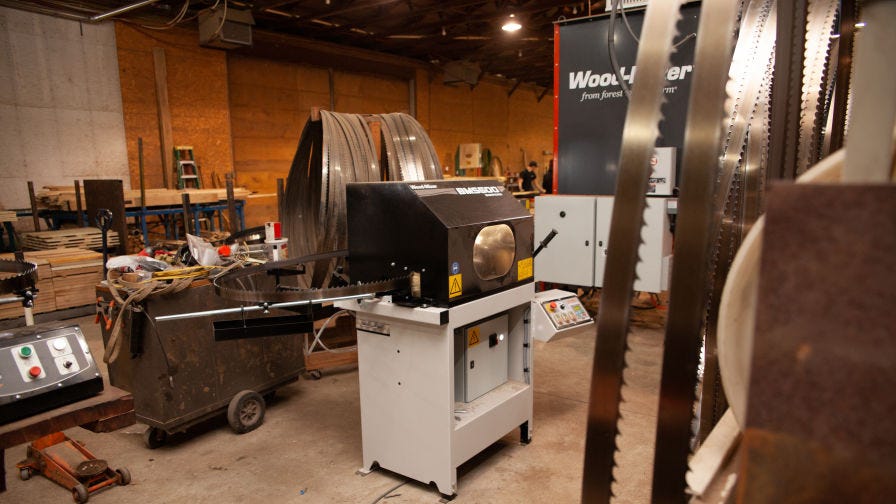 Processing Grade and Pallet Material
The sawmill business runs eight hours a day, five days a week with five employees doing a variety of work including milling, edging, running the chop saw, and sharpening blades. "The WM4500 is a lot heavier built which makes it a lot easier handling bigger and longer logs," said Marty.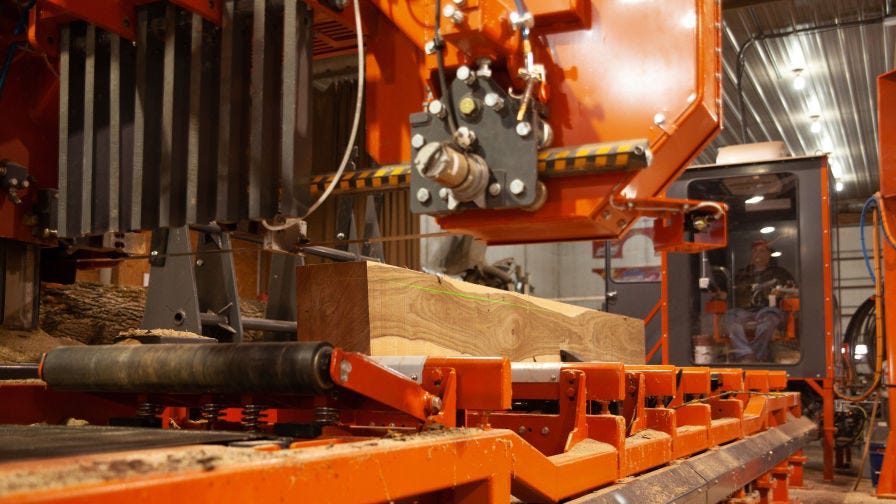 A variety of grade and pallet quality logs are supplied from Ohio and nearby states including Michigan and Indiana. Grade quality logs tend to come from longer distances because there is more money in the finished material than pallet quality logs that generally come from shorter distances. "We primarily saw walnut, red and white oak, cottonwood, cherry, maple, sassafras, and hickory," said Marty.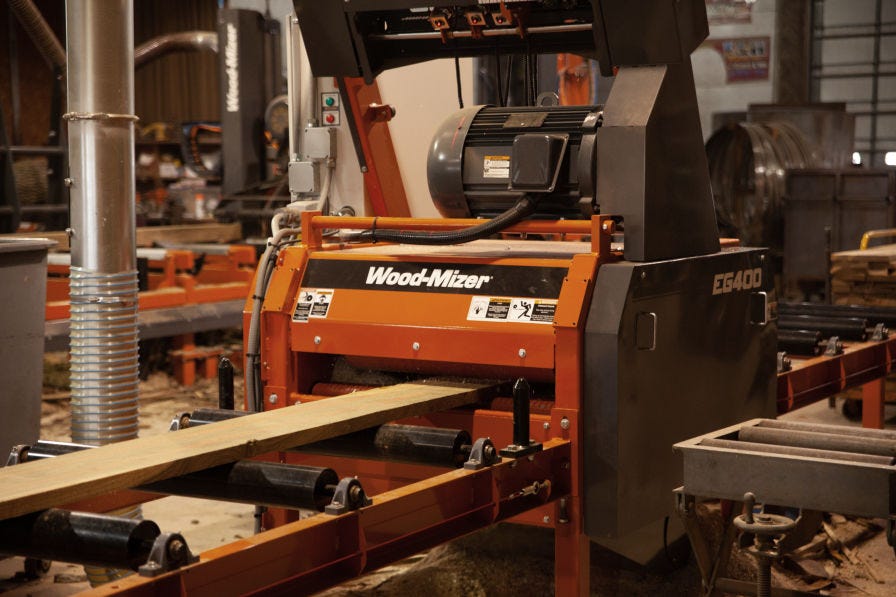 First, logs are unloaded and scaled for board footage before being sorted for grade or pallet quality. If they are grade quality, logs are also sorted by species. On the WM4500 sawmill, logs are milled into various sized cants and boards depending on the customer needs and sent to a transfer deck. For boards that need to be edged, the transfer deck sends material to a green chain that goes to the EG400 multi-rip board edger. "The EG400 edger has three blades, a larger width capacity, laser lines, and presets for quickly setting the right board width. Plus cutting speed is a lot faster which has sped up production," shared Marty. For straight edged material off the mill, the transfer deck sends material to a large chop saw to cut to the correct length. Material is then stacked and prepared to send out to clients.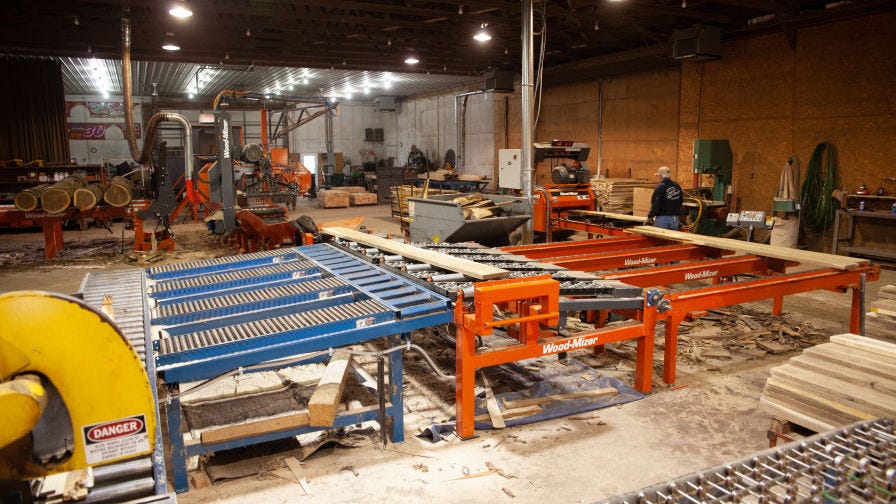 David's advice for start-up sawmill operations is to work hard, market your business to grow your customer base, and to be patient during good times and bad. For the future, the company is looking to invest in a log debarker, a second sawmill, or even a grade resaw system in order to improve efficiency. For now, L. Garbers & Sons continues to focus on quality and consistency in everything they do. "Do a quality job and you will always have work," said Marty. "We've heard from many different customers that they buy from places with good quality and consistency. That's something we always try to strive for and is a pride of ours. That philosophy has kept us work in even some of the leanest times."