Wood-Mizer Introduces Economical LT15START Sawmill
By Wood-Mizer, Canada

Wood-Mizer introduces the LT15START sawmill engineered specifically for sawyers looking for an American-made sawmill that is low cost, highly durable, and saws accurately. The compact, economical LT15START joins the popular LT15 sawmill series known throughout the world for its quality, versatility, and affordability.
The LT15START sawmill offers many of the same robust features of the LT15 sawmill including a 2" x 6" box steel frame, adjustable side supports, log clamp, and the ability to upgrade with a trailer package or bed extensions as sawmilling needs grow. Featuring a Kohler 14 HP recoil start gas engine, push bar feed system, and 11' standard log length capacity, the LT15START offers a 28" log diameter capacity with a 26" width of cut. Longer logs can be sawn with optional bed extensions which can extend the sawmill to any required cutting length in 6' 8" increments.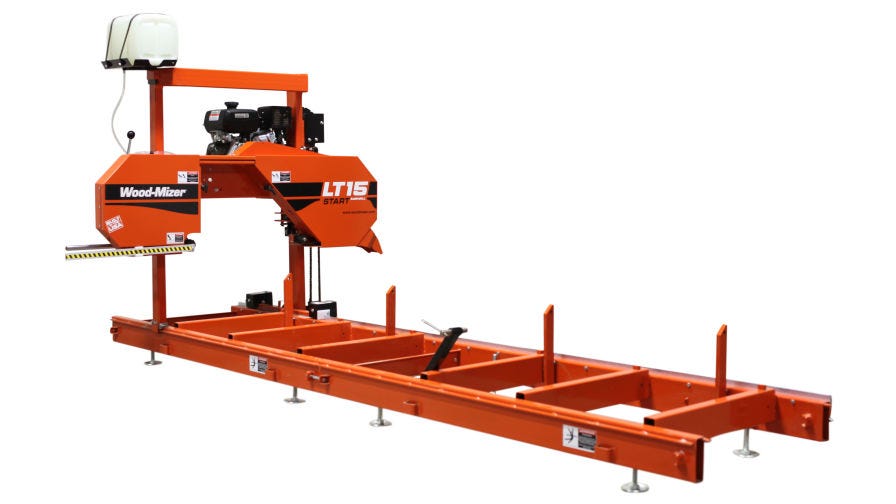 LT15START Sawmill Specifications
Power
14 HP Kohler Gas Recoil Start
Cutting Capacity
Up to 28" (70 cm) diameter and 26" (66 cm) max width of cut
11' (3.3 m) length - additional 6' 8" (2 m) bed extensions available
"Wood-Mizer is committed to providing a comprehensive range of high quality wood processing equipment for anyone who wants to process their own timber into valuable products," said Darryl Floyd, Wood-Mizer COO. "The LT15START gives sawyers the capacity and functionality they need to start sawing at an affordable price with a high-quality American-made machine and exceptional customer service."
The LT15START sawmill ships on a single pallet, comes with one Wood-Mizer bandsaw blade, and requires minimal assembly time. With a 30-day money back guarantee and a 2-year sawmill warranty, the LT15START is backed by the same legendary service, quality and safety features shared by the rest of the family of Wood-Mizer sawmills. The LT15START sawmill is now available. Contact your local Wood-Mizer representative to order.
About Wood-Mizer
Since 1982, Wood-Mizer has earned the reputation as the world's largest manufacturer of portable band sawmills with tens of thousands of bandmills sold around the globe. Today, Wood-Mizer offers an extensive line of wood processing equipment including narrowband portable and industrial sawmills, wideband sawmilling equipment, resaws, edgers, kilns, log splitters, material handling equipment, bandsaw blades and blade maintenance equipment for woodworking hobbyists and forestry professionals all over the world. For more than 35 years, Wood-Mizer has provided top quality wood processing equipment and exceptional customer service for people who want the freedom of sawing their own lumber for projects or production.