Wood-Mizer Introduces LX450 Twin Rail Sawmill
By Chase Warner, Wood-Mizer

Wood-Mizer, the world's leading portable sawmill manufacturer, introduces the LX450 sawmill – the first Wood-Mizer LX series sawmill released in North America. The addition of the LX sawmill series makes Wood-Mizer the first and only company to give sawyers the choice between a monorail or twin rail sawmill in order to accommodate various sawing applications and preferences.
Featuring many of the same benefits of the world renowned Wood-Mizer LT sawmill series, the new LX450 sawmill matches Wood-Mizer's widest cut at 34" while offering the largest depth of cut at 16 ½" available from Wood-Mizer.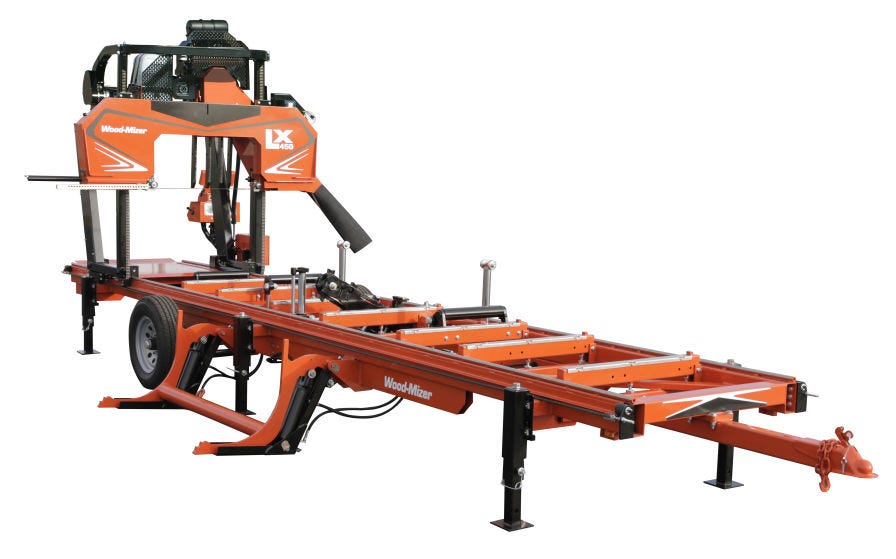 LX450 Sawmill Specifications
Power Options
38 HP Kohler Gas EFI; 35 HP Yanmar Diesel option coming soon
Cutting Capacity
36" (92cm) diameter x 21' (6.4m) length
34" (80 cm) width of cut and 16 ½" (41 cm) depth of cut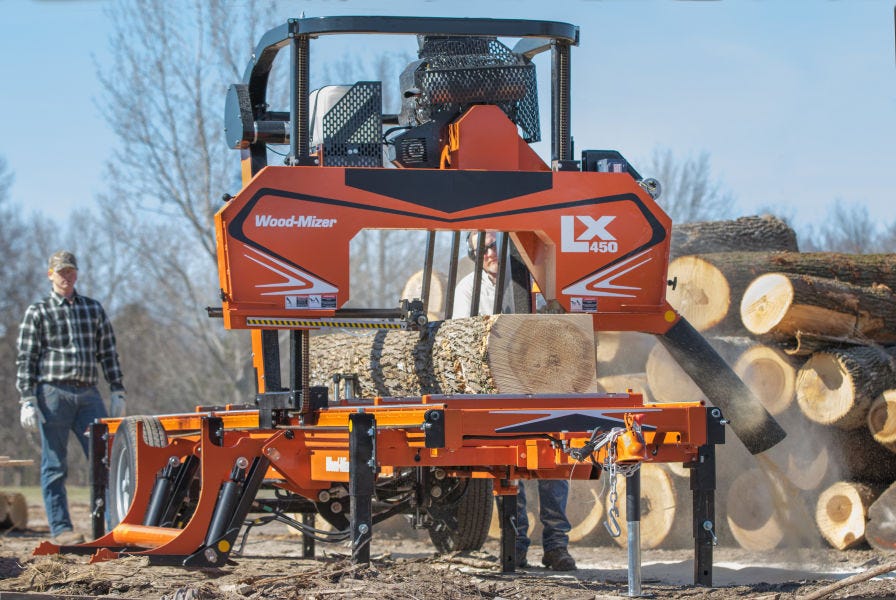 "Wood-Mizer has long been the only sawmill manufacturer of the monorail cantilever design, holding several patents on this technology and trusted by 70,000 sawmillers throughout the world," said Greg Bacon, Wood-Mizer Sales Director. "Every sawyer has different needs and preferences which led to the addition of the LX sawmill series. You can now own an LT series monorail or LX series twin rail sawmill and receive the best support in the industry enjoyed by Wood-Mizer sawmill owners throughout the past 35 years."
A key innovation of the Wood-Mizer LX450 sawmill is the rigid LX Frame sawhead tower that holds the control panel, engine, and the sawmill head. Designed to accommodate a larger width and depth of cut, the LX Frame travels on parallel hardened steel bars on the bed and allows the operator to have better visibility during the cutting process.
Standard features for the LX450 sawmill include power feed, power up/down, hydraulic log handling with a bi-directional chain log turner, a walk along operator control console with SimpleSet Setworks on an adjustable arm, six heavy-duty fine adjustment outriggers, dragback board return, powered blade guide arm, hydraulic blade tensioning system, blade lubrication, roller blade guides, and a centrifugal clutch. Optional features coming soon include Debarker, AccuSet® 2 Setworks, and a fixed operator Command Control station located at the end of the sawmill.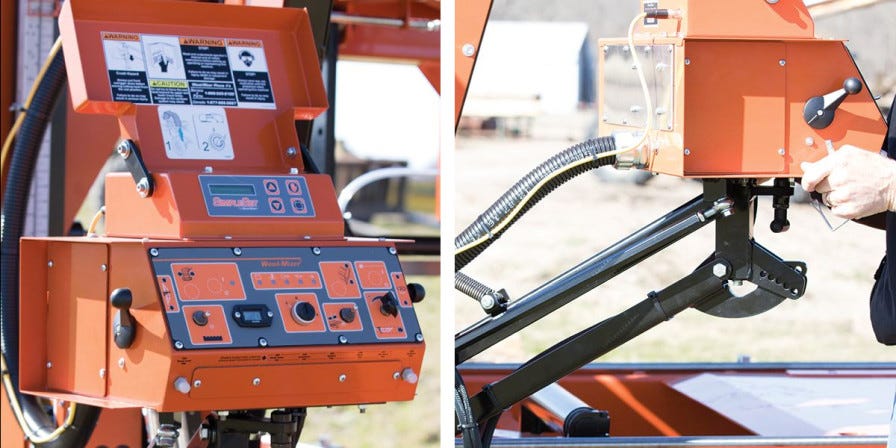 The Wood-Mizer LX450 Twin Rail Sawmill is now available in North America and will be demonstrated at several upcoming events. Call 800.553.0182 or visit www.woodmizer.com for more information.
About Wood-Mizer
Since 1982, Wood-Mizer has earned the reputation as the world's largest manufacturer of portable band sawmills with tens of thousands of bandmills sold around the globe. Today, Wood-Mizer offers an extensive line of narrowband portable and industrial sawmills, wideband sawmilling equipment, resaws, edgers, kilns, log splitters, material handling equipment, bandsaw blades and blade maintenance equipment for woodworking hobbyists and forestry professionals all over the world. For nearly 35 years, Wood-Mizer has provided top quality wood processing equipment and exceptional customer service for people who want the freedom of sawing their own lumber for projects or production.