Wood-Mizer Introduces Products into the Sawmilling, Firewood, and Pallet Recycling Industries
By Wood-Mizer, Canada

As a large player in the sawmilling and forest industry, Wood-Mizer provides a comprehensive range of wood processing equipment from hobbyist to commercial sawmillers throughout the world. In addition to the company's flagship sawmills used by tens of thousands of sawmillers, Wood-Mizer is dedicated to providing additional products to meet customers' wood processing needs from forest to final form. Within the past several years, Wood-Mizer has expanded their sawmilling equipment and blades offerings in timber processing markets while also entering into new markets including the firewood and pallet recycling industries.
To meet the demands of commercial sawmilling applications, Wood-Mizer introduced a complete line of high throughput wood processing equipment and a large capacity multi-head resaw while also strengthening their support network for industrial sawmilling operations throughout the world.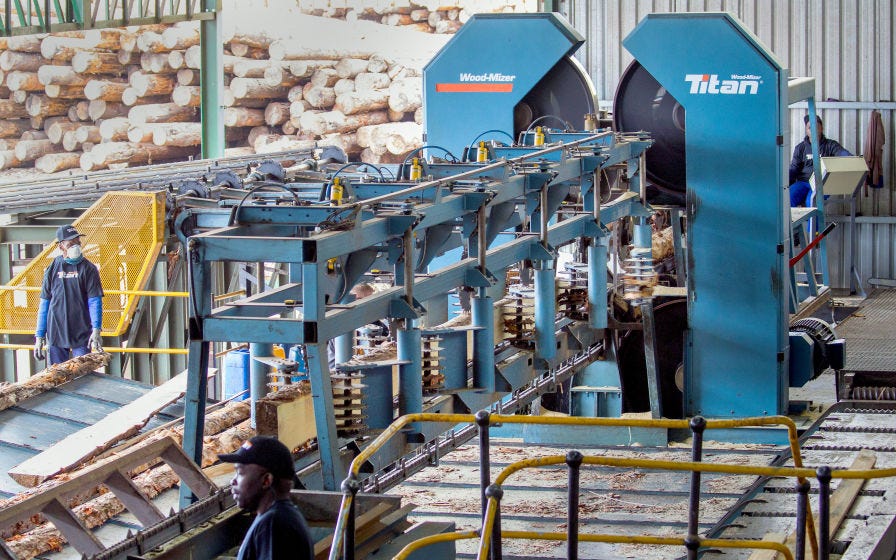 TITAN High Performance Bandsaw Systems
Wood-Mizer significantly broadened its reach into the industrial sawmilling market with the introduction of their TITAN high performance bandsaw systems. The Wood-Mizer TITAN line includes wideband primary and secondary breakdown sawmills and resaws, as well as circular saw edgers, multirips, optimizing edgers, and material handling equipment. "Our well-known narrowband industrial range has helped wood producers worldwide cut costs and raise yields," said Richard Vivers, President and CEO of Wood-Mizer. "But that is just one piece of a very big market. With Wood-Mizer TITAN, we will serve the high-throughput needs of industrial operations with our established network of locations throughout the world." Each TITAN product is designed to operate as standalone equipment for existing sawmilling lines or to form an entire sawmilling line that can be customized to the requirements of the end-user. The TITAN line provides for primary and secondary log breakdown across a range of log diameters varying from 4" to 24".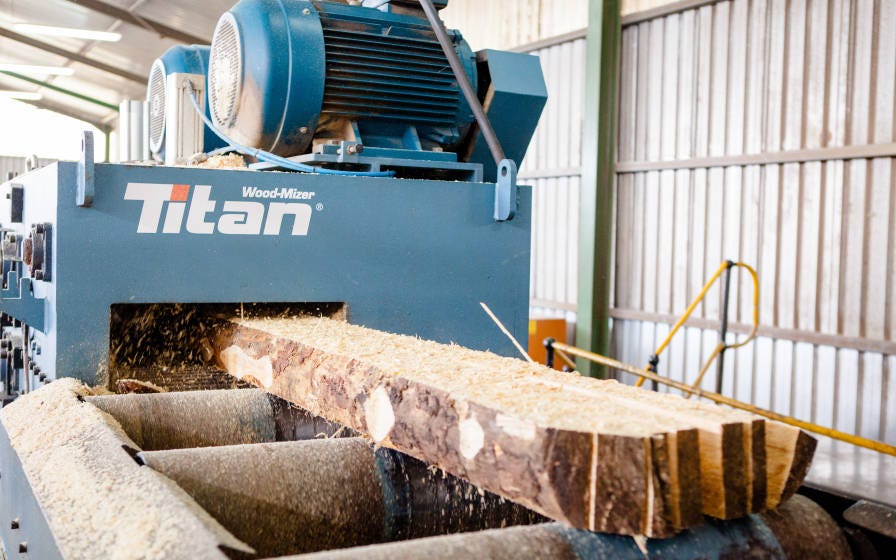 Customers, Patula Product Sawmill in South Africa, utilize the TITAN system to produce high-throughput of structural timber. "We wanted high production wideband sawmilling technology that we could rely on to cut the quality that we want and with enough additional capacity available to grow production into the future," said Phillip Anderson of Patula Product Sawmill. "This is exactly what we've now achieved," added Troy Cooper of Patula Product Sawmill. "In the last month, we have increased throughput again by 27%."
To assist with the new TITAN line, Luke Murray, Adam Kubiak, and Gary Vande Linde have joined the global Wood-Mizer team to serve the needs of sawmilling customers that require a high-level of output and reliability. Murray, Kubiak, and Vande Linde combine for decades of experience in the industrial sawmilling industry and will continue to provide solutions for industrial operations throughout the world with Wood-Mizer.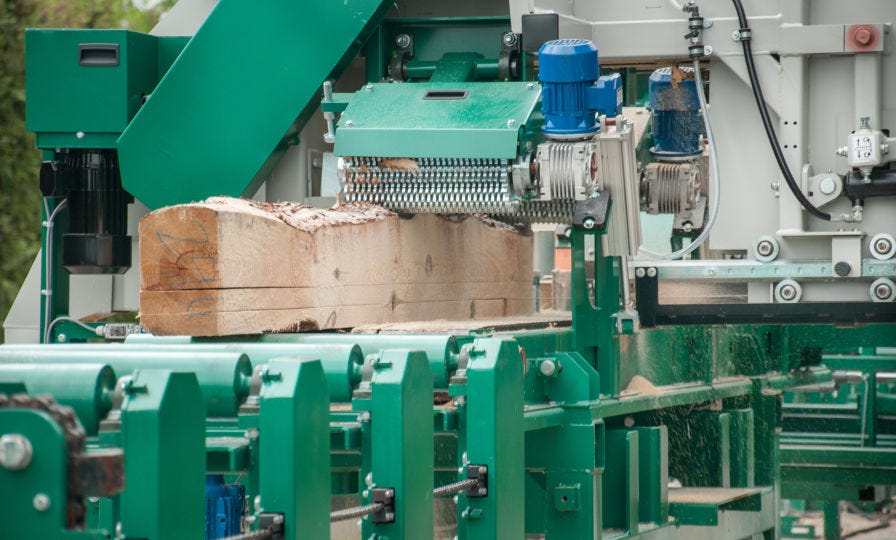 Large Capacity Horizontal Resaw
The large-capacity, modular, multi-head HR700 resaw is the latest addition to the broad range of Wood-Mizer products. The HR700 is Wood-Mizer's largest capacity resaw capable of handling up to 15.75" X 15.75" cants. The machine's modularity makes it easy to expand from the standard two heads to a maximum of six heads. In its maximum configuration, the HR700 converts large cants into six boards and one slab in a single pass. Heavy, powered hold-down rollers stabilize cants on a durable twin-track steel belt conveyor as they are fed through each head during sawing. The HR700 joins the Wood-Mizer family of resaw equipment designed for entry level operations to commercial high throughput businesses.
Wood-Mizer expanded their industry-leading portable sawmill equipment lineup with the introduction of wide head and twin-rail sawmills to satisfy the needs of larger capacity sawmilling.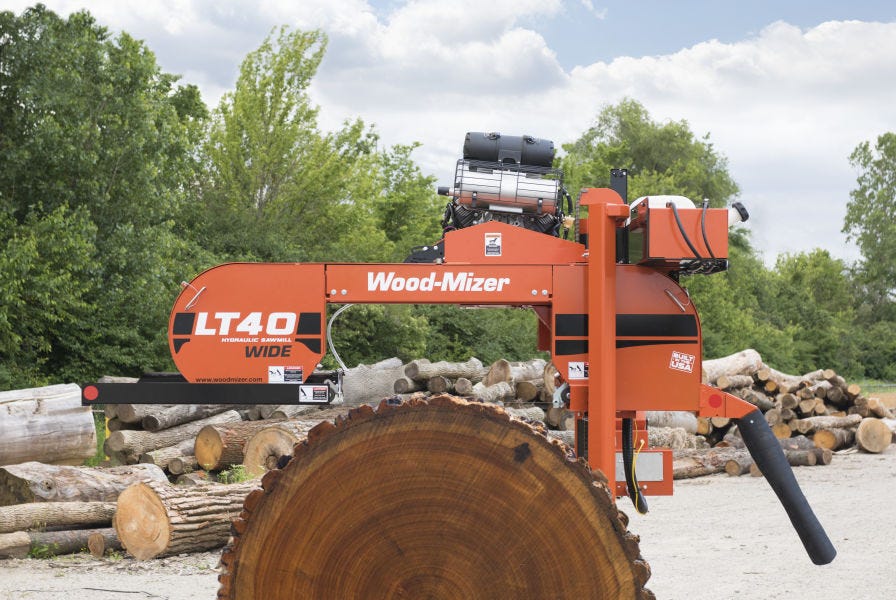 Wide Head Portable Sawmills
To improve on the versatility of their industry-leading portable sawmill line-up, Wood-Mizer now offers a "wide-head" sawmill option on certain models that increases the cutting capacity by six inches up to a 34" width of cut. "The industry is seeing an increase in the demand for wide, live-edge slabs," said Dave Mann, Wood-Mizer National Sales Manager. "We now provide high-production portable milling operations a larger cutting capacity mill to satisfy this demand." The "wide-head" option is available on all LT40, LT50, and LT70 model sawmills.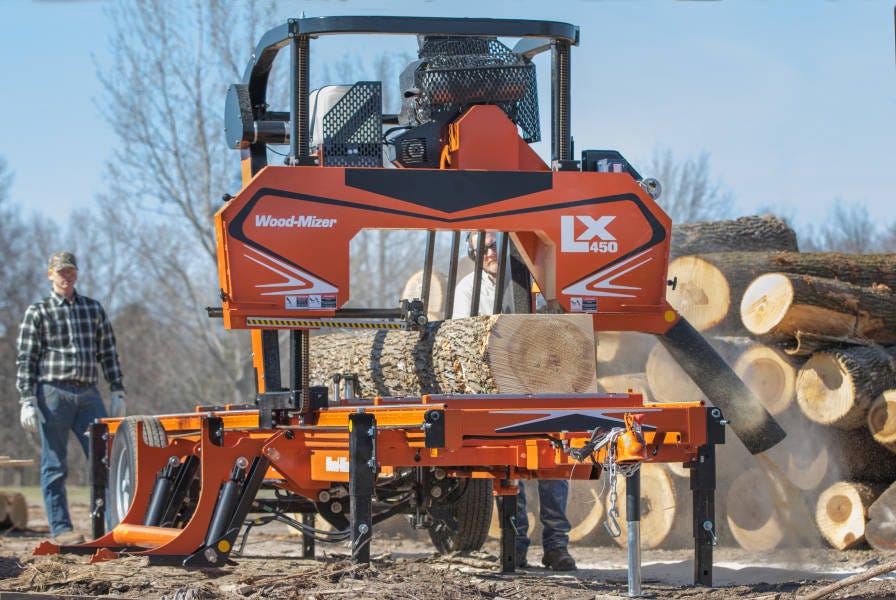 Twin-Rail Portable Sawmills
The introduction of the LX twin-rail sawmill series made Wood-Mizer the first and only company to give sawyers the choice between a monorail or twin-rail sawmill design. A key innovation of the LX model sawmills is the rigid LX Frame tower that houses the control panel, engine, and sawmill head and is designed to accommodate a larger width and depth of cut. The LX Series currently includes an LX100 available in Europe, and the portable LX450 available worldwide.
To accommodate sawing applications for a variety of operations and wood species, Wood-Mizer continues to expand their blades offerings with new profiles in a variety of materials including a new dust-removal blade.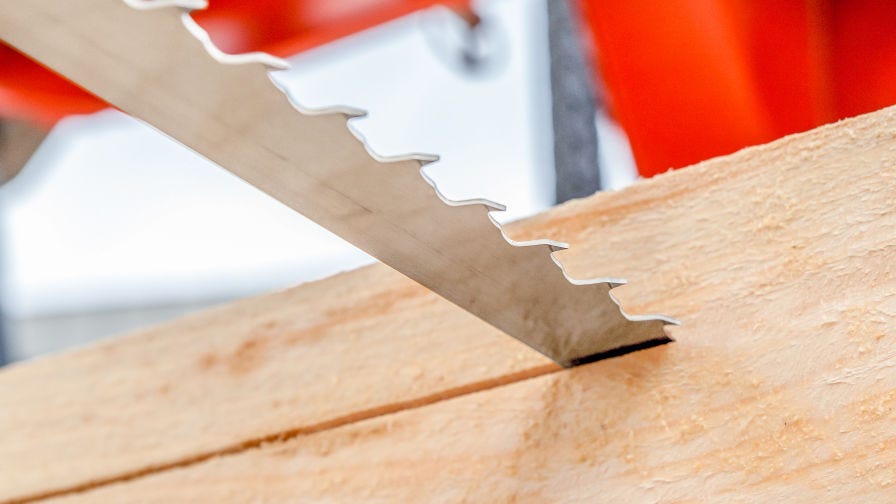 Bandsaw Blades
With increased air flow and higher tooth penetration while sawing hardwoods, the aggressive Turbo 7 blade profile is available in SilverTip carbon, DoubleHard high-alloy, and Bi-Metal material and has received positive reports from high production, high horsepower, and high feed rate sawmilling operations throughout the world.
Another addition is a 2" x .045" SilverTip blade. "We have offered the .042 for several years, but recently added additional thickness to bring sawyers increased performance, accuracy, and run times when sawing at higher feed rates," said Randy Panko, Wood-Mizer Blades Specialist. The new 2" x .045" SilverTip blade is available in 10, 7, and Turbo 7 degree profiles with 7/8" tooth spacing.
The company also introduced a Vortex® dust-removal profile engineered for sawmillers and pallet producers who need boards as free from excess sawdust as possible. Feedback in global markets have resulted in positive reviews for the blade in both log breakdown and in resawing applications. "The Vortex blade was getting 98 to 99% of the dust off, so it was impressive on how much dust it took off compared to a typical saw blade," said pallet producer Jeff Coomer. Vortex® blades are now available in 1 ½" x .045" and .055".
With the introduction of dehumidification kilns, log splitting equipment and pallet dismantling bandsaws, Wood-Mizer has entered into the firewood processing and pallet recycling industries while providing value-added solutions for a variety of operations.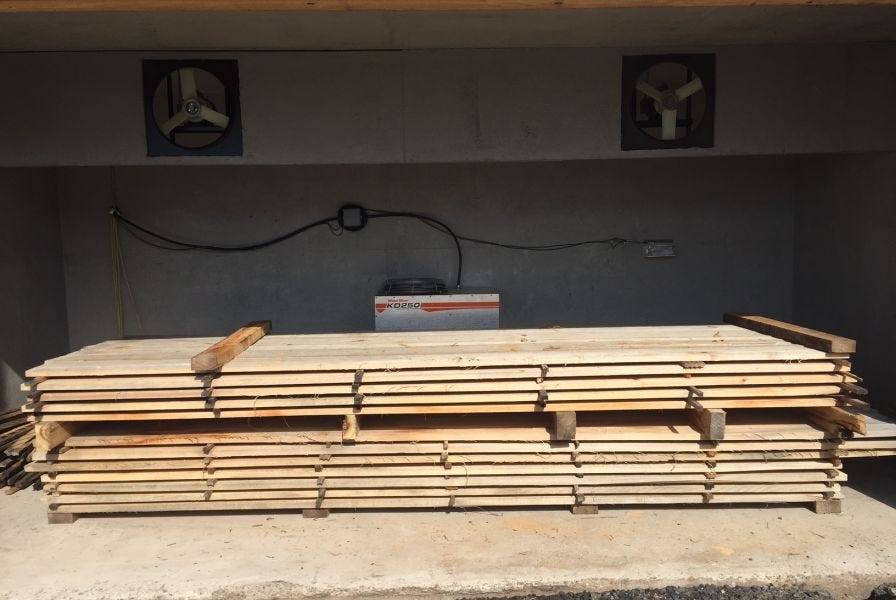 Lumber Drying Kilns
Kiln dried lumber typically sells for a third more than green lumber and eliminates the need for customers to incur costs associated with drying lumber before use. Recognizing the demand for high-quality kiln drying units for a wide range of lumber operations, Wood-Mizer introduced the KD Series of kilns that ranges from 1,000 to 35,000 board feet capacities. Joining the Wood-Mizer KS50 Solar Kiln, the KD Series of Dehumidification Kiln Kits feature 100% corrosion resistant aluminium cabinets and specially coated dehumidification coils to ensure quality drying performance and an extra-long life.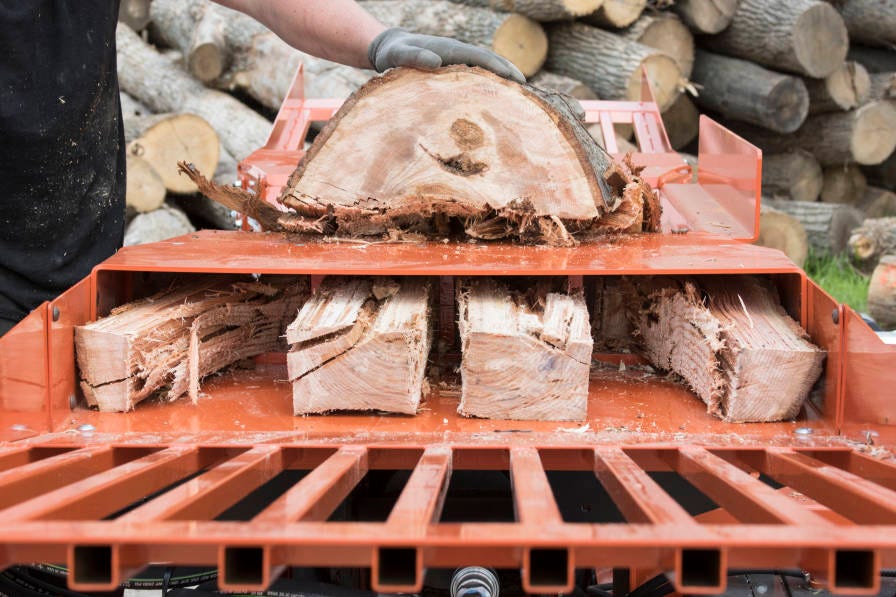 Log Splitters
With production ratings up to 3 cords of firewood per hour, Wood-Mizer offers heavy-duty log splitting equipment for bundle and firewood businesses without the higher cost investment of a firewood processor. Currently providing three top quality fully portable units, many of the log splitters feature a unique bi-directional wood splitting function, where logs are split into rectangular pieces as the push block moves either left or right. This unique design enables nearly double the production level of a comparable one-directional log splitter on the market.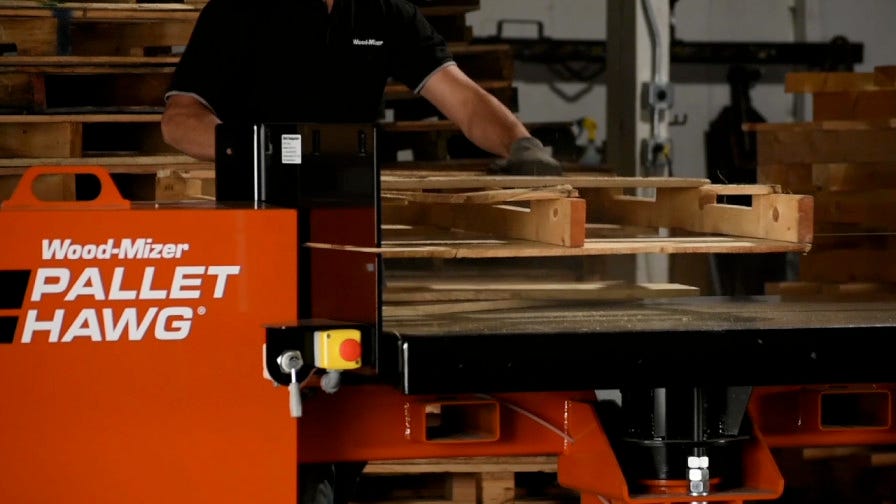 Pallet Recycling Equipment
Wood-Mizer entered the pallet recycling industry with the addition of the Pallet Hawg pallet dismantling bandsaw. The Pallet Hawg has earned a reputation for being extremely durable and reliable through a simple and innovative design. Before the pallet dismantler, Wood-Mizer had been recognized in the pallet industry by providing primary and secondary breakdown units to produce pallet components. "After more than 35 years, pallet recycling is still a growing market as eco-minded and cost-sensitive companies are moving towards used and remanufactured pallets for transportation of goods," said Brad Kirkaldy, Wood-Mizer Pallet Recycling Manager. "The Pallet Hawg machine is yet another high-quality piece of Wood-Mizer equipment for the pallet industry that is backed by our established network of service and support."
Pioneer Packaging operates with more than 20 Pallet Hawg machines and is able to dismantle up to 5,000 pallets per day and produce up to 10,000 pallets per day from their main location in Portland, Indiana. "The bulk of our equipment by far in terms of quantity and usage are the Pallet Hawgs," said Wade Kohler, President of Pioneer Packaging. "All of our machines run eight hours per day and half of them run sixteen hours per day. We have dismantlers here with more than 30,000 hours on them. The Pallet Hawg product itself is excellent and very durable."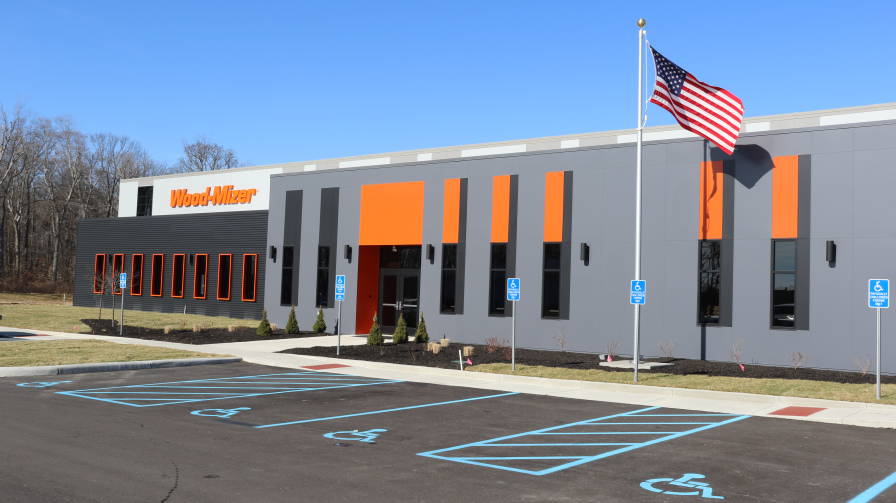 Modern Manufacturing
To assist with expanding product lines and new products currently in development, Wood-Mizer recently completed a new production facility in Indiana, USA complete with modern manufacturing technologies. Premium steel and the highest quality components are paramount to the complete Wood-Mizer equipment line and stringent quality control is implemented in every step of manufacturing from initial conception and development to final assembly of every individual product.
Today, Wood-Mizer offers an extensive line of narrowband portable and industrial sawmills, wideband sawmilling equipment, resaws, edgers, kilns, log splitters, pallet recycling equipment, material handling equipment, bandsaw blades and blade maintenance equipment for woodworking hobbyists and business professionals all over the world. With the unmatched equipment range available from Wood-Mizer, the company has positioned itself for the future to continue improving and expand products for the benefit of their customers in a variety of industries.