LX150 Twin Rail Portable Sawmill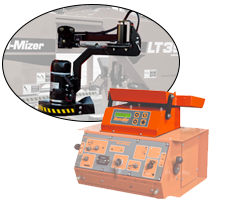 SAVE $1,000 when you add a Debarker and SimpleSet Setworks.
LX150 Fully Loaded $30,742 $29,742

Print
Add to Compare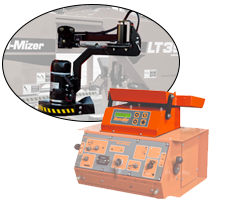 SAVE $1,000 when you add a Debarker and SimpleSet Setworks.
LX150 Fully Loaded $30,742 $29,742
Robust Twin Rail Sawmill with 35-1/2" Width of Cut and Powered Head Controls




Wide cut portable sawmill with best-in-class performance featuring a strong twin rail LX frame, powered saw head controls, optional setworks, and optional debarker.
Benefits
Heavy-duty LX twin rail design
Powered sawhead controls
Optional Setworks and Debarker
30-Day Money Back Guarantee
2-Year Sawmill Warranty
Built in the USA
Description
LX150 Twin Rail Portable Sawmill
Saw 36" diameter logs into wide slabs and boards up to 35-1/2" using accurate and easy-to-use powered saw head controls (forward/reverse & up/down) with the LX150 twin rail portable sawmill! Designed for hobbyists and professional sawyers, the highly durable bed configuration, optional SimpleSet Setworks, and optional Debarker make the LX150 a high performing manual sawmill with features not available anywhere else in its class.
Features
LX150 Twin Rail Portable Sawmill
Parts & Accessories
LX150 Twin Rail Portable Sawmill
Specifications
LX150 Twin Rail Portable Sawmill
Specifications
Power
Power Selections
25HP (18.6kW) Kohler gas
Cutting Capacity
Max Width of Cut
35 1/2" (0.90m)
Max Log Diameter
36" (.91m)
Max Depth of Cut
11" (.28m)
Max Log Length
18' 5" (6.8m)
Max Log Length (with extensions)
N/A
Blade
Blade Length
176" (4,470mm)
Blade Guides Style
Roller Guides
Blade Lubrication System
Manual valve blade lubrication
Blade Tension System
Hydraulic
Blade Thickness
.042" (1.07mm)
Blade Width
1 1/4" (32mm)
Blade Wheels
Blade Wheel Diameter
19" (483mm)
Blade Wheel Type
Belted Blade Wheels
Head Features and Options
Operator Location
Walk Along Electric Feed
Setworks
SimpleSet Setworks (Optional)
Head Forward/Reverse
12V Power Feed
Head Up/Down
Electric
Blade Engagement
Remote Clutch
Blade Guide Arm
Powered Adjustment
Debarker
Optional
Board Removal
N/A
Bed Features and Options
Side Supports
4 Adjustable Side Supports
Log Leveling
N/A
Log Turning
Manual
Log Loading
Manual
Trailer Package
N/A
Log Clamping
3 Manual Log Clamps
Additional Bed Options
6' 1" (1.85m) Bed Extensions
Machine Dimensions and Requirements
Bed Construction
Twin Rail
Frame Construction
xFRAME
Mobility
Stationary
Trailer Hitch Size
N/A
Length
22' (6.7m)
Get a Quote
LX150 Twin Rail Portable Sawmill